Almanac Music: Romantic Guy
Romantic Guy
A friend's house. Whittington, Geelong. 1984.
Songwriting has been an important part of my writing life, from my mid-teens onwards – writing songs for bands I was in, open mikes I performed at with friends, and, very occasionally, other bands or singers. Mainly, though, I wrote songs for their own sake – most were never performed in front of an audience.
I don't play music in public these days (haven't done so for ages) but still love and respect a good song …
I travel back in time … about 35 years – jeez! … to find myself in the bedroom of a friend who lived in Whittington, Geelong. I'm playing guitar, and singing my heart out. My friend is holding a small microphone a couple of inches from my mouth. The mike is plugged into a two-channel cassette deck and he is monitoring the levels. We're recording original songs, some entirely written by me, some written with his lyrics and my music. I often wondered at the time what his mother and father thought of the raw guitar/vocal sound emanating from his bedroom, often for hours on end, but they never said anything about it.
Songs poured out of me in the mid-eighties, probably one hundred or so, about half written by me and the rest written in collaboration with my friend.
"Romantic Guy", with my words and music, was written around 1983 and recorded to cassette in 1984. I'm singing and playing acoustic guitar. I can't recall the exact origins of the song, but feel the melancholy mood was connected to the end of my first "serious" relationship. I recall that a line in the song was inspired by the title of a very early Elton John-Bernie Taupin tune, "Empty Sky". My song, a ballad, begins: "I may be a romantic guy/And when I look into my empty sky/ I see you and I have to sigh/ You're beautiful …"
About two years ago, I transferred my existing early recordings from cassette onto CD. Unfortunately, most had been lost over the decades – I've moved house many times, and boxes of stuff so easily go astray.
Here, though, is "Romantic Guy", not tampered with at all, as originally recorded in that Whittington bedroom.
Oh, I was so young then.
(Acknowledgement: an earlier version of this piece appeared on the Stereo Stories website in 2019.)
To return to our Footy Almanac home page click HERE.
Our writers are independent contributors. The opinions expressed in their articles are their own. They are not the views, nor do they reflect the views, of Malarkey Publications.
Do you enjoy the Almanac concept?
And want to ensure it continues in its current form, and better? To help things keep ticking over please consider making your own contribution.
Become an Almanac (annual) member – CLICK HERE.
One-off financial contribution – CLICK HERE.
Regular financial contribution (monthly EFT) – CLICK HERE.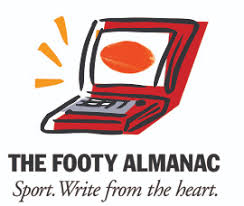 About
Kevin Densley is a poet and writer-in-general. His fourth book-length poetry collection, Sacredly Profane, was published in late 2020 by Ginninderra Press. He is also the co-author of ten play collections for young people, as well as a multi Green Room Award nominated play, Last Chance Gas, which was published by Currency Press. Other writing includes screenplays for educational films.