Almanac Football (History): Alex Jesaulenko
Recently Carlton found vision of Alex Jesaulenko from a match in 1967. Club historian Tony de Bolfo described it as the first glimpse of Jezza's genius. It was Round 4 against Melbourne at the MCG.
The three minutes of kinescope have an unearthly form – a distorted capture of the match that turns it into something supernatural. The white of Ian Collin's ankle straps are as bright as the winter moon. Ron Barassi – so often in his Carlton days the intense coach – instead streams across the frame, jinking loose and kicking a long goal. He jogs back to the centre fists pumping. The monogram on his chest lit like neon against the guernsey which is as jet black as his hair. As he catches his breath near the centre circle, John Nicholls looms with the reassuring presence of Zeus.
Jesaulenko first appears slicing through a pack. He runs at full tilt, bent at the waist tapping the ball along the ground and suggesting it join him on an adventure. Later his left foot kick on the run drops ahead of a Melbourne defender whose futile run ends as it rolls through the goal. Number 25. To see him in his fourth game of league football is a beautiful thing. He moves lyrically. He has his own jazz melody. There is even the first sign of the post-goal strut, flicking out his feet and rolling the shoulders.
In the years to follow he held various guises. The playing coach carried off the field with the premiership cup and a broken ankle in 1979. The forlorn figure sweeping his receding hair across his forehead as he leaves the Blues weeks later after a loyalty act with President George Harris. The final flush of play, wearing a long-sleeve St Kilda jumper, jogging across half-back and winning the ball on his wits. The unsuccessful coaching return to Carlton and inevitably the reclusive figure – like Marlon Brando in The Godfather, rarely sighted but revered.
But this footage from 1967 was how we first saw Jesaulenko. He was a black and white photo clipped from the newspaper, kneeling on a Footscray defender's shoulders. His name was a cry of ecstasy on a wireless. A silvery vision on a black and white television.
In the schoolyard, stacks of cards were pulled from pockets, rubber bands taken off and decks shuffled expertly until a swap was made. Jesaulenko looked bewildered on his card. What was the fuss about?
'He is a refugee,' said my dad matter-of-factly from the front seat of our two-tone EH station wagon. That old Holden always seemed to have a back seat full of kids who slid across the vinyl unrestrained by seat belts especially when Pop took the corners on two wheels.
'You can tell by his name. Listen to it. Jezza-linko.' He smiled at us in the tiny rear vision mirror. Even his name seemed to have its own rhythm. 'After the war, a lot of people had no homes and plenty of them came here. You just have to listen to the names.' So, I did and I heard them everywhere at school: Donato, Niejalke, Czerkaski, Romano and Agathangelou.
Did these kids get picked on? Probably. I didn't hear it but then the majority rarely hears what the minority does. What I did know was that these kids were from a place that produced Alex Jesaulenko.
They were just kids but there was something now that made more sense. Small differences in how they carried themselves and what was in their lunchbox. We knew what VFL team each other supported more than knew where our parents came from. The winter game gave us a common language and the keyword was Jezza, pronounced Jezzzzzzzzzzzzzzzzzza when someone did something unlikely during kick to kick.
The EH was never much of a chance against the mud in the MCG carpark. The wheels spun for a while until Dad told us all to pile out and give a push. He gunned it again and we heaved our weight at the back, grunting and then laughing as a mist of mud sprayed over us and the car churned loose. Dad urged us to jump in quickly so he didn't lose momentum and so we threw ourselves into the back seat and slammed shut the doors. In the breathless tumble of excitement, someone reached for an imaginary ball and cried 'Jezza' as Pop hit the gas and the EH snaked its way free.
That day in 1970 Jesaulenko had kicked a bag and in doing so became the first Carlton player to kick one hundred goals in a season. We saw it all from halfway up the Olympic Stand facing the sea of green. The coming-of-age moment had been earlier, straggling into the ground to see football for the first time in colour. Carlton's navy jumpers were hypnotic. The ball so red. There he was in the goal mouth, number 25. He moved like a cat. He never fell over. Some kids ran on the ground when he reached his century. It was joyously anarchic. We shredded a copy of the Football Record and threw it like confetti over our heads and sang 'Jezza' in as many ways as we could, like it was a one-word opera.
Football became a loose theme for our studies. When we had to produce a project for biology Romano detailed the life of an Indian Tiger in homage to his side while Agathangelou produced a fine explanation of the Olympic rings while noting they were at the MCG where Footscray sometimes played. I made a map of Europe with special attention to Austria, Ukraine and Russia – origin countries of number 25.
Seeing this old footage after more than half a century is to again glimpse the vision of a young man through a child's eye. I don't wish to burden Alex Jesaulenko with anything other than he gave me a hint of the extraordinary while helping make sense of the world around me.
To read more by Michael Sexton click here.
To return to our Footy Almanac home page click HERE.
Our writers are independent contributors. The opinions expressed in their articles are their own. They are not the views, nor do they reflect the views, of Malarkey Publications.
Do you enjoy the Almanac concept?
And want to ensure it continues in its current form, and better? To help things keep ticking over please consider making your own contribution.
Become an Almanac (annual) member – CLICK HERE.
One-off financial contribution – CLICK HERE.
Regular financial contribution (monthly EFT) – CLICK HERE.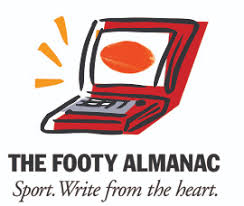 Michael Sexton is a freelance journo in SA. His scribblings include "The Summer of Barry", "Chappell's Last Stand" and the biography of Neil Sachse.