Trevor John Byrne passed away on Wednesday 20th April at 0420 aged 51.  He has succumbed finally to the big C.  He fought long and hard since his original diagnosis in July 2014.  He was already at stage 4 and the cancer had spread from his bowel to other areas of his body.  He told me in the early days that he had a 6% chance of surviving 12 months.  Trev did way better than that, but then that's Trev.  He knew full well of the dark clouds gathering on the horizon. Magnificent in form and menacing in intent; their arrival invariably a case of when and not if. For a footy tragic it was life's hospital pass and although Trev knew this he took up the challenge with his usual vigour. Blog by blog Trev shared his trials and tribulations as a way to state the challenge, reconcile his purpose, and steel his resolve. In turn we savoured his wins, we lamented his setbacks, and we commended his second efforts.
Along the way we followed Trev's progress as he went in and out of hospital and surgery with the stories about the 'pain button'. We read the updates as he took on the chemo, the 'weedkiller' as he called it. Then there was the 'scan anxiety' to check on the progress of the treatment. All along Trev took us on the journey as he had always done. All along Trev fought the good fight, yet there is no denying the power of nature. The storm clouds slowly closed in, then the downpour; the outpouring of grief.
We are now at the moment when the rain stops; that storm has past. All is silent albeit for the odd droplet, that lingering tear. All is clean with a glistening brilliance for water is the source of life. All is afresh because our senses are washed pure by our tears. We are now lucid to everything happening around us. Death is the focal point to bring it all together. It sharpens the senses and hones us in on what is the essence of life. It is the ultimate filter of life's distractions. It is the ultimate motivator. The ultimate guide to life.
For all that has passed since mid-2014 we stand here now enriched by that summer storm. All our senses are acute for Trev's ultimate guide to life; to all his achievements and his ever-lasting legacy. After the stormy gloom there is now a rainbow with that given glow. This is Trev's time in the sun. It is silent, it is calm, and we are bathed in Trev's brilliance.
Trev was no ordinary man nor no ordinary friend.  His cremation last Wednesday was attended by over 500 family & friends from the wider NSW football community.  Terry Southwell and I were good friends with Trev.  Terry had three boys playing and was a wonderful administrator for the St Ives Football Club, holding numerous positions, culminating in being President from 2009-11.  Trev first joined the St Ives Junior AFL club in 2005.  Terry met Trev in 2005 and I followed on in 2006 my two boys started Auskick.  Trev was head coach and a damn good one.  I was just another parent helper trying to handball better than my 6 and 4 year olds.  He patient, meticulous and well organised.  Keeping 100 boys and girls occupied on a Sunday morning is never an easy feat and Trev did it easily.
From Auskick it was a steady progression of roles as Junior Co-ordinator (2010-2011), and then President (2012-2014); and all whilst coaching (2005-2014). Trev won the President's Award twice in 2010 and 2011 as recognition for his service to the Club. You will find that many footy club volunteers can do the admin but can't kick or they can kick but can't do the admin. Trev was one of those rare people who was doubly ambidextrous not just in kicking left or right foot but in club administration and football coaching.
When we think of Trev, we will always remember how he tackled life ball and all. He didn't just do something half hearted – he embraced it. In doing so he had that innate enthusiasm, that infectious passion to engage with everyone and bring them along for the journey. The classic example of Trev's zest was the nicknames he gave the players in the team he coached. Each and every player had a nickname and they were all made to feel an equal bond to the team regardless of their ability or the outcome.
In a competitive world that is too formal, too strict and all too soon, children are often stripped of their childhood. Yet here was Trev with a constant sparkle in his eye and mischief in his voice. Trev the nicknamer, the icebreaker, and the motivator. For Trev it was part spark, a touch of tongue in cheek, and a little larrikinism thrown in. Whilst the world stripped away childhood, Trev did the opposite and stripped away formality. If you look at it today most of the nicknames from the early days still stick with the U17s today – real names long forgotten.
When news of Trev's condition first broke the Club swung immediately into action with a 'T for Trev' campaign whereby players of all ages were photographed making a 'T' sign with their hands and arms as a show of support for Trev. Before long we had all sorts of creative gestures including whole teams lying on the ground forming a 'T' as well as players linking arm in arm. The support came not just from within St Ives but from opposing teams. Ultimately the campaign literally went viral in a universal show of support that stretched right across the Great Sydney Juniors and into the broader AFL community. Even Adam Goodes and a number of players from the Swans formed a 'T' as a show of support for Trev.
At the end of the 2014 the 'T for Trev' photos were collated into a book and presented to Trev. Now it was not very often that Trev was lost for words but the unprecedented support he received from all of the footy community left him speechless:
"I am very humbled at the support that I have received from all the footy community and wanted to say a big thanks to everyone. It has been massive – the photos, the calls, the emails and texts, the meals, everything…"
Late last season Trev won the NSW/ACT AFL's Volunteer of the Year. This award recognised club volunteers across all of NSW and the ACT and it included a trip to Melbourne for Trev and Jane for the Grand Final where Hawthorn thumped West Coast. Not only did Trev get to see the Grand Final, but he got to see the Premiership Cup and the MCG up close, he attended the Grand Final breakfast, and he joined the Grand Final parade. By all accounts it was a huge weekend for Trev. When he was explaining it to Terry he said by Saturday afternoon it all caught up with him and he fell asleep during the game itself.  They had a laugh around how it would be for the ultimate footy tragic to die at the MCG during the Grand Final.  Overall, Trev felt somewhat embarrassed as the whole purpose of the weekend was the Grand Final and there he was asleep. Terry told him that if he felt embarrassed then imagine how West Coast felt as they were asleep well and truly before he dozed off… Trev's quick dry wit and his ability to bring the sense of humour out of others never diminished.
When we look at Trev's legacy – Trev not only brought people into the Club, but he brought the best out of them, and he united them around a sense of community. It was an enduring philosophy Trev applied universally both on and off the field to players, parents, officials, and the opposition alike. Throughout Trev put the game first as it was all about leaving the Club in better shape. Ultimately it meant Trev was in his element whenever he was at Acron Oval.  Acron was his sanctuary and after stepping down as club president and team coach, he took it upon himself to stay involved with the board by working a number of pet projects including the electronic scoreboard. With that he often said to Terry: "St Ives is my extended family and I feel very much loved…"
When Trev recovered from his first operation in late 2014 a group of current and former dads with the Club took the initiative to arrange a regular catch up with Trev. Periodically over the last 15 months we would all meet with Trev for a 'Footy Dinner' to chew and fat and shoot the breeze on all things footy.
In amongst the mix on one of the early dinners was Jack Masone, a player who co-coached with Trev in 2012. As part of his community service at school. Jack played all his junior footy at St Ives from Auskick to U16s (2002-2012). He was 16 at the time he co-coached with Trev and it would be fair to say not many 16-year-olds give up their spare time so freely, but Trev's influence and inspiration to go the extra mile had rubbed off so much on Jack that he came back on his own accord for a second year of coaching in 2013…
Jack joined us for that 'Footy Dinner' where he gave an impromptu speech to thank Trev for his support and encouragement no matter what the situation. Later on last season Terry had the honour and the privilege to present Trev with life membership to the Club at the annual fundraising night. In preparing my notes Terry asked Jack to join him and without hesitation Jack was there and they co-presented the life membership to Trev.
In the grander scheme of things Jack is an example of a player who has emerged as a self-confident, well-balanced, young man; how you get out what you put in; and how this is a measure beyond any premiership flags. His example captures what the St Ives Club stands for; the heart and soul of why the Club is here; and what the Club does week-in and week-out to realise those aims. Underpinning all this is how it takes a village to raise a child and how Trev, the pinnacle clubman, played a big role in Jack's development and the development of so many others.
The footy dinners will continue as our determination to maintain Trev's legacy across football in the Sydney juniors AFL community.  Trev had a love of Hawaiian shirts and would often be seen wearing one.  The Hawaiian Football Club has been created and membership is open to whoever has a Hawaiian shirt, the louder the better.
Through the darkening days at the start of this season Trev continued to give himself unconditionally to the Club. In Round 2 when Trev rose to his feet from his wheelchair for the custodians in the U17 D1 jumper presentation all our hearts rose with him in support. In Trev's final days at the hospice he was dressed in his Swans pyjamas and surrounded by the devoted love of his family. It was in these moments you realise the bravery Trev demonstrated throughout his ordeal was an extension of his family's courage. To Jane, Cassie, Alyssa and Ethan our hearts go out to you, your positive strength and inspiration throughout has been truly amazing. We feel your loss and we give you our love and support in this time of need.  We will be there for you whenever you need us.
By definition a rainbow is the reflection of light through the rain. In our reflections on Trev we now see the rainbow after that storm. We get to see each and every hue of Trev's life as a celebration of colours. Yes, the air remains heavy with sadness but the soul would have no rainbow if the eyes had no tears.
So here's to Trev and the celebration of his life and the many celebrations that will follow. He showered us with his friendship, his love of life, of family, and of friends, and he inspired us in the face of adversity. He counselled us. He encouraged us. He humoured us. He has captured the hearts and minds of many. He was all encompassing. He was all inclusive. He was steadfast and he led by example through his beliefs and values.
There are many people who you meet in life who pass you by without making the slightest indentation.  Trev could not have been more different.  His legacy will be a catalyst for others, a game changer that will have an ever lasting impact on those he touched. Like many in the community, my life is richer for having known Trev and to be part of his life.  We shall remain inspired by what we have learnt from him.
Ultimately, the rainbow does not end on the horizon no matter how much we pursue it. RIP Trev the storm is over but your legacy lives on.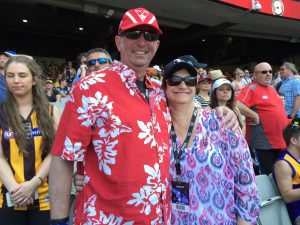 Stuart Hunter (with many thanks to Terry Southwell)
Swans tragic since 1989 and father of two boys. Would rather forfeit a game than travel to ANZ Stadium. Also passionate about most other sports involving a ball.