Round 10 – Sydney v Collingwood: I believe this is what's known as an honourable loss
Sitting at Tullamarine Airport Friday morning, waiting for the flight to Sydney, a Collingwood couple consisting of father and son sat down opposite us. They smiled, almost embarrassingly, and said "Hi". We smiled back, realising they were simply normal people, like the rest of us, and we started up a conversation. Footy, of course.
Basic stuff. Like how long we'd followed our teams, how many generations of family allegiance, positions on the ladder, South's move to Sydney, Collingwood's injuries (they weren't too interested in ours), and so forth. They even commented on our red and white cushions, wondering why we'd take them all the way on the plane just for a game. Then, the Buddy statement. I was shocked. "I don't think Buddy going to Sydney has been a success", said the father. The son nodded, with a smile on his face. "What do you mean?" I asked. "Well, you haven't won a premiership in his time there and he cost you at least one of the last two grand finals". What the….!! I think to myself, as I spot red and white in the distance, distracting me from this all too common Victoria–centric view of the Swans and Buddy.
Sharryne Daley (who started up the GO BLOODS banner initiative) and her son Ben approach us. We hug, and chat about our team and all things red and white. I apologise to the Collingwood couple for interrupting our conversation. They walk off and wish us well.
It was definitely a wonderful distraction – who knows what I might have said, especially to a Collingwood supporter! Only kidding, of course. Some of the nicest people I know adorn the black and white.
And it didn't finish there. Arriving in the O'Reilly Stand before the game, Collingwood people are everywhere. In our section of the stand – next to us, on the side of us, in front of us and in every other adjoining section. All a bit too close for comfort. Or my comfort, anyway. Fortunately nothing too serious eventuated, apart from two very loud–mouthed middle aged women who must have started drinking at breakfast, looking decidedly worse for wear by quarter time, and when attempting to walk down the 16 or so steps to the bar at half time, fell over on the first step and had to be assisted in getting up. Never saw them again!
The game itself was yet another of those close ones, all too familiar between us and them, ending in disappointment once again for Swans fans.
The first quarter seemed to set the tone. This would be a close one. Sammy Reid's two–goal quarter and Buddy's 50 metre snap around the body gave us a 9–point lead at the break, Collingwood's only goal coming from Daniel Wells.
Wells, back from almost a year on the sidelines, manages another two as the second quarter starts, and when Pendelbury rolls one in from the boundary line, they're ahead. Our first goal is later in the quarter, from Paps, and when Sam Reid adds another, a point separates us. Stephenson puts them ahead by nine points just before the half time siren.
As I head down the steps to the toilets, wondering how the two inebriated women might be faring, I'm almost accosted by another over–excited Collingwood fan. How dare I push ahead of her in the queue! She too must have drunk a little too much or had eye problems – no way did I push ahead of anyone, let alone a Collingwood supporter! She just raved on about Sydney this and Sydney that, much to the amusement of most of us. Just as well Sydney fans are polite and generally non aggressive, and don't really understand the Victorian fans and their deep rooted fanaticism!
The third term belongs to the Swans. 5.1 to Collingwood's 2.2, with Sam Reid adding a further two to his tally. Georgie Hewett goes off, concussed, and Daniel Wells seems to have done his knee. What a superb player he has been over his illustrious career; hopefully he will be back soon.
With an 8–point lead going into the final 30 minutes, it's all Swans. Callum Sinclair marks 30 metres out and hits the post. Reidy takes another great grab and unselfishly passes off to Will Hayward 30 metres in front. He misses. In retrospect, why didn't Sammy kick it himself – he could do no wrong tonight! Then it's Collingwood's turn: Mayne kicks off the ground from the goal square (their fourth goal in this manner), followed almost immediately by Brown kicking another, much to the delight of the black and white mob. Aliir Aliir, great all night, gives away a free and Ben Reid adds another. They're 10 points up. Hayward has another chance, but misses, then Nick Blakey takes a strong grab, goals, and we're now two points down. With 26 minutes on the clock, the O'Reilly Stand is cheering as Chris Mayne misses from 30 metres straight in front. This suddenly turns to jeers as he is given another shot, from the goal square. I had no idea what it was for at that stage, but knew it was all over. A few minutes tick away, the siren sounds and that wretched song, accompanied by the even more wretched chant with the emphasis on the WOOD, erupts around us.
We leave immediately, and head for the long line of fans waiting for a bus to Central. Good old Collingwood forever breaks out every few minutes, and I mentally replace it with Cheer Cheer all the way back to our hotel. However, their bloody song wakes me several times during the night, so Cheer Cheer gets a thorough workout for the remaining sleepless hours. Didn't change the result but at least my mind wasn't being tortured.
Saturday, with the sun shining and a 25–degree warmth beaming down on us, we head for Coogee and the beach. Collingwood supporters greet us with their sarcasm. Then off to Circular Quay and a ferry – to anywhere really – just to be on the water and to take in the beauty of Sydney. And there they are – more of them! The airport was full of them too. They're everywhere, those Collingwood people. Even on Sunday, back in Melbourne and vising a friend for his 90th birthday lunch, another one of them was there, rejoicing in her team's win. And, yes, she wore black and white.
But then again, they have every reason to be happy at the moment. They are one of the current favourites for the flag, they're playing well – especially with five of their top players out injured – and all is looking bright for their legion of fans.
A day or so has passed and I'm thinking about the game, and how close it was. No one gave us a chance, and again we proved that we're not that far off stringing some decent wins together. Despite Collingwood's overall possession count, time in the forward half, contested ball, ruck tap outs, seven more shots on goal (although five of those were rushed) and more free kicks, and given that Georgie Hewett and Joey Kennedy were off for the last quarter, allowing Brodie Grundy even more leeway in his dominant ruck performance, the young Swans, once again, did us proud.
And, just to reiterate, I believe this is what's known as an honourable loss!
Go the Mighty Bloods!
Our writers are independent contributors. The opinions expressed in their articles are their own. They are not the views, nor do they reflect the views, of Malarkey Publications.
Do you really enjoy the Almanac concept?
And want to ensure it continues in its current form, and better? To help keep things ticking over please consider making your own contribution.
Become an Almanac (annual) member – CLICK HERE
One off financial contribution – CLICK HERE
Regular financial contribution (monthly EFT) – CLICK HERE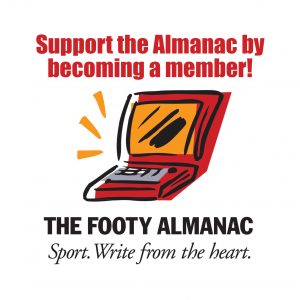 Read about The Women's Footy Almanac 2018 HERE.
Copies of The Women's Footy Almanac 2018 are available for sale via our online store.
Read more about The Tigers Almanac 2017 HERE
A Bloods tragic since first game at Lake Oval in 1948. Moved interstate to Sydney to be closer to beloved Swans in 1998. My book "My Lifelong Love Affair with the Swans" was launched by the Swans at their headquarters at the SCG in August 2016. www.myswansloveaffair.com