South East Women's Football League Division 1 – St Kilda Sharks v Cranbourne: Bodies on the Line Part 2
St Kilda Sharks v Cranbourne Bodies on the Line Part 2
Sunday 15th July 2018
Peanut Farm Reserve.
On Sunday, I head to Peanut Oval Reserve to see Division 1 of the St Kilda Sharks. This is only the second game I have made it to this year, and I stand in the week afternoon sun and watch my Sharks be pummelled.  The place is a building site. The old rooms have been bulldozed and new facilities are being built. Toilets and meeting rooms for the girls are in portable rooms attached behind where we are watching the game. Ann, ever the stalwart of the Sharks, the Falcons and women's footy (for 40 years), and a Saints supporter to boot, is keeping time and scores. There is a boyfriend of a Cranbourne player who is helping her. We all chat while watching the game.
There is an injury in the third quarter and young Rachel is being helped off by the medico and a trainer. She is treated on the massage table outside in the elements, and the medico asks if one of us can keep an eye on her.  Rachel has hurt her knee, and if she faints, will fall off the table. She's in heaps of pain. I volunteer.
I spend the rest of the game distracting Rachel from the pain and worry. Has she done her knee? It's wrapped in ice. She's a student at VU and works as a swimming instructor. Having a crook knee is big. I spend the next 30 minutes talking about my love of women's footy, The Women's Footy Almanac 2017 (which she read at Katie Brennan's house), and Rachel herself. I find out that she's 23, a friend introduced her to playing with the Sharks and she loves the community of the footy club, and that her friend will take her home post game. She is happy to play for the regular community teams and thinks she's probably too old now to be drafted.
I fuss over her like a mum. We talk about my total lack of physical co-ordination and therefore any competence at playing sports. She plays both cricket and hockey and now footy. I blame it on a childhood stroke (maybe from before I was born) which has affected some of my vision. I have never been well co-ordinated, never been sporty, never been quick. A bit persistent (3rd in a long- distance race at school cos I made an early decision to just not stop for anything and everyone else dropped off.) Rachel is one of the young women I admire so much, just having fun and playing footy and being part of the change all around.
When the medico returned post-game, she felt around the knee and surrounds, searching for any signs of serious injury. I didn't leave Rachel's side. I watched her be painfully prodded and poked. The swelling had gone down. Another player comes for help, in the last ruck contest her thumb bent the wrong way and she is being iced up and another on the likely injury list. Cranbourne players come and take some ice for their injured players too.
Penny Cula-Reid, the coach of Collingwood VFLW team, still plays when she can for the Sharks. Like the star she is, she, like many of the others, gathers around Rachel to make sure she is OK. Cranbourne players are happy in the next cabin, while the Sharks trudge in from a massive defeat.
In the end, Rachel is asked to stand up and can bear weight on her leg. It is looking better all the time. I give her my card and ask that she let me know how she ends up. And that I'll be writing about her this week. I was her distraction. She was my hero on the day.
On Monday, Rachel texted me that there was no major damage to her knee, just severe bruising through the shin and knee.
She thanked me for the company. I thanked her for letting me be of service.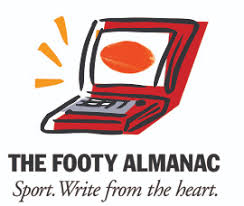 Yvette Wroby writes, cartoons, paints through life and gets most pleasure when it's about football, and more specifically the Saints. Believes in following dreams and having a go.