Almanac Poetry: A Notable Colonial Fistfight

'Ned Kelly in Boxing Pose' photo from Wikimedia Commons
A Notable Colonial Fistfight: Edward 'Ned' Kelly vs. Isaiah 'Wild' Wright, Beechworth, Victoria, August 8th, 1874
Saturday afternoon
in the Imperial Hotel.
Regulars. Laughter.
A squeezebox. An old man
dances a stiff-jointed jig.
Alone by the window, Kelly
sips on an ale,
gazing at High Street's passing parade.
A stocky, bull-necked man walks by,
jolting him out of his reverie.
'Bloody Wright!'
Wild enters the bar.
Kelly turns, glares.
Words fly.
About a stolen horse
—Isaiah Wright: sentence eighteen months,
for illegally using, not stealing;
Edward Kelly: sentence three years,
for receiving the same beast,
though he didn't know it was stolen.
Wild hadn't bothered to tell him that.
Ned also hadn't forgotten
the arrest by Senior Constable Hall
—helped by others, the bloated Scot
had tried to kill him.
(His mother was certainly right
when she told him as a boy.
'The police have it in for our lot, son.')
This is the first occasion
Ned and Wild have seen each other
since doing time.
Kelly rises from his stool, fists clenched.
Wright, a notorious fighter,
calmly stands his ground.
'All right, Ned. If that's want you want …'
The sporty publican, Rogers,
a well-known organizer
of wrestling bouts, fist-fights, cricket and skittles,
nimbly steps in.
'Gentleman, gentlemen!
No fighting in here.
If you really want to settle this …'
He outfits the combatants
in boxing attire
—white singlets, silk shorts, lightweight shoes—
then calls to his off-sider,
'Take over. I may be some time.'
Rogers, the two men and half the pub
proceed to the sporting ground
on the banks of Spring Creek,
below the fruit and hop garden.
Others join them along the way.
Rogers takes centre-stage.
He extends his arms,
establishing distance between the two men,
both physically impressive,
particularly for the time:
Kelly, age nineteen, six feet tall, 12 stone;
Wright, twenty-five, five-eleven, a stone and a half heavier.
The spectators, wide-eyed, expectant,
form an enthusiastic circle.
Among them, many faces familiar
to Kelly and Wright: Brickey Williamson,
Joe Byrne, Aaron Sherritt, Tom Lloyd …
Rogers holds forth:
'The Old London Rules, gentlemen.
No Marquis of Queensberry here!'
The crowd cheer loudly.
Eyes locked, the two men nod.
Rogers flourishes a stick
then draws a line in the dirt.
'Mr Kelly and Mr Wright
—to the mark!'
Wild charges forward, swinging.
His first punch,
a roundhouse right,
would have knocked a man's head off
if it had connected.
Kelly, watchful, sees it coming and ducks.
Wright swishes the air.
Ned's first blow,
a short right to the solar plexus,
is thrown from the heels.
Wild doubles over, lets out a groan,
for his trouble gets two jabs to the head.
He stumbles back, hands up, blinking,
trying to clear his vision.
He smiles.
Fighters always smile
when they know they're in trouble.
Momentarily, he sees two Neds.
One will be plenty.
For much of the round, they stalk each other,
feinting and throwing inquiring jabs.
Wild tries another haymaker
but it misses by two feet.
A straight left from Ned to the nose draws blood.
End of Round One.
The next few rounds.
Ned, more scientific, picks off the shorter, stockier Wild
with stinging jabs.
Then Wild, veteran of many battles,
starts to fight more cleverly,
no longer recklessly swinging
and leaving himself an easy target.
He looks for openings,
once lands a good left hook
but Ned doesn't even flinch.
It is like hitting a block of granite.
'I'll be in for a long afternoon,' thinks Wild.
The middle rounds see Wild
increasingly desperate.
He tries to put Ned off,
uses everything
in his pugilist's bag of tricks.
He points to his chin,
drops his hands,
sways his head in and out of range,
yells distracting comments to the crowd
'I've got him now!'
'He's starting to look worried.' (He isn't.)
Nothing works.
Ned pursues him relentlessly,
not allowing his concentration
to be broken for a second.
The later rounds.
Thwack thwack thwack!
The jabs keep coming.
To Ned, it is like chopping down a tree.
The time in Gippsland, swinging an axe,
breaking bluestone in Williamstown
stand him in good stead.
All the right muscles are finely tuned,
his instincts sharply honed.
Wild still connects occasionally,
to little effect.
He tries to rally
but the stable doors have closed
and the horse has long since bolted.
In the last rounds, Wild
clinches and wrestles,
the only way he can survive.
'Come on boys! Is this a fight
or the Pride of Erin?'
yells Aaron Sherritt,
who can't resist getting off a good line,
whatever the circumstances.
Ned catches his eye.
Sherritt shuts up immediately.
The final round.
Ned is raining blows
on a stumbling, defeated Wild.
In the crowd, Wild's deaf-mute brother,
locally nicknamed 'Dummy'
(when Wild isn't around),
moans in great agitation
at seeing his brother's punishment.
It takes three men to prevent him
from leaping into the fray.
Ned throws a wicked right to the chin.
Wild sags to his knees, swaying.
Rogers the publican jumps in,
raises the victor's hand.
'Kelly, the winner in twenty!'
The crowd claps and whistles.
Hats are thrown in the air.
The district has a new champion.
Wild grabs a towel from his 'picker up',
wipes the blood from his face
then pushes through the throng around Ned.
He holds out his hand,
'The better man won.'
Ned shakes it, but doesn't say a word.
Walking back through the fruit trees,
in fading late afternoon light,
Joe Byrne says to Sherritt,
'You fancy yourself, Aaron.
How about next time, you challenge Ned?'
Sherritt laughs.
'I'm not that stupid, Joe.
He'd bloody kill me.'
. . .
Years later, Wild is fighting
for a travelling boxing troupe.
Charlie the spruiker asks him,
'I hear you fought Ned Kelly.
Behind the big talk and the guns,
could he fight?
I mean, really fight?'
'Could he fight?' replies Wild, half-smiling,
recalling that day long ago.
'He gave me the hiding of my life.'
Kevin Densley
Acknowledgements: first published in Antipodes (USA) in 2014, then in my book-length collection, Orpheus in the Undershirt (Ginninderra Press, 2018)
More from Kevin Densley can be read HERE
Our writers are independent contributors. The opinions expressed in their articles are their own. They are not the views, nor do they reflect the views, of Malarkey Publications.
Do you really enjoy the Almanac concept?
And want to ensure it continues in its current form, and better? To help keep things ticking over please consider making your own contribution.
Become an Almanac (annual) member – CLICK HERE
One-off financial contribution – CLICK HERE
Regular financial contribution (monthly EFT) – CLICK HERE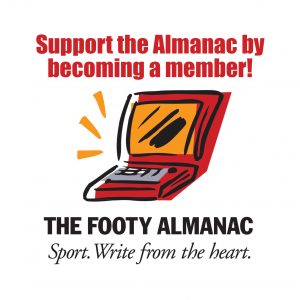 About
Kevin Densley is a poet and writer-in-general. His fourth book-length poetry collection, Sacredly Profane, has just been published (late 2020) by Ginninderra Press. He is also the co-author of ten play collections for young people, as well as a multi Green Room Award nominated play, Last Chance Gas, which was published by Currency Press. Recent other writing includes screenplays for films with a tertiary education purpose.