Almanac Life: Longing for the open road
The road trip.
An innocuous phrase to encompass the immense freedom I felt escaping the daily grind of work, responsibilities and, yes, motherhood — if only for the weekend. Just before Christmas, I found myself hitting the road for a four-and-a-half-hour drive to North East Victoria. Kelly country, ironically. A literary pilgrimage for my book, Lament.
I've always had a traveller's heart. It's genetic. I blame my father. The longing for the open road, change and adventure, is something that has always rippled through me. Some people call it itchy feet, but the feeling doesn't emanate from the feet but the heart. I yearn to explore places, meet people, see the wondrous things that the world has to offer.
The recent years of marriage and motherhood have made me less flippant in my decisions to throw in a job or splurge on a plane ticket. Where once I was driven by the need to move or to escape, I have found myself tempered by others and their need for stability and steadiness. I started to doubt whether that hidden wanderer was even in there anymore. Morphed instead into the it's-too-hard-to-bother-going-anywhere mutant mother of the past few years.
What is it that makes us travellers or stayers? My husband likes the comforts of home. His house. His town. His home-bound tendencies have seeped into me over the years living together and I've found it easier to 'blame the baby' rather than acknowledge the fact that I might be playing it safe and putting my desires on hold.
Not long after finishing secondary school, I secured a job as a governess on a sheep station west of Broken Hill.  I would be teaching two children in the remote Australian outback. That year, I drove a number of times from my central Victorian hometown to the Station, stopping only for fuel and a quick pit stop. It would be nine hours of windows-down, singing until my throat was hoarse and watching the red expanse of earth open up the further north I drove. I loved it. The more remote the surrounds, the more my lungs expanded and my heart lightened. I had assumed this was the same for everyone, this feeling of escape and release. I was shocked when a friend had told me how much she hated driving country roads. I was incredulous at her statement, 'What if you get lost out there?' Lost? How could you get lost? There was only one main road!
For my pre-Christmas road trip I hit the highway early, headed for Beechworth. Now spoilt with air-conditioning, the need for windows-down driving was gone, but I celebrated my rekindled love of the road with a burst of wind-blown exhilaration for old-times' sake. An audio book was on stand-by, one that I'd been longing to read and would fill my hours with beautiful words. It didn't disappoint.
I stopped at the places I wanted. The car radio was in my control. No desperate pleas of needing to find a bathroom 20 minutes into the drive. When I wanted to sight-see, there was no call of 'we'll stop on the way home' (which we never do!). I stopped where I wanted. I spent time walking on the old stone bridge at Avenel, where Ned Kelly rescued Dick Shelton from the river as a kid. The day had that early morning heat of an Australian summer and the cicadas were out, chirping their chorus in the otherwise silent day. The trees were still and the quiet engulfed me as I stood there. The 1860s seemed close.
Arriving in Beechworth, I took the time to walk her historic streets. The town is geared for tourism, but the beauty of the heritage stone buildings and the surrounding hills and gullies are the real splendour of the town. I revelled in the company of a fellow writer, listened to her insights into the world of words and work, which I am just beginning to get a feeling for. I played tourist. Sipped coffee. Bought books.
When I looked back on the weekend, which was chaotic but so enjoyable, I realised it was not just the road trip that brought me a feeling of happiness but the autonomy. I had complete freedom in my choices. I pleased only myself. It's one of the things they don't tell you about parenthood. The loss of self. The loss of selfishness. Regaining it over the weekend felt liberating, which I know comes from my children growing older, and a husband who was able to have the weekend off in order to care for the kids. The rediscovery of it allowed me to put a piece of the puzzle back into myself.  The open road was intoxicating, and is calling again. Louder than ever.
To return to our Footy Almanac home page click HERE.
Our writers are independent contributors. The opinions expressed in their articles are their own. They are not the views, nor do they reflect the views, of Malarkey Publications.
Do you enjoy the Almanac concept?
And want to ensure it continues in its current form, and better? To help things keep ticking over please consider making your own contribution.
Become an Almanac (annual) member – CLICK HERE.
One-off financial contribution – CLICK HERE.
Regular financial contribution (monthly EFT) – CLICK HERE.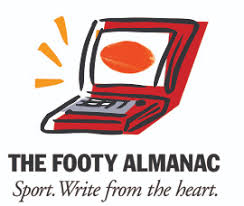 Is a teacher, mother, writer and all-round lover of words!