Daniel Giansiracusa: Devoted Dog
The AFL world has changed. Players move from state to state, club to club, for more money, more exposure, more opportunity and more playing time. Loyalty, a badge once worn proudly by players is a thing of the past. Clubs ask supporters for loyalty, but don't give it to, or get it from their players and coaches.
In today's fickle world of AFL, it's refreshing to know that Daniel Giansiracusa is a Bulldog through and through and is invested in the game of Australian Rules and the only club he has ever called home.
"I bleed red, white and blue," Giansiracusa says. And he means it.
He fell in love with the game when he was six, at VicKick (now Auskick), where he learnt the basic skills that he's carried through his stellar playing and now coaching career.
"Ever since VicKick, it [footy] has been a part of my life. I'm lucky enough to do it professionally now," he said.
"Footy was the number one."
Fondly known as 'Gia', he's been around the Whitten Oval since he was drafted in 1999 as an 18-year old from Altona, playing 265 games and holding the Bulldogs Leading Goal-kicker title from 2012 to 2013. But that's not all in the make-up of this former champion footballer, who is the current Bulldog's forward line coach.
"I was a footy head. I find there's not as many like that anymore. I just love the game," he said.
"I'd watch three games a weekend when I was playing."
"Still, to this day I love getting up and going to work, even when it's tough and you're not winning games of footy you try to step back and think 'is it such a bad life?'"
And while the teams Gia involved himself in were unsuccessful on that last Saturday in September, he never had a time where he 'didn't want to go to work'.
Gia always wanted to stay in the AFL industry after his playing career. He was always a student of the sport, always looking to improve his game, help his team and expand his knowledge. Coaching was the obvious next step.
"The main element [for me] is that I had a passion for the game. Then I thought, 'what's the next best thing?'"
"The next best thing was coaching. 'How do I skill myself up to be ready for when I retired?'"
"As a player, Rodney 'Rocket' Eade taught us how to win. He gave us the freedom to play on instinct and go after the game, which suited the style I played."
"I learnt from Brendan McCarthy how to teach things from a coaching sense."
"As a coach, you worry about more than just yourself."
It's obvious that Gia loved to play and he balanced that with a solid work ethic.
"I was pretty serious on field," he said.
"But, I learnt that hard work gets you where you want to get to. If you put the time in, you'll succeed."
"It always comes back to those values of hard work, honesty, trusting people, seeing the best in people and treating others how you want to be treated. That's the mantra of everything I do."
Gia's love for the game proves to root deeper than a premiership cup, with the star utility fulfilled with the fond memories of hard-fought wins and special people around the club.
"Everyone wants a premiership next to their name. But there's a lot of good players who never got that chance. It something that you wish, but life moves on."
"You ask 'Did you give to everything you had?' I think I did, I think the group probably did. We had different characters, varying amount of talent and injury got us in the end [in the push for a premiership]."
But it's post-playing career where Gia has cemented that he wants to stay in football and take on bigger roles in the AFL world in the future.
"I do [want to be a senior coach]. There are only 18 jobs in the country but nothing that's happened in the past four years [as an assistant coach] has tuned me off from wanting to aim for the bigger job."
And Gia will always be in football, eager to teach what he's learnt over nearly 20 years in the industry to the up and coming generation of footballers.
"I just can't not get involved. Whether I'm holding the footy at the end of the line for the kids [at Auskick], that passion comes out, trying to teach the kids the way to go about things, especially skill wise."
In the day and age where young footy fans are so used to seeing their heroes in different colours, like Luke Hodge, Kurt Tippett, Gary Ablett Junior, Eddie Betts, Bryce Gibbs and many more, it's special to see one club champions like Daniel Giansiracusa sticking around for the good of his home and for the pure love of the game.
Do you love the Almanac concept?
And want to ensure it continues in its current form, and better? To help keep things ticking over please consider making your own contribution.
One off financial contribution – CLICK HERE
Regular financial contribution (monthly EFT) – CLICK HERE
Become an Almanac (annual) member – CLICK HERE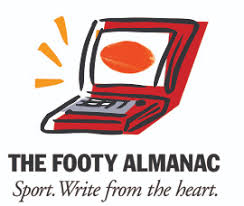 Anna 'Pav' Pavlou is a current student and a born and bred Melburnian who has a passion for sport and sharing people's stories. She is an intern journalist for AFL VICTORIA and writes for The Roar, the Victorian Amateur Football Association (VAFA Media), the Mongrel Punt and is a Melbourne Cricket Club contributor. She also appears on North West FM 98.9 radio show. Most winter weekends you'll find her down at the Ross Gregory Oval in St Kilda, supporting Power House FC, who play in Division 2 in the VAFA. She works as the Division 2 writer for the VAFA. She completed work experience with 3AW Radio and has been published in The Age as well as with Carlton FC and Geelong Cats. Check out her website below for more sport pieces!