Old Collegians are at home to Brighton.  Old Colls are still fighting for the double-chance and Brighton remain top, despite a significant 59 to 5 defeat at Burnside a couple of weeks back.  The competition has split into two (and a bit) divisions as we make inroads into the second half of the season.  We have a distinct gap between the top four and bottom four, with Onkaparinga as 'the bit' in between, trying to keep in touch with the top four.
We are celebrating Indigenous Round this week, with Old Collegians and Brighton also playing-off for the 'Bob Burgess Cup'.  Presented at the first Old Colls home game against Brighton each season, the Cup honours Bob Burgess, the late Old Collegians stalwart who took the field over 500 times from the 1950s to 1980s, the most games in the history of South Australian rugby.  Burgess was a part of five First Grade premierships and was a State representative, including as hooker against the British Lions in 1966.  His son, Andrew, will line up in the number six jersey for Old Colls today.
Old Collegians are also holding a reunion of their 1991 and 2001 premiership teams, filling out the crowd even further on a day when rugby grounds in the 'traditional' rugby states are lying dormant.
The Premier Grade affair kicks off with a 'Welcome to Country' and a traditional smoking ceremony performed by local Kaurna man Robert Taylor.  Old Collegians Premier Grade and Women's teams will don an Indigenous strip designed for the occasion.
A cold day, with a bit of breeze from the South.  Sunshine early gives way to showers later.  A good day for forwards rugby.  Tight around the breakdown, plenty of contact.
As expected, it is an arm wrestle for the first half.  Brighton is probably the better team early on, but Old Colls are hanging in there.  Old Colls are unfortunate to lose the influential fullback Rokobaro inside 20 minutes to a sickening head knock in a tackle gone wrong.  No fault of the ball carrier, our fullback just found his head in the wrong spot (i.e. hip level) at the wrong time.  Rokobaro's kicking game was going to be a vital component today.  Brighton head in 10 to 8 at the half, a late missed penalty would have put Old Colls up.
The missed opportunity to cement the momentum swing on halftime doesn't seem to faze Old Collegians in the second half.  Old Colls will have the best of the second half and spend a lot of time camped in Brighton's half.  It is a superb territorial display to starve Brighton of the ball and keep them scoreless from the 25-minute mark.  The game is still a torrid affair at 8 to 10 at the 60-minute mark, but Old Colls keep pushing back and Brighton errors, both forced and unforced, will keep the tilting the scales in their favour.
Old Collegians will not be denied and eventually prevail 25 to 10.  Old Colls will climb the ladder to 3rd, and the early frontrunners Brighton will slip down to second (on bonus points).  The thrashing at Burnside may haunt them at the end.
The highlights?  It was good to see the galloping antelope winger Viljoen score Old Coll's opening try after running onto the centre's grubber kick to the corner.  Viljoen has certainly got his value for registration money this season.  Starting the season in Reserve Grade and on the bench in Premier Grade, a spate of backline injuries saw him drafted into quite a few Premier games much earlier than expected.  He gave a good account of himself when required and has earned himself a starting spot on the wing in Premier Grade these past couple of rounds.
While we are talking about good club men, it is worth touching on the Premier Grade manager.  Week in, week out he performs his managerial tasks (and disburses jelly snakes) and is always adorned in his 'uniform':
White floppy cricket hat
White shirt
Tie
Shorts
No shoes
'Ned Kelly' beard
The shirt and tie are only donned come game time, he always arrives in the old plain blue singlet.  The rationale behind not wearing shoes, even on a mid-winter day, is that on a wet day your shoes are going to get wet and dirty anyway so why wear them.  He is one of those 'characters' that contribute to rugby's rich folklore.
The other highlight was the young front-rower Ryan scoring the sealer.  He is another one of these Reserve Grade players on the fringes of the Premier Grade side, starting a game here and there when injuries hit, but mainly trying to keep warm on the sidelines.  A female companion watches intently each week.  Ryan is not called upon until the 75th minute this week.  Old Colls are in attack and holding onto a seven point lead.  The ball is edging its way along the try line in the 77th minute when, lo and behold, young Ryan takes the ball off the back of the ruck and burrows over to score next to the post.  Game over.  The lad is pumped.
Old Collegians are blessed to have a prolific club photographer in AJ Alwyn.  He shoots all day long, rain or shine, all grades, on-field or off-field, whatever catches his lens.  I felt that his post-game image of the Old Collegians (Man of the Match) centre Bartlett and Brighton's star centre Pita summed things up perfectly.
To return to our Footy Almanac home page click HERE.
Our writers are independent contributors. The opinions expressed in their articles are their own. They are not the views, nor do they reflect the views, of Malarkey Publications.
Do you enjoy the Almanac concept?
And want to ensure it continues in its current form, and better? To help things keep ticking over please consider making your own contribution.
Become an Almanac (annual) member – CLICK HERE.
One-off financial contribution – CLICK HERE.
Regular financial contribution (monthly EFT) – CLICK HERE.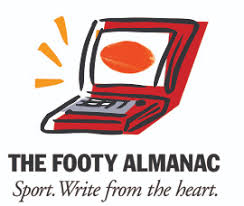 About
Dour opener and close-checking fullback. Peaked early.