Beach Footy
He scoops the Sherrin off the sand
and spins away from me,
then kicks a monstrous torp into
the Arafura Sea.
This poem also appears in Strange Game in a Strange Land, a collection of short, playful poems about Australian Rules Football, which you can purchase HERE.
Do you enjoy the Almanac concept?
And want to ensure it continues in its current form, and better? To help things keep ticking over please consider making your own contribution.
Become an Almanac (annual) member – CLICK HERE.
One-off financial contribution – CLICK HERE.
Regular financial contribution (monthly EFT) – CLICK HERE.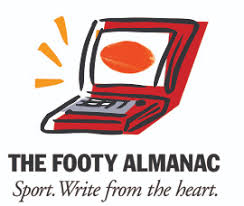 Damian Balassone is a delusional Collingwood supporter who writes poetry and fiction. He is the author of 'Strange Game in a Strange Land'.