The weather could be the final determinant for the grand finale to this absorbing Test series. Showers are imminent in and around southern Queensland today.
There is an urgency about the Australians today which wasn't there yesterday.  Why were they so reticent to go after the runs knowing that rain was a certainty to fall in the wake of the tropical cyclone up north?
Will India go for victory?  Much will depend on the start they might get from Gill and Sharma.  Certainly, if Gill stays there runs will flow, that is his game and there is always the thought of Rishabh Pant coming in late if they have time on their hands.
The heavy rain on Day 4 is playing its part with the outfield exceedingly slow and a few early shots that would have been fours yesterday are not happening.
As usual Hazlewood and Cummins are on target with the pitch showing signs of assistance. That assistance paid off when Sharma (7) gets one that moves a fraction from Cummins and Paine dives to take a fine catch. The bowlers will operate in short spells due to the oppressive weather.
Will be hard for India to make the runs with the wicket causing the batsmen to play cautiously.
Question – Does Cameron Green take as long as Shane Watson to bowl an over?  Would have hated to have the two of them operating at the same time!
Have mentioned before how fine a fielder Patrick Cummins is and today some of the stops he did off his own bowling were brilliant. If only his batting was more consistent what a fine captain he would be.
They call him "The Wall II" but Cheteshwar Pujara is more of a Sphinx to me. He is like a lone sentinel out there in the middle, staring into space oblivious to all that surrounds him. He is the one wicket that Australia really wants.
At the other end Gill is playing some delightful shots. His timing is impeccable and he definitely has been the find of the series.
Great first session of tough Test cricket with India losing 1 wicket for 83, with the impressive Shubman Gill on 64 and The Sphinx 8. Patrick Cummins took the only wicket.
Australia will really need to make the most of the remainder of the game if they want to win back the trophy but it is hard to see them achieving it.  The conditions are against their fast men and Lyon continues to struggle against batsmen who are prepared to use their feet to him. Interesting to note that his bowling average against India is over 60 per wicket.
India looks to be chasing the runs after lunch with Pujara more than tripling his score and Gill edges towards a Test century.
The score has reached 132 with both batsmen taking to Starc but Lyon stops the rot. Gill on 91 prods at one and it goes into the safe hands of Smith.  A fine innings comes to an end as he deserved a century (8 fours and 2 sixes) and had given his team a rough chance of taking the game. With 50 overs still to be bowled it is not out of the question with under 4 runs per over required.
Pujara has been pummelled left, right and particularly centre by the Australian quicks and any lesser man might have thrown in the towel. This, however, is one tough hombre and he is prepared to tough it out before surrendering his wicket. Within 10 minutes he gets a whack on the helmet and needs a replacement. Reckon he needs a body replacement as well. The bowlers are giving him everything in what could be a last ditch stand by them as the day is not getting any cooler. Where is the Fremantle Doctor when you need him?
Rahane (24) plays a nothing shot to the lion-hearted Cummins for Paine to take. Talk about giving your wicket away – it looked like he was trying to avoid but left the bat in the way 3/167 and still anybody's game.
Pant has gone up one in the order so India are still going for it.
The equation at tea is as follows – Australia needs 7 wickets, India needs 145 runs, minimum overs 37 equals 3.99 runs per over.
Beautiful clear day now so no likelihood of rain to stop proceedings and a victory to one or the other or both.
Pujara reaches his 50 from 200 balls with 7 fours. His patience is outstanding and he is being well supported by a patient Pant who is only playing rash shots under frustration.
Australia takes the new ball with India still requiring 100 runs. Cummins beats Pujara (56) for LBW, the batsman reviews the situation and shakes his head when it goes against him. This was the wicket Australia wanted and they have got it in the first over with the new cherry.
The temperature now at The Gabba is 29 degrees and 55% humidity and the bowlers are starting to waver and, in particular, Hazlewood and Cummins ate bowling a few astray.
Pant reaches another 50, this time of 101 balls. He has had a pretty good series after his shock omission from the First Test. Sometimes his keeping has not been of Test standard but his batting is match-winning. Once he gets his keeping skills up, he will be a formidable opponent.
Love to know how many people are watching and listening to the last 15 overs of the game with India only requiring 63 runs to win. It is a fitting finale to what has been one of the finest Test series ever seen on Australian soil. Cummins is still coming in hard and Lyon is having his last fling.
Another DRS is dismissed but it doesn't matter as Agarwal plays a shot next ball which should have been left in his locker. An ordinary ball that he tries to belt the cover off only for it to balloon to Wade at short cover. India 5/265 and its chances slump as they only have the Indian seconds players to back up the defiant Pant. Patrick Cummins now has 4/38 in a splendid performance.
Pant assumes the role of Master of the Universe as he only takes singles near the end of an over. As shown in the first innings, Washington Sundar is no slouch but the series is right on the tightrope and how are his nerves?  The odds would favour India but they still require 5 an over.
What a finish this is.
Often the fielders are forgotten in a game like this but it would be hard to estimate how many runs Marnus Labuschagne has saved in this match. His fielding today has been superb.
Should not have doubted Washington Sundar and he hits Cummins for 6 and then a 4 to give them a chance of winning and we expected Pant to do the attacking. Well, he does in Lyons next over with consecutive 4s and then 4 byes leaving 26 to win.
Drinks – they all deserve one but it is only the batsmen who have a mini-break.
Cummins at last is relieved. He will sleep well tonight. The batsmen are at ease with Hazlewood and take runs off his first 3 balls. Four leg byes from the next ball don't help Australia. 15 to get and the captain Ajinkya Rahane nearly cracks a smile.
15 from 30.
Washington plays a ridiculous backward sweep from Lyon, or tries to, misses and the ball hits the wicket. Australia still have a chance – India 6/318 and Washington scored a handy 22.
13 runs to get and 4 wickets in hand.  It is up to Rishabh Pant to take control and he pulls Hazlewood's first ball for 4. He has a wild swish next ball and it drops between 3 fieldsmen. What luck!
Although young in experience, Shardul (2) tells Pant to settle down but he hits Hazlewood straight up in the air for Lyon to catch. Three runs to get. Pant, a superb innings drives Hazlewood for 4 and it is all over – India scores a ridiculous win by 3 wickets.
What a Test match and my how the Indians celebrate and they finish with a lap of hour with Rishabh carrying the Indian flag triumphantly!
What a series. What a team. They are invincible. They never took a backward step after the disaster that was Adelaide.
All hail the heroes.
CITRUS'S PLAYER OF THE SERIES
(note – selected during first session of play Day 5)
Being the piker I am, this was a most difficult task and rather than a player of the series I have picked out the three best from both teams. India, in particular, did not have a consistent player for the series but each individual played his part at some stage. For Australia, it was much easier as, in my humble opinion, three players were dominant.  Not in any order these are my best:
INDIA
Shubman Gill – picked for his first Test in Melbourne, the young opening batsman was consistent without making a big score. Showed that he will be a player with a great future with some delightful stroke making.
Ajinkya Rahane – took over the captaincy from Kohli and his performance in Melbourne earned the plaudits of all. Did a wonderful job under the most trying of circumstances.
Ravichandran Ashwin – might surprise, but I thought he had his best series ever in Australia, particularly when he had to carry the attack and his effort with the bat in Sydney was outstanding.
Honourable Mentions: Washington Sundar, Shardul Thakur, Mohammed Siraj
AUSTRALIA
Josh Hazlewood – had a wonderful series with the ball with consistent attacking bowling. His accuracy was perhaps the best of his career. His runout in Sydney was one of the highlights of the series.
Patrick Cummins – like Hazlewood, had an excellent series starting with his great work in Adelaide. Both these bowlers needed careful watching from the Indians. Brilliant in the field.
Marnus Labuschagne – where would Australia have been without his consistent run-scoring? Time and time again he went to the wicket with very few runs on the board and pulled his team together.
'Citrus' Bob Utber will return tomorrow with his wrap of the series.
To return to our Footy Almanac home page click HERE.
Our writers are independent contributors. The opinions expressed in their articles are their own. They are not the views, nor do they reflect the views, of Malarkey Publications.
Do you enjoy the Almanac concept?
And want to ensure it continues in its current form, and better? To help things keep ticking over please consider making your own contribution.
Become an Almanac (annual) member – CLICK HERE.
One-off financial contribution – CLICK HERE.
Regular financial contribution (monthly EFT) – CLICK HERE.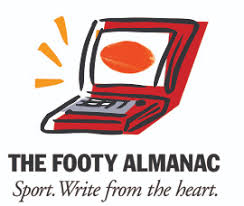 At 80 years of age Citrus Bob is doing what he wanted to do as a 14 year-old living on the farm at Lang Lang. Talking, writing, watching sport. Now into his third book on sports history he lives in Mildura with his very considerate wife (Jenny ) and a groodle named "Chloe On Flinders". How good is that.