Day 2. Bordertown to Port Augusta. 583km.
We have all slept well. A small but significant blessing. We are cooped up in close proximity to each other, with a lot of driving to be done. We're up, looking for clothes, looking for hats, toothbrushes. Jammed in between Trinity and the back of the van, holding too many things, I'm suddenly claustrophobic. I go to place a bag on the table beside me. Only it's not a table just now; it is a bed. With 11-year-old Bud Yum lying on it.
"Dad! I'm not a table!"
==
"Invisible magpies warbled in the plane trees. Softly, gently, never running out of melodic ideas, they perched among the leaves and spun out their endless tales."
Helen Garner, Joe Cinque's Consolation, A True Story of Death, Grief and the Law
==
We cut inland at Murray Bridge towards the hills behind Adelaide. We could have stayed the Princes Highway course, but I have a desire to see some back country; the wine districts. We're ticking along towards Murray Bridge when JT Harms and I ping a few messages backwards and forwards. Yesterday I had sent a photo from Stawell. Today JTH says:
"Strongly suggest Apex Bakery, Tanunda. Oven fire continuous for 100+ years. Pasties are brill – meat or vegetable. Buy a block of streusel kuchen. Safe travels."
And with that, a new pocket of Australia comes to life.
"Eat them at the footy ground. Great grandstand. Home of the Magpies. Check hoardings. I made a duck there."
We make plans.
Unfortunately, after rumbling through the picturesque hill country for the morning, the Apex Bakery is closed upon our arrival. We swing down the spectacular hill into Tanunda. This hill turns out to be the very last hill of our pan-continental pilgrimage. We happily eat icecream at the footy ground, where I imagine making a duck. It is a long walk back to the pavilion.
"You are in classic Colin Thiele country. Apart from the vineyards you will see stubble. Check out one of the tiny Lutheran churches preferably with cemetery. Harvest has just finished. Grapes are picked from late Jan to early May," texts JT Harms.
And indeed we see stubble. We see towns from Mickey Randall's writing (This is Kapunda!"). Towns continue to roll under us with names from the labels of bottles ("There's Eden Valley. Ahh, Watervale. Look at this; it's Clare!")
Colours bounce. Stories come to life. Australia rolls on.
Buddy Yum is alongside me in the cabin as we rumble out of the hill country. We are both happy and excited, parked at a railway crossing, to watch The Ghan as she clatters north towards Darwin. We sit high in the cabin; a cabin roaring with air-con and the pulse of diesel engine. Late in the day we're onto the coastal flats, the industrial coastal flatlands of the upper Spencer Gulf ("can you see the water?"), where a goods train hammers alongside of us that seems as long as a dream.
==
"But why think about that when all the golden lands ahead of you and all kinds of unforeseen events wait lurking to surprise you and make you glad you're alive to see?"
Jack Kerouac, On the Road
==
Horizon broad, horizon flat, I think of driving to Darwin as a teenager.
Driving the HK Kingswood.
To Uluru.
I think of the On the Road nature of this continent.
The Bow River-ness of it.
The sheer Bow-bloody-River-ness of it.
"Anytime you want babe, you can come around
But only six days separates me and the great top end"
Cold Chisel, Bow River
==
It's been a long day. Arriving at Port Augusta we need only somewhere to park a motorhome and to immerse our bodies in cool, cool water ("It's 35oC out there"). Heatwave conditions prevail at the crossroads of Australia where even footpaths, shopping trolleys, roofing tiles, find the grind of daily existence a trial.
We set up camp at the caravan park.
"Does it have a pool?"
"Yeah, does it have a pool?'
"Yes, Buds, it certainly does."
==
Day 7
Uluru is backlit by the dawning sun. Here on the western flank, the day feels poised. Fly-blown, shaded.
Last night we read through the National Park walking guide.
Consequently, we're aware of the need to avoid photography on some sections of the track. We're aware of cultural sensitivities. There was unquestioning acceptance from the buds; from all of us.
Ahead of us on the track, a sign looms, erected to notify walkers of the request to avoid photography.
The bloke ahead, having clearly read the sign, snaps away regardless.
"Mum! Look at that guy! He can't do that!"
==
Perhaps unusually for a child of the city, I own an Akubra. In my twenties, I felt conflicted about this icon of Australian outback life. For years I wondered. Could I? Should I? Was it even possible for a man of the Melbourne suburbs to wear such a hat with a scrap of authenticity?
Then, years ago, waiting at the lights outside Young & Jackson's pub, from the other side of the street, and from a staircase incredibly slipping below the level of Flinders Street itself, "City Hatters" called to me.
Down the steep and narrow Dickensian steps I found myself in the presence of a true salesman; a man who knew and lived and loved his stock in trade. A man who knew hats.
And his stock included Akubras of all bearing; Snowy River aspect, bush tucker man extravagance, wide-brimmed, round crowned, pinched, belted and plaited. Colours, too, spanned a range. Bewitched by choice (not for the last time), I was happily rescued by the salesman.
Very swiftly, through canny application of criteria I suspect known only to hats-people everywhere, we arrived by elimination at a point where there existed only one option: The Territory.
For more than 20 years The Territory has served me well. And while I've ridden a horse only once in all that time and while instead I've mostly either slept in the city or sat indoors at various city desks, that is still a triumph.
In Collins Street one day, Central Melbourne, I was wearing The Territory as I ran for a tram, arm out in gesture to the driver.
"Jeez mate," called a loud country drawl. "It's not a fuckin' horse!"
For this trip, I packed The Territory.
==
We're at Port Augusta caravan park.
There is a pool.
And there are grey nomads. Couples with their vans, their motorhomes, their barbecues and their outdoor television screens, living the dream. We are aware of the grey nomad life; living as we did for a year in Darwin, where vast flocks of grey nomads infest the landscape through June, July and August.
A couple erects their trailer fortress just in front of us here.
"Look at the grey nomads."
Caravan like the Hilton. And between the couple it's all levelling ramps and synchronised construction performed with the certainty of having recently danced these steps many, many times. All performed without talking.
There's the external arm for an outdoor TV. There's the barbecue. There's the bar. There are two folding chairs. There's the TV, mounted now under an awning (there's the awning). The TV is on in the still heat of early evening.
"Do you reckon they talk to each other?"
Before too long, an interloping Grey Nomad interrupts the couple near us, relaxing into their evening.
"G'day there mate, what have you got on there?"
No reaction from old mate next to us. The interloper has brought his own folding chair. And a beer.
"What is it, eh? Oh, it's the cricket, is it? Who's on tonight?"
Interloper either cannot read body language or he doesn't care. He's staying.
I head over to cook on the communal campground barbecue ("Please leave the barbecue clean for the next user.") By the time I return, the two men are talking. The woman sits away from the TV, away from the men, staring at an iPad.
Today I wear a t-shirt I bought in Phuket, Thailand, at a sanctuary for old, poorly-treated elephants; elephants of the tourism industry (and yes, I do see the irony). This becomes relevant only as I approach our van, carrying a plate of cooked food.
Old interloper spots me: "Oh ho! Nice t-shirt! Elephants in Thailand. Did you ride one?"
A couple of seconds slip by.
"Nah, mate. Not really into the riding. We just visited them."
And now I hear for the first time, the voice of our neighbour himself. He turns slowly before addressing me: "You know that place, that sanctuary, is run by Russians?"
There is nothing to say.
Part 1. Melbourne to Bordertown
Part 3. Port Augusta to Cadney Park Roadhouse
Part 4. Cadney Park Roadhouse to Alice Springs
Part 5. Alice Springs to Uluru
Do you really enjoy the Almanac concept?
And want to ensure it continues in its current form, and better? To help keep things ticking over pleaseconsider making your own contribution.
Become an Almanac (annual) member – CLICK HERE
One off financial contribution – CLICK HERE
Regular financial contribution (monthly EFT) – CLICK HERE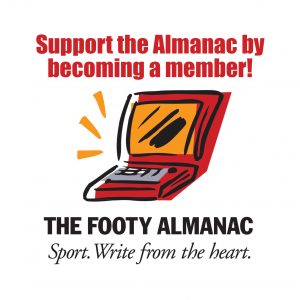 David Wilson is a writer, editor, flood forecaster and former school teacher. He writes under the name "E.regnans" at The Footy Almanac and has stories in several books. One of his stories was judged as a finalist in the Tasmanian Writers' Prize 2021. He is married and has two daughters and the four of them all live together with their dog, Pip. He finds playing the guitar a little tricky, but seems to have found a kindred instrument with the ukulele. Favourite tree: Eucalyptus regnans.