Almanac Life: Two blokes walk into a pub (Part 1)
Two Blokes Walk into A Pub
(Part 1)
"Larger than a seagull and smaller than an albatross," said Roger Dominic Lowrey, when we were lunching in the bar of the Petrel Hotel recently.
I reflected upon this as I gazed out the window at Pakington Street's passing parade. (Not much of a parade, really – this end of Pako is normally pretty quiet, as opposed to other parts where the shops and cafes are often very busy.)
"Good description, mate," I responded before I scoffed my last slice of the pub's equivalent of pizza-with-the-lot. "Didn't know you were an ornithologist … Petrel's a funny name for a pub, though, isn't it? Calling one after a sea bird known for weathering storms."
"I suppose a pub is a place to weather storms, eh? A kind of refuge where you can get away from whatever it is you want to get away from," opined RDL, a piece of battered flathead tail poised on the end of his fork.
"Yeah. I guess so." I drained my pot. Andy the publican suddenly appeared at the bar, as if instinctively sensing that I wanted something. "Um … can you make me a cup of tea, thanks?" He appeared puzzled. (Did I imagine that he furrowed his brow and silently mouthed the word "tea"?) "I have to drive."
"Oh," he replied. "No worries. I'll see what we've got."
"Anything except herbal … now, where were we, RDL?"
"How are we going to do this joint Footy Almanac piece about the Petrel?"
"I've got a couple of ideas," I offered.
"Please proceed, comrade," said RDL, after consuming his last fork-full of flathead fillet. (I must admit, it looked pretty good. Perhaps I should've ordered it, too – but no, my pizza was perfectly fine.) He took a sip of his Mt Duneed Shiraz.
"Well, these are just ideas … one is that we could write a Socratic dialogue, you know, thesis/antithesis, thesis/antithesis … we'd do this as a kind of joke … but I'd still want it to be a proper Socratic dialogue." RDL was listening politely, but I was going cold on the idea the more I talked about it. "Or we could do something like Mark Twain's 'Two Views of a River' where he writes about his beloved Mississippi … though really that is an innocence/experience piece, where the first part of the story is his romantic view of the river as a young man, while the second explores the dangers of the river as he experienced them during his time as a river pilot. Don't know how we'd fit that basic structure to a Petrel piece."
"I'm happy just to mull on things for a few days and see what develops," said RDL. He drained his shiraz.
"Yeah. Fair enough," I replied. "We can then bounce the pieces we come up with off each other via email."
"I think I'll round off with a cleansing ale," said Roger. (Oops, I've written his first name in full – feels strange using it.)
"Sorry I can't join you for another one." I gazed around me at the small, clean public bar. TVs showing races and race results cast a soft colourful glow upon various parts of the room. "It is a nice little pub, isn't it. One of those old-fashioned, neighbourhood style hotels. Coming here is a bit like having a drink at somebody's house."
"That's one of the reasons why I like it. It's quiet, local clientele, no fights … ," said RDL, sipping on his beer.
"The first time I came here was about forty years ago, I reckon, when I was eighteen. There used to be an upright piano in an alcove of the hallway as you walked to the Ladies' Lounge. Not there anymore."
"Not even a hallway since the renovations. S'pose convivial public singing isn't really the done thing these days, anyway."
"S'pose not." I looked out the window.
An old man walking a small, white, curly-haired terrier passed by – this end of Pakington Street had not become any busier.
To read the second part of this venture from Roger Lowrey's perspective, click HERE
More from Kevin Densley HERE
To return to our Footy Almanac home page click HERE.
Our writers are independent contributors. The opinions expressed in their articles are their own. They are not the views, nor do they reflect the views, of Malarkey Publications.
Do you enjoy the Almanac concept?
And want to ensure it continues in its current form, and better? To help things keep ticking over please consider making your own contribution.
Become an Almanac (annual) member – CLICK HERE.
One-off financial contribution – CLICK HERE.
Regular financial contribution (monthly EFT) – CLICK HERE.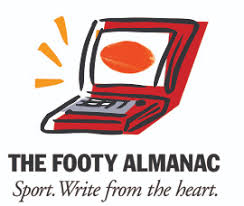 About
Kevin Densley is a poet and writer-in-general. His fourth book-length poetry collection, Sacredly Profane, was published in late 2020 by Ginninderra Press. He is also the co-author of ten play collections for young people, as well as a multi Green Room Award nominated play, Last Chance Gas, which was published by Currency Press. Other writing includes screenplays for educational films.