Almanac Life: Two blokes walk into a pub (Part 2)
(12.45 pm, Thursday 4 February 2021. Front bar, Petrel Hotel, 81 Pakington Street Geelong West)
"Are you sure we're allowed to do this RDL?"
"Can't see why not Kevin. I went to the site and typed in "consenting Footy Almanac writers lunching together without prior approval" and no red bars popped up."
"Very droll comrade."
"Your first time here?"
"No but it's been a while – decades I think. The front bar is much the same as I seem to recall but there used to be a piano just over there where the old Ladies' Lounge used to be."
"Hmm, well wherever it is now it was gone long before I set foot in the joint. Anyway, piano notwithstanding, this is the longest continuous licensed premises in Geelong. There have only ever been four owners of the freehold title starting in 1849. The first two were Ballarat Breweries and Carlton & United. Garry and Margaret Barr were the third while the current owner, the O'Brien family, is the fourth."
Two mercifully chilled pots of Carlton Draught with perfect heads and frosty sides arrive.
(Sotto voce) "Mmm, Andy always has good tap beer here."
Overhearing the compliment, publican Andy O'Brien never loses an opportunity.
"It's pretty simple. Keep the lines clean and keep the beer cold. Some others are just too lazy to do either let alone both."
But Kevin is keen to continue the ambience theme as he gazes around.
"The pub does seem to have a warm homely feel about it doesn't it? You know, sort of welcoming and uncomplicated."
"Rather like the Cheers Bar we often say. Andy plays the part of Sam. On Saturday afternoons Steph plays Dianne and Puffy the barman is Coach."
"Puffy?"
"Yeah he does have a real name but most of us forgotten it. And there is no Norm, Cliff or Woody but Phil, Randall, Bob and Harry Potter usually haunt those same spots just over there."
"Harry Potter?"
"You've obviously never seen him. And yes I imagine he has a real name too."
"And do you often leave your shopping in their fridge like you were doing when I arrived?"
"Part of the friendly service mate. Just like the two spare pairs of reading glasses he keeps behind the jump."
"Why two?"
"Well Goose ended up wearing the original pair home one night, you see, so Andy thought it best to have another pair on standby."
"Makes sense."
"But it cuts the other way too. I've lost count of the number of times I've left stuff here – glasses, mobiles, hats, books, sunglasses, jumpers, form guides, supermarket shopping. My wife is on first name terms with all the staff after having to help me retrieve so much lost property."
The narrative is interrupted by the arrival of lunch and just as a shy Mount Duneed shiraz takes a discreet opportunity to meander its way unobtrusively on to the table.
"Flathead tails for you Rog and the Pako Special pizza for you Kevin."
Brief silence.
"Strewth! What the f*** has your pizza got in it mate?"
"Actually RDL, it may be easier to start at the other end and eliminate what it doesn't have."
"Hey now I think of it, do you know what we really should do? Next time he's over this way we should arrange for our fellow Almanac colleague and resident pub reviewer Mickey Randall to come down and do a counter lunch review here. You know, make it all official."
"Yeah I've read some of his stuff."
Lunch dishes are removed as Kevin stuns those in immediate vicinity by ordering a cup of tea.
"Sorry I can't stay Rog but I have to drive shortly."
"You're a brave man KD. I once brought my own teabag here and asked for a cup of hot water. I haven't stopped hearing about it from Andy ever since. And I even had a plausible excuse like yours."
"Yeah sorry. I'd love to stay a bit longer."
"No worries. I'll just chew a bit longer on a cleansing ale."
"Oh well, thanks for the catch up RDL. I'll see you at the Footy Almanac lunch for the launch of the 2021 AFL season. Has he set a date for it yet?"
"Dunno. I imagine it is a mongrel job trying to organise something like that at the moment with changing COVID restrictions. But it's usually sometime just before the first round."
"Can't wait. See you there."
For Kevin Densley's version of the lunch, click HERE
For more from Roger, click HERE.
To return to our Footy Almanac home page click HERE.
Our writers are independent contributors. The opinions expressed in their articles are their own. They are not the views, nor do they reflect the views, of Malarkey Publications.
Do you enjoy the Almanac concept?
And want to ensure it continues in its current form, and better? To help things keep ticking over please consider making your own contribution.
Become an Almanac (annual) member – CLICK HERE.
One-off financial contribution – CLICK HERE.
Regular financial contribution (monthly EFT) – CLICK HERE.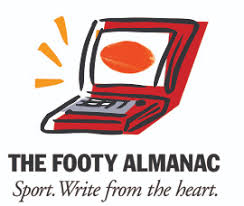 Roger Lowrey is a Geelong based writer who lists his special interests as reading, writing, horse racing, Roman history and AEC electoral boundaries. Some of his friends think he is a little eccentric.