Almanac Footy Writing: Carpe Diem Fages…A Teacher's Teacher
Carpe Diem Fages… A teacher's teacher
I've been a secondary school teacher for more than twenty years now. It sounds like a long time when you put it that way.
Let's try this instead…
'One score, and but a single year ago.
Professors a plenty bought forth onto this continent,
A plethora of educators, dedicated to the principle,
That ALL 'Dip. Eds' are created equal'
It is a job I love. One thing I have learned, is that when it comes to what I do, it is better to think of the word 'teaching' as a verb and not a noun. You succeed or fail in this gig based on the strength of the connection you are able to make with your students, their families and your colleagues.
I've got no designs on ever doing anything else with my life, but I like hearing about former teachers who have gone on to successfully plant a flag elsewhere. It brings a sense of validation and dignity to the talents teachers develop and probably take for granted in themselves. Sting used to be a teacher, Stephen Fry as well. John Doyle, 'Rampaging Roy Slaven' himself, also spent a fair bit of time with chalk in hand.
Chris Fagan, who coaches his one hundredth AFL game today, was once a teacher. It's not a huge leap to suggest that his time in the classroom has influenced the renaissance of the Brisbane Lions. You can see, like all good teachers, that he gets it is all about relationship. That his joy comes from seeing his charges succeed. One day, I'd love to have even just one or two of my former students speak even half and glowingly about my impact on them as the Brisbane Lions do about Fages.
I'm much older now than I was just over 'one score' ago. You suddenly become one of the 'grown ups' when you are in your forties. It's perception and optics mainly. Despite the veneer of adulthood, my generation are nothing more than balding adolescents who remember Kurt Cobain, River Phoenix and O.J. Simpson like it was yesterday. It's reassuring for us to listen to Chris Fagan speak and know that there are proper adults out there with their hands still on the steering wheel of society.
At the last minute, fate has delivered the Brisbane versus North Melbourne game to Launceston this afternoon. You have to look for the silver lining of COVID lockdowns and the fact that Fages will be coaching for the one hundredth time in his home state is surely that. While I'm sure he is a competitive animal, I really appreciate the way he seems to see the game with a sense of broader perspective. His mantra 'you either win or you learn' is a pretty sound philosophy for anyone, not just footballers.
Two years ago, at Marvel Stadium I took my girls to see St. Kilda play Brisbane. It was my youngest daughter's first ever game. Our seats were up on Level 3 but before the game we wandered down to the fence so that she could see that the ground was really there. To see just how big the players, who were warming up, are up close. Seeing them decked out in my old Fitzroy gear, completely unprompted, Fages came over to the fence and said a quick 'hello'. He then coached us through the following photo.
'Come on girls…
Keep smiling…
Let's get our heads in close together…
Look over there at your dad, not at me…
On the count of three…
One…
Two…
Three…
GO LIONS!'
Read more from Shane Reid HERE.
The Tigers (Covid) Almanac 2020 will be published in 2021. It will have all the usual features – a game by game account of the Tigers season – and will also include some of the best Almanac writing from the Covid winter.  Pre-order HERE
To return to our Footy Almanac home page click HERE.
Our writers are independent contributors. The opinions expressed in their articles are their own. They are not the views, nor do they reflect the views, of Malarkey Publications.
Do you enjoy the Almanac concept?
And want to ensure it continues in its current form, and better? To help things keep ticking over please consider making your own contribution.
Become an Almanac (annual) member – CLICK HERE.
One-off financial contribution – CLICK HERE.
Regular financial contribution (monthly EFT) – CLICK HERE.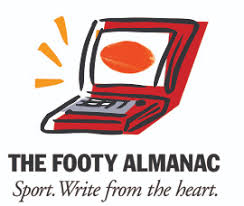 Loving life as a husband, dad and teacher. I'm trying to develop enough skill as a writer so that one day Doc Wheildon's Newborough, Bernie Quinlan's Traralgon and Mick Conlon's 86 Eliminatiuon final goal will be considered contemporaneous with Twain's Mississippi, Hemingway's Cuba, Beethoven's 9th and Coltrane's Love Supreme.