Almanac Footy (Memory): Sacramental Transcendence
Dad followed the Saints but always loftily elevated himself to a type of footy statesman-like position. 'I just like to see a good game of footy,' he would say. There is much that could be speculated or written about why a Saints fan would mute themselves in such a manner throughout the eighties, remove themselves from the cauldron of fandom. Perhaps there was a bit of fatherhood in it as well. The same blind, irrational joy that now sees me waiting hours in the car for my eldest daughter's ballet lessons to finish, or happily sit while my youngest involves me in her rich fictional panoramas that involve putting bows in my hair and watching on while her barbie dolls get married to each other. The Saints were his team, but he really barracked for me, his son. And in the mid-eighties, you could take it to the bank that St Kilda would probably get beaten. That's why it was resolved we'd trek to Moorabbin that day.
There is so much of this day that seems quaint now. I've got a plethora of memories of dad driving around the suburbs of Melbourne, stressed beyond belief – a deafening type of silence with mum in the passenger seat, poring over the Melways, saying 'I think you were meant to take that turn, Jim.' Mum and dad spent most of their respective childhoods living in either Gippsland or the eastern suburbs of Melbourne. The multi lane Nepean highway was making dad grimace.
When we finally pulled up and parked on the streets of Moorabbin somewhere, it may as well have been another planet. The little backstreet we had found was filled with cars. Some of them were riding up onto the nature strips. As we got out, there was a lady tilting her head and looking at us from her porch. 'You're not blocking their driveway, are you?' my mum asked warily. Dad had a quick look to make sure that the Kingswood's arse was tucked in enough. 'Which way do we go, Jim?' Mum again. He was staring around helplessly, knowing we were within walking distance but buggered as to which way. A siren blared, 'Did you hear that,' he said grabbing my hand and we trekked off in the direction of the sound.
The streets got bigger, and it then seemed that everyone was walking the same direction. A group of blokes with hairy stomachs peeking out from below their St Kilda jumpers called out from the other side of the street, 'Carna Sainters.' teenagers bouncing footballs and jumping madly on each other's backs. Other clumps of men in their twenties, drinking cans of Melbourne Bitter as they walked by. I caught my dad looking at them wistfully as he double checked that all the sandwiches Mum had made were in his backpack.
I'd never seen or felt a sense of latent energy quite like it. Where we lived was my everything, it was a genuine home among the gumtrees. I'd learned to mow the lawn that year and there'd be times when you'd mow over kangaroo shit on our front lawn. Yinnar was paradise for a kid, but this was a world that I could see an immediate appeal in as well. Even in the eighties, the multiculturalism of St. Kilda had me looking at everyone who walked by eyes agog. 'Shane, stop staring,' my mum hissed, loudly enough to make the Jewish man with a yarmulke and sideburns long enough to bale hay with frown and quicken his pace. Just before I saw my first VFL football ground I saw my first hijab as well.
My Fitzroy jumper was the only thing that gave us away. We were a primary colour cork in an ocean of black, white and red. An older bloke, clasping a small radio connected to headphones brushed by. Dad had clearly porched his Saints affiliation for the day in the hope that his son would see the Lions have a win on his first trip to a VFL game. He was never one for wearing any supporter gear anyway. There were car horns trumpeting and footpaths being clogged everywhere. A set of traffic lights was blinking orange and a police officer was directing cars with one hand and stopping some with another. Another siren blared. 'Record, get your record, get your record here' someone yelled. And dad did. He'd bizarrely had a Kilometrico pen wedged on top of his ear for the whole drive, just like someone who worked in a bank. 'This is where you mark the goals and behinds,' he said to me, pointing to the teams in the middle. He handed me both the pen and the little magazine with a reverence we rarely saw in him. 'That can be your job.' I knew about the player numbers. I circled number five: Bernie Quinlan and number forty-four: Richard Osborne. I was all set.
'You can get one thing,' ever careful with the purse strings my mum. 'Nothing more than three dollars.' I was standing on tippy toes and looking into the souvenir stall. There were badges, flags, scarves, caps and floggers. One half was full of Saints gear and other was the dazzling colour spectacle that is Fitzroy's blue, red and yellow. There was nothing muted or neutral about the Fitzroy colours in the eighties. They demanded the attention of your retinas in a way that the colour combinations of other teams just didn't. The badges didn't cost much, there was a red one with a cartoon lion drawn in blue and the number five and the name Bernie Quinlan. The flags were out, too expensive. I sort of fancied myself standing there waving a giant flag like the Lions kid on the front of the picture book 'Carn the Lions' which I borrowed ever week from our school library. There was a whole series of them in the library, one for every team. You had to book the Essendon, Collingwood and Carlton ones if you wanted to borrow one of theme. I had no such issues, the Lions one was basically always in my care. 'We should just give you this book, Shane,' Mrs Wilbraham, our school librarian, would say as she rolled the due date stamp forward an extra week – giving me a bit longer than everyone else. Then she'd place it in the inkpad and them stamp the little white sheet which was stuck in the back. You then had to initial next to it – SR for 'Shane Reid'. I had filled the page. I was the only kid who ever borrowed the book. The books were black and white apart from the cover. The 'Carn the Lions' one had a nuggety looking, freckle-faced kid with tight black curly hair waving a flag at least six times the size of him. I looked at the flags for sale and daydreamed for a bit but ending up choosing the Bernie Quinlan badge. Mum pinned it carefully to my jumper.
It was just us. Mum and my sister were there too, but I don't really remember much of them that day, just dad. The busy flood of suburbia was a bit frightening. That year at Yinnar Primary School we were learning about how to tally up numbers in maths class. It involved a roster of us sitting out the front of the school and counting the cars that drove past. For our allocated hour, we counted six. 'That's one for every ten minutes,' our teacher Mrs Houghton helped us to calculate. We graphed it, compared it to the other hours and scientifically deduced that, 'with six cars going, traffic was at its busiest between the hours of nine and ten every weekday.' Years later my wife and I would holiday in China and be stumped by the twelve lanes of traffic we had to cross in Shanghai and the endless spread of skyscrapers, but that was all to come. That day, for me, Moorabbin was the centre of the universe. When my daughter went to her first game, a similarly nondescript clash between Melbourne and Brisbane, it was the crowd and not the game that made the most impression as well. When her mum asked her how it was, she said, 'There were people just everywhere, so many people. I didn't know there were that many people in the world.' I understood.
Lions' fans are and were always outnumbered. And so it was on this day. We were a necessary evil that day for the Saints who sniffed a possible win. It was pretty clear that we were unwelcome guests in the outer at Moorabbin. Not everyone in the crowd was, like my parents, hoping for a Lions win to give me a salutary experience. It is memories of the crowd that has stayed with me all this time.
'Fark orf Fitzroy you overrated farking farks…'
'Oi Pert, let go of Lockett, you f*ggoty little f*ggot'
My eyes agog, I'd never seen adults yelling at other adults before.
'What is a f*ggoty little f*ggot, Mum?'
'It means have a sandwich,' she said and shoved enough pre-packaged Sunicrust and Vegemite into my mouth to stop me asking questions.
'Osborne, you pooncy little pretty boy fuck.'
'If you kick one more goal Conlon, I will personally shove the ball up your farking arse.'
That last one was a bit easier to decode. It was a concise example of what Mrs Houghton might call 'procedural writing.'
Most of these colourful evaluations were coming from the same bloke standing a few steps down in front of us. My little sister was sitting on the concrete ground at my dad's feet with my Mum leaning awkwardly over and blocking her ears. As he reared up again with, 'Stay with him Spud, stay with him… Oh fark Spud, now you've farked it…' I simultaneously heard my dad say to me, softly…
'Watch him now, watch Bernie…'
Somehow every single player in the Fitzroy forward line had veered or were looking off to the left side of the ground. Danny Frawley, distracted for probably just a second, was a spectator just like us and, although he was only a metre or two away, watched as Bernie Quinlan pointed to the half forward flank. It probably says something, both actual and symbolic, about how close to the action you could be as a spectator at Moorabbin, that I remember the next thirty seconds as well as I remember the birth of my children. Frawley's head snapped back towards his champion opponent and then froze for a second with a look of terror on his face. I've been watching footy avidly and regularly for the last forty years and I've never seen the ground shrink in the way that it did over the next few seconds. Quinlan seemed to glide from the goal square, past the fifty-metre line to mark the ball almost sixty metres out, Frawley scrambling in pointless pursuit. Bernie was at least two feet taller than everyone else on the ground at that moment, perhaps it was that they were all slumped whereas he stood like a beacon. With Frawley completely out of the contest, Quinlan wheeled around and seemed to stare towards the distant goal posts.
'Farking dreaming, Quinlan, farking dreaming,' old mate in front of us bleated.
My dad wasn't really a talker at the footy. This is actually the only memory I have of him saying anything at all during any of the games we went to.
'Don't forget who he is…'
Now this is what I mean by the ground shrinking. I know the laws of physics don't allow for this; or perhaps not enough scientists have studied Quinlan's exploits and there are some new understandings of time and space that to still be discovered when they do. To everyone in the crowd and every other player on the ground, the distance looked to be about seventy metres, but just before his boot hit the ball he and the goals seemed to contract together with a sort of magnetic force. Objectively it was a seventy-metre distance, but the kick stabbed as if it was the length of a tennis court. As his boot hit the ball, I swear I heard not an uncouth thud, but a fizz and a swishing sound.
I was an altar boy by then. Every Saturday night the Reid family would dutifully fill the front pew of 'Our Lady of Good Counsel' in Yinnar which was a tributary to broader parish of Lumen Christi in Churchill. Churchill was where we got fish and chips and rented videos; the place mum was referring to when she asked dad 'will we have to go into town?' One of my tasks as an altar server was the bell ringing, let's face it – that is THE attraction in the job description. Fr Coffey had one of those slow and gentle Irish accents. When he spoke, he took his time. 'You ring the bells at the moment of consecration,' he told me. I must have looked a little stumped. 'When I hold up the host and the challis.' I still must have had a blank look on my face. He continued to differentiate his explanation. 'When I do this…' and he held up the circular wafer and the gold cup. I nodded. 'Why do you ring the bell then, Father?'
'It's because it is the moment of sacramental transcendence,' the future Bishop gently told me with a smile. 'Don't worry Shane, you'll come to know and understand one day.' All of this crystallised for me, theologically speaking, as I watched the man they called 'Superboot,' his graceful lead into space and mark fresh in my mind, wheel around from seventy metres and launch the football towards goal. I had this instinctive urge to find a liturgical bell to ring. The bloke in front of us marked this transcendence for us. 'Oh farking hell, Quinlan, how the fark did you…where the fark were you, Frawley?'
There are a few ordinary miracles in the coda to this game. Innocent miracles is perhaps more apt. Leaving my sister and mum waiting in the stands, dad led me down to the fence and then on to the ground. We weren't alone. These were the days when people were free to have a kick after the game was finished. It turns out my dad had something else in mind. We followed the team into the bottleneck that is the players' race and eventually to the door that led to the visitors' rooms. An awkward chat between my dad and a grandfatherly fellow followed. Dad pointed down at me and muttered a few things. Then he produced our neighbour Mr McConachy's membership card and referred to himself as John. A bit weird, as my dad's name was Jim. I was about to point out to my dad that he'd seemingly forgotten his own name when the door opened, a smile and a wink from the fellow on the door and we were ushered in.
My dad was a year or two above Bernie Quinlan at St. Paul's College in Traralgon. I do like to think that there is a cosmic reason as to why that is now the same school that I teach at, and Traralgon is where I continue to live. In our town, everyone of a certain age has a Bernie Quinlan story.
Bernie Quinlan. Standing before me, he's enormous. Some St. Kilda prick has raked his back with his boots, and you can see blood trickling from the pock marks, it's the only thing that humanises him. In years to come, footballers will run day-spas, pose in Myer catalogues and wear man buns. Not this day. Superboot. This was a time when heroes looked like Bernie Quinlan and his dopplegangers Dennis Lillee and John Newcombe. Swashbuckling moustaches that would make today's hipsters spontaneously genuflect.
The record shows that Fitzroy held on by thirteen points that day in Moorabbin. An important win in a year that would ultimately see the Roys make an electrifying run in the finals for the very last time. The Saints would count it as a plucky loss during a grim time when they were anchored to the bottom of the ladder. Bernie only kicked the one goal and Micky Conlon was clearly best on ground, even though the umpires gave their three votes to Leon 'Mork' Harris.
Every time we play St.Kilda, I think back to this historically unremarkable game and wish I had somehow bottled the awe and wonder I felt that day as a nine-year-old and have spent the rest of my footy fandom hopelessly trying to chase.
The last thirty-six years have made this memory simultaneously bigger and smaller in my mind's eye. Now that dad has gone, I try to watch the game the way he did. He was a technician; he was practical and sturdy. Not the sort to stare at sunsets or become emotionally entangled in symphonies. But he found beauty in football; he really was colourblind to any sort of club allegiance. He would speak of Bernie Quinlan, Brent Croswell, Robbie Flower and Trevor Barker the way others do Nureyev, Baryshnikov, Hemingway and Brando. It has been his enduring legacy to me that I can still, even now, take my eyes from the scoreboard, the Sportsbet ads and minutae of football statistics and find something transcendent in Charlie Cameron, Nat Fyfe or the poor man's Bernie Quinlan – Buddy Franklin.
ST KILDA     10.14.74
FITZROY      12.15.87
To return to our Footy Almanac home page click HERE.
Our writers are independent contributors. The opinions expressed in their articles are their own. They are not the views, nor do they reflect the views, of Malarkey Publications.
Do you enjoy the Almanac concept?
And want to ensure it continues in its current form, and better? To help things keep ticking over please consider making your own contribution.
Become an Almanac (annual) member – CLICK HERE.
One-off financial contribution – CLICK HERE.
Regular financial contribution (monthly EFT) – CLICK HERE.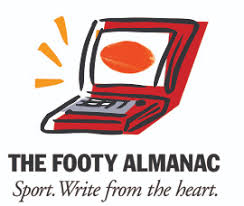 Loving life as a husband, dad and teacher. I'm trying to develop enough skill as a writer so that one day Doc Wheildon's Newborough, Bernie Quinlan's Traralgon and Mick Conlon's 86 Eliminatiuon final goal will be considered contemporaneous with Twain's Mississippi, Hemingway's Cuba, Beethoven's 9th and Coltrane's Love Supreme.