Almanac (Footy) Life: Kid-wrangling and Coach-wrangling
There is no more depressing time for a footy lover than when you realise, at the pointy-end of the season, that your team is not going to be making an impact that year. You start watching the football shows less (they're not talking about your side anyway), you forget to tip until Thursday night, and you're freeing up more of your precious weekend time for getting through that Netflix list or knocking a book or two off your to-be-read pile.
Often, this disappointment can come right at the death-knock of the season. In the final round or two when you have kept hope alive that your beloved team may sneak back into the top eight just in time for finals. It's gut-wrenching to realise they are being relegated to 9th or 10th . Luckily for all of us Collingwood supporters, the old black-and-white put us out of our misery pretty early in the season, giving us time to grieve and rule a solid line through season 2021. There is no race-for-the-flag in our near future, most supporters would just like to have a coach announced before 2022 begins.
However, in a stroke of good luck (I'm grasping for silver linings anywhere this year), the typically freezing, mud-soaked weather of Ballarat and surrounds, assisted ably by another Covid lockdown, has meant that the Auskick season for 2021 is still ticking along for us. Football has not deserted us completely!
Tonight, all four of us headed to the home of the Beaufort Crows to watch Mr 7 and Miss 5 run, kick, handball and laugh their way through their latest session of Auskick. The kids were suited up in footy shorts and Collingwood jumpers—I stood on the sideline in jacket, beanie and gloves, and the temperature at 7pm announced that it felt like -2.2 degrees. I have learnt that parenting footy-loving kids is not for the feint-hearted or cold-blooded.
In an otherwise disappointing year of footy, watching their skills develop alongside their love of the game has been a highlight. The kicks are going further, the handballs are more targeted and the goal celebrations are definitely getting bigger. My two haven't missed a Friday-night session, despite the freezing weather, and they love their coaches (who deserve more gold medals than the Olympic swim team for their kid-wrangling skills). Auskick and the obligatory BBQ afterwards is the highlight of my kids' week, inspiring them to dream big and love their sport. I'm grateful to live in a small community where people are willing to sacrifice their time to give local kids a chance to participate in the greatest football code in Australia (surely I can say that on the Almanac!).
So, despite the uncertainty of Collingwood's weekly performance in 2021, or of their coaching line-up in 2022, footy remains a source of enjoyment and family-togetherness, which is a gift to be celebrating; especially this year.
Read more from Nicole Kelly (including an introduction to her novel) HERE
Nicole Kelly is a writer who lives in country Victoria. Her novel Lament was released in October 2020. Visit www.hawkeyebooks.com.au/lament/ to order your copy or you can visit www.hawkeyebooks.com.au/nicole-kelly to contact her. Otherwise follow her on Twitter @ruralvicwriter
The Tigers (Covid) Almanac 2020 will be published in the coming weeks. It will have all the usual features – a game by game account of the Tigers season – and will also include some of the best Almanac writing from the Covid winter.  Pre-order right now HERE
To return to our Footy Almanac home page click HERE.
Our writers are independent contributors. The opinions expressed in their articles are their own. They are not the views, nor do they reflect the views, of Malarkey Publications.
Do you enjoy the Almanac concept?
And want to ensure it continues in its current form, and better? To help things keep ticking over please consider making your own contribution.
Become an Almanac (annual) member – CLICK HERE.
One-off financial contribution – CLICK HERE.
Regular financial contribution (monthly EFT) – CLICK HERE.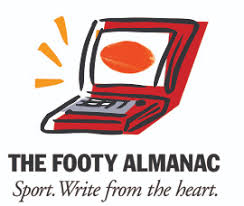 Is a teacher, mother, writer and all-round lover of words!