Almanac (Cricket) Books: 'George Giffen – A Biography' extract
An excerpt from the final chapter of Bernard Whimpress's new book, George Giffen: A Biography
George Giffen was a complex man.
Sensitive, perceptive, prescient, patient, modest, level-headed, sympathetic, volatile, gracious, contrary, disputatious, selfish, persistent, determined, nasty, conceited, divisive, difficult, forceful, resolute, crafty, artful, playful, nice, sulky, outspoken, unassuming, generous, fair.
Can so many adjectives be used to describe an individual? Yes.
At sixteen, having made a century for Norwood B grade he followed that success with failure after failure and was sensitive to those setbacks even within his own family setting. At eighteen he is perceptive, learning from watching English medium-pacer Alfred Shaw the value of not only bowling a good length but also varying length according to the batsman to whom he is opposed. As a critic writing for the Advertiser in 1908 he is prescient regarding the future employment of Wilfred Rhodes as an opening batsman and three years later after watching the South African googly bowlers he sees the important part this style of bowling will play in the game's future, especially on hard wickets.
Patience he exercises on his Test debut in Melbourne in 1881 when taking three-quarters of an hour to open his score before combining with Tom Horan in an important partnership of 107. It proved that he had an ideal temperament for Test cricket and influenced Australian captain Billy Murdoch's immediate invitation to join the 1882 touring party for England. He accepts that invitation modestly and also a kiss on the cheek from tour manager Charles Beal's mother after the Australians' thrilling success in the first Ashes Test at The Oval. As he noted he had much to be modest about for his own contribution (with scores of 2 and 0 and not required as a bowler) was minimal.
It is easy to be carried away by success but Giffen knew that cricket was a levelling game and when presented with a gold watch by Sir Edwin Smith in recognition of his performance on his first English tour he replied that he hoped not only to be a good cricketer but a good citizen and colonist. He was aged twenty-three at the time.
Sympathy is frequently absent from cricket because it is a cut-throat game but a wretched run with the bat at the start of his third tour of England in 1886 led him to appreciate the difficulties of others going through a spell of bad form. Volatile and gracious might be regarded as opposing personality traits and yet each was revealed against the same opponents in the one season. In a first game between South Australia and George Vernon's Eleven in November, 1887 he was involved as a batsman in a stormy dispute over a run out decision but then in a return game in December he agreed to continue to play on a pitch which had been vandalized and was certain to favour his opponents. The fact that he made 203 in adverse conditions and the match was drawn probably left him feeling even more gracious.
Contrariness is evident on several occasions, particularly when it came to his withdrawal (at late stages) from the 1888 and 1890 sides which toured England, and when bargaining for his brother Walter's selection in the 1893 team as a necessary condition of his own acceptance. In the controversial 1897-98 season when he withdrew from the Test matches over a pay dispute his first withdrawal seemed to be from all first-class cricket, then it was partial meaning that he was available for intercolonial games, and for a time he seemed to be prevaricating about whether to make himself available for the Test matches.
Disputatious can be found in the example when he refused to leave the crease after being given out hit-wicket for 9 in a match against Victoria in December, 1889 and went on to score 85 runs. Although he subsequently stated that he regretted the incident and was pleased the Victorians won by 18 runs his contrition was a long time coming.
Selfish is the charge most often brought against him, particularly as a bowling captain when as has been jokingly suggested his idea of a bowling change was to put himself on at the other end. Persistent is a positive spin on the same charge and comes about because Giffen would never admit defeat as a bowler. However, it is also evident that other captains frequently bowled him to excess and at the age of forty Joe Darling in successive games against Victoria and New South Wales had him deliver 108 overs for the first match, and 77 overs in a single innings in the second. Not surprisingly Darling also commends his determination.
The 1893 Australian tour of England was an unhappy one and nasty, divisive, difficult and conceited were terms used to describe him by former player John Trumble who watched a number of games, tour colleague Charlie Turner, and team manager Victor Cohen.
Forceful and resolute are twin traits evident in Giffen's attitude to the selection of Walter in the 1893 team and of five South Australians – himself, Jack Lyons and Test debutants Darling, Ernie Jones and Jack Reedman in the first Sydney Test match of 1894. He was not so forceful pushing Reedman's legitimate claims on other occasions, however.
Crafty and artful are alternative ways of expressing his thoughtful approach to bowling and how he was always plotting to deceive batsmen, and especially during marathon spells at the crease.
Playful might not sound like the same man but there was the example of him mimicking the action of William Attewell in a club game for Norwood against South Adelaide in 1891and even firing down some quick deliveries a la Ernie Jones for Adelaide against Hindmarsh in 1895. The Sheffield Shield match against Victoria in Melbourne over New Year 1899 was a hard-working game in which he took 3 for 145 and failed in each innings with the bat and conceivably brought the realisation that his powers were waning and thus led him to relax with a lighter approach.
Nice was an adjective used by Harry Trott. It does not tell us much but it is a counter to nasty. Sulky (or petulant) describes his behaviour in returning to the post office in a huff following unexpected punishment by two Fijian batsmen in 1908.
Unassuming and outspoken are polar opposites used by Darling and Worrall describes him as generous (in his willingness to lend a hand to others) and fair. Who is to argue with a team-mate and opponent who knew him well.
Books may be purchased from Roger Page at [email protected] or by contacting the author at [email protected] or phoning 0447 003 654. A limited edition of 50 signed, numbered books in a quarter-bound faux leather case is $195 and a standard hardback is $65 plus postage.
Bernard Whimpress explains his motivation for writing this book HERE.
For more of Bernard's writing, click HERE.
To return to our Footy Almanac home page click HERE.
Our writers are independent contributors. The opinions expressed in their articles are their own. They are not the views, nor do they reflect the views, of Malarkey Publications.
Do you enjoy the Almanac concept?
And want to ensure it continues in its current form, and better? To help things keep ticking over please consider making your own contribution.
Become an Almanac (annual) member – CLICK HERE.
One-off financial contribution – CLICK HERE.
Regular financial contribution (monthly EFT) – CLICK HERE.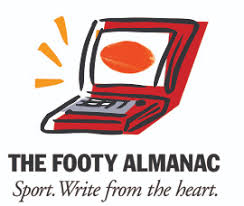 Freelance historian (mainly sport) who has just written his 40th book. Will accept writing commissions with reasonable pay. Among his most recent books are George Giffen: A Biography, The Towns: 100 Years of Glory 1919-2018, Joe Darling: Cricketer, Farmer, Politician and Family Man (with Graeme Ryan) and The MCC Official Ashes Treasures (5th edition).