Almanac Boxing – Alvarez: The red-headed Mexican pound-for-pound king
The sport of boxing is not everyone's cup of tea, but I have always been a fan.  It stems from the heavyweight icons of the late '70s.  Ali was still the greatest.  Smokin' Joe Frazier was the tough guy with the nickname to match.  The recently deceased Leon Spinks beat Ali but then partied his way into oblivion.  Larry Holmes took over the title and we saw him smash Gerry Cooney, 'The Great White Hope', on a Saturday morning (our time) in June 1982.  Wide World of Sports with Gibbo and Chappelli became a staple on Saturday afternoons and gave us a window into the US boxing scene.  We saw the four kings, 'Sugar' Ray Leonard, 'Marvellous' Marvin Hagler, Tommy 'The Hitman' Hearns and Roberto Duran (with his hands of stone) laud over the middleweight and adjacent divisions in the '80s.  'Iron Mike' Tyson seemed unbeatable, until he was.  Locally, we could watch Jeff Fenech and Lester Ellis on free-to-air tv of a Friday night.
Public interest in boxing overall, let alone Australian boxing, has been waning in recent years.  UFC has emerged as the global king of the combat sports.  Interest in Australian boxing appears limited to following the exploits of a procession of ex-footballers who have turned to boxing to make a dollar.  People pay attention to rugby league players slugging away in exhibition bouts.  But Australia has our fair share of top-class boxers.  George Kambosis Jr is set to face Teofimo Lopez for the lightweight title (and a $2.7m payday).  Tim Tszyu is the number one contender to the super-welterweight belt held by Brian Castano.  Andrew Moloney was cruelly denied a super flyweight world title in a controversial 'no decision' bout in Las Vegas last November.  Moloney's twin, Jason, took on the Japanese superstar, Naoya Inoue, for the bantamweight title in October but was stopped in seven rounds.  Pound for pound, Naoya Inoue is currently ranked as the second best boxer in the world.  Teofimo Lopez is ranked sixth.  Brian Castano foiled the championship plans of Patrick Teixeira when he took his belt, comprehensively, in February.  Which brings us to the question of who is ranked number one?  The answer is the red-headed Mexican super middleweight, Saul 'Canelo' Alvarez.
Pound for pound is a ranking used in boxing of who the better fighters are relative to their weight.  'The Gypsy King', Tyson Fury, is heavyweight champion and at 2.06m and 115kg would comfortably handle any fighter from a lower weight class.  Pound for pound rankings are adjusted to compensate for weight class, as these fighters do not compete directly.  Judging the best fighter pound for pound is subjective, and ratings can vary, but currently Canelo Alvarez sits at number one of the Ring Magazine and BoxRec rankings.
Canelo Alvarez throws punches with bad intentions.  He first came to my attention as a highlight reel boxer, dropping opponents with vicious body shots.  He threatens the head to open up a path to the body.  His record stands at 58 fights for 55 wins (37 by KO), 1 loss and 2 draws.  The sole loss came to the previous pound for pound superstar, Floyd Mayweather, via majority points decision and was a classic example of the defensive superstar schooling the young bull.  There was a split-decision draw against Kazakhstan's second best export, middleweight star Gennadiy Golovkin (whose only blemishes are the draw and subsequent loss to Canelo) and an earlier split decision draw against Jorge Juarez in just his fifth professional bout in Tijuana, Mexico (enough said).
Canelo looks a big guy when training in the gym, but the tale of the tape says otherwise.  He stands 5'8" (1.73m) tall and tipped the scales at 167.6 pounds (76kgs) in his latest fight.  He has held titles at 154 pounds (70kg), 160 pounds (73kg), 168 pounds (76kg) and 175 pounds (79kg).  His loss to Mayweather was fought at a 152 pound (69kg) catchweight.  A 10kg weight range may not seem like a big difference, but any elite athlete has an ideal playing (or fighting) weight.  A move of a kilogram or two, up or down, can impact performance.  Too light and you lose power, too heavy and you can be sluggish.  AFL footballers would have ideal playing weight that sits well within a 10kg range.
I can be safe in saying that Richmond's Dustin Martin is the best player in the AFL.  Patrick Dangerfield and Nat Fyfe are there or thereabouts, but not better.  Martin stands at 1.87m (6'2"-ish) and weighs 86kg (189 pounds).  He has a comfortable height and weight advantage over the world's best boxer.  If we stay at Richmond, Daniel Rioli tips the scales at 76kg but towers over Canelo at 179cm (5'11") tall.  Dion Prestia stands 1.75m tall but outweighs Canelo at 82kg (180 pounds).  By all measures, the pound for pound king is not a big man.
What makes Canelo so good?  British fighter Callum Smith possessed a 27-0 record and the WBA super middleweight belt prior to his bout with Canelo in December 2020.  Smith has an 18cm height and 21cm reach advantage.  Undeterred, Canelo delivered Smith his first loss and took his belt in a comprehensive 12 round beating.  The Brit was left with a detached left bicep for his trouble.  The product of numerous Canelo right hand shots.  Smith offered the following assessment:
'I knew I was bigger than him. When I stood in front of him he didn't look big physically. I thought: "I can't lose to a man that big". He is thick-set, he has a good presence, he closes the gap.
'He is very clever in terms of the jab. He walks you down. With anybody else, you would jab. But he wants you to jab because he's a counter-puncher.  So you don't throw as many jabs and while you are waiting, he closes the space down without throwing anything.
'Then he jabs and hits you. You think: "How did that land?"
'He keeps you guessing all the time. You are hesitant.
'His best asset was his presence and his defence. He was so hard to hit clean. When I was throwing he was riding them, making me miss. You aren't landing so you stop fully committing to shots.
'He takes away what you are good at.
'I don't think anyone beats him. He may only lose if he keeps going up in weight but he's put a stop to that. His defence is just too good.'
Canelo fought Avni Yildirim, the Turkish Wolf, in Miami on Saturday night (Sunday here).  Rather than a Turkish wolf, Yildirim looked every bit the boxer with a 21-2 record coming off a 735 day lay-off that he was.  Totally outclassed by the 1/50 favourite, Yildirim remained static, shelled-up and provided Canelo with little more than target practice.  Uppercuts and hooks to keep the guard up and then body shots to inflict damage.  A stock standard one-two (jab, cross) sent Yildirim to the canvass in the third round, and he didn't answer the bell for the start of the fourth.  Yildirim's trainer implored him to 'show me something' in the fourth or he would throw in the towel.  The outgunned Yildirim knew that he was beaten, and now lives to fight another day.  For mine, it wasn't the knock down that stopped Yildirim, it was an earlier right hook landed by Canelo.  Yildirim had thrown his only real punch in anger, a long right hook, that Canelo easily avoided before coming back with a right hook of his own that was right on the money.  You can't win a fight if every punch of yours is going to be countered, and with interest.
Why would Canelo fight Yildirim?  Because activity matters.  Canelo's previous fight was only 70 days ago, but prior to that he was coming off a 13 month lay-off due to the COVID-19 disruption and then a legal dispute with his promoter.  Canelo has a bout with the English southpaw Billy Joe Saunders planned for May 2021, and he wants to be match fit in his bid to be the first boxer to unify the super middleweight class.  The people want to see Canelo fight, and when you are right at the top of your game you are going to outclass a lot of opponents.  Canelo has declared he wants to fight four times this year, an almost unheard-of schedule for a world champion.  Boxing fans worldwide will be the real winners, but taking home eight figure purses per fight, Canelo will do pretty well himself.
The Tigers (Covid) Almanac 2020 will be published in 2021. It will have all the usual features – a game by game account of the Tigers season – and will also include some of the best Almanac writing from the Covid winter.  Pre-order HERE
To return to our Footy Almanac home page click HERE.
Our writers are independent contributors. The opinions expressed in their articles are their own. They are not the views, nor do they reflect the views, of Malarkey Publications.
Do you enjoy the Almanac concept?
And want to ensure it continues in its current form, and better? To help things keep ticking over please consider making your own contribution.
Become an Almanac (annual) member – CLICK HERE.
One-off financial contribution – CLICK HERE.
Regular financial contribution (monthly EFT) – CLICK HERE.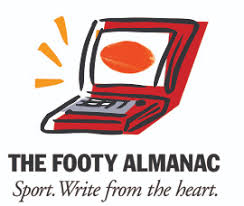 About
Dour opener and close-checking fullback. Peaked early.