AFLW Round 1 – Adelaide v Western Bulldogs: Desperate Dogs And Debutants
AFLW Round 1 – Adelaide v Western Bulldogs
2 February 2019 at 8.10 pm
Norwood Oval, Adelaide
Unfortunately, I was unable to visit Adelaide for the opening round for my team (Crows), so watched it on the small screen.  The game was played at Norwood Oval, a very pretty venue with some shade on the members' side of the ground which is important on a day that reached nearly 40 degrees.
The last time I saw my team play, we were devastated because Erin Phillips didn't kick a goal and Chelsea Randall was injured and missed the second half.  The result was that the Crows missed out on a place in the grand final for 2018.  There were highlights from that game to salivate over including the skill of Ruthie Wallace and Eloise Jones.  Sadly, Wallace isn't playing this year.
But …. Back to 2019:  the first goal of the quarter and the match was kicked by Crows' debutante Chloe Scheer.  She looks to be a marvellous new talent:  she's only 19 years of age and has a fabulous career ahead of her.  Lucky that she kicked a goal, because Adelaide wouldn't have scored one otherwise.
It was a dour affair with a total of three goals being scored – all in the first half.  The Crows added eleven behinds while the Doggies finished with 2.6.  Just one point in it which was disappointing for the Crows.  For the Dogs, a win is a win – in a short competition it is the difference in being in the top two or languishing elsewhere, well away from the sheen and lustre of the premiership cup.
Katie Brennan led the Dogs from the front by kicking their only two goals.  She was well supported by her co-captain, Ellie Blackburn who finished with 18 disposals.  These two players are a coach's dream.
But I only had eyes for the Crows, hunting for that elusive goal.  Ebony Marinoff continued where she left the 2018 season with 25 disposals and ten tackles.  She was ruthless.  While Erin Phillips didn't kick any goals, she had a positive impact with 18 disposals and two behinds:  but imagine if she had been able to convert those!  Chelsea Randall is workhorse, seeming to be in everything but only registered ten disposals.
The other person I watched closely was Jessica Foley who also debuted for Adelaide in this round.  She too is an elite level basketballer and, back in the day, was captain of Adelaide Lightning.  Jess covered absences from Rhiannon Metcalfe (ACL) and Jasmyn Hewett (ankle); she managed 25 hitouts in the ruck at an efficiency rate of 57%.  She's hard to miss at 183 cm.  It was a credible performance and I have hopes that she will continue to have a significant and positive impact on the Crows.
My other fave, Eloise Jones, was in the game and contributed to the scoreboard.  She will find her kicking legs next week, I hope.
The Crows don't have to do much to turn this loss around next week:  they need to take their time to kick the goals.  The ball was in their half on plenty of occasions, but goals and ergo victory were elusive.  But they need to win the remaining six matches to be able to jive in the big dance at the end of March.
PS:  I wonder whether the umpires have had some up-skilling?  I'm not sure where they are drawn from, but they were unnoticeable, which is what you want.  I found this in quite a few of the matches that I watched in Round 1 of season 3.
Adelaide:                     1.1       1.7       1.10     1.11 (17)
Western Bulldogs       0.2       2.3       2.4       2.6 (18)
GOALS
Adelaide                      Scheer
Western Bulldogs       Brennan 2
BEST
Adelaide                      Marinoff, Scheer, J. Foley
Western Bulldogs       Brennan, Blackburn, Scott
UMPIRES
Broadbent, Bryce, McGinness
CROWD
7,830:  would have been 7,831 if I had made the trek in the stinking heat.  Congratulations to the crowd for coming out in what has been an overwhelming couple of weeks as far as the heat is concerned.
Do you love the Almanac concept?
And want to ensure it continues in its current form, and better? To help keep things ticking over please consider making your own contribution.
One off financial contribution – CLICK HERE
Regular financial contribution (monthly EFT) – CLICK HERE
Become an Almanac (annual) member – CLICK HERE
To find out more about Almanac memberships CLICK HERE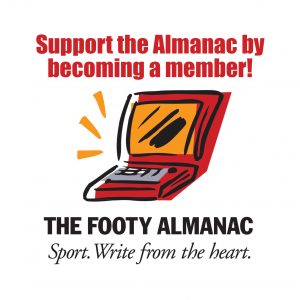 One of the first females to be admitted to membership of the G. Thank you Mr Cain. Nicknamed The Hyphen by Alamanac Editor, despite the fact I don't have one.