The World Cup Alphabet – T is for…
…THE TRAIL OF TEARS (Australia's Qualification History)
I've found it hard to try and give a name to or even understand what happened to the Socceroos between June 22 1974 and November 16 2005. The ways they managed to miss out on the World Cup were self inflicted, unlucky and literally the way of witchcraft. Now we have qualified for four straight World Cups we shouldn't forget about those dark baffling days and the ones that suffered through them.
Celibate Rifles lead singer and one time SBS pontificater Damien Lovelock described it as 'The Trail of Tears' in his Bedside Guide to the World Cup book. I've gone with that term ever since.
The originals.
The 1966 failure was down to naivety. The original World Cup seeking Socceroos trained in FNQ to try and acclimatise to Cambodia where they would play North Korea over two games. Unfortunately they didn't train their guts to be able to handle the local water in South East Asia. Playing a rigid highly trained team also didn't help and they were soundly beaten. Lesson learned.
In 1970 we were a bit more experienced, a bit more battle hardened. A tour to Vietnam during the war to play in a peace tournament had brought the team of amateur stragglers together in a to a tight unit. They did away with South Korea and Japan in the first qualifiers before taking on Rhodesia. After 1-1 and 0-0 draws the Aussies would have to play in another replay against the Africans. Thankfully a deal with a witchdoctor (which I'll talk about next week) and a decent performance put us through 3-1. All we now had to do was beat Isreal. A 1-0 loss in Tel Aviv and 1-1 draw back in Sydney saw Israel go to Mexico and Australia go out with nothing to show for it but a witchdoctor's curse.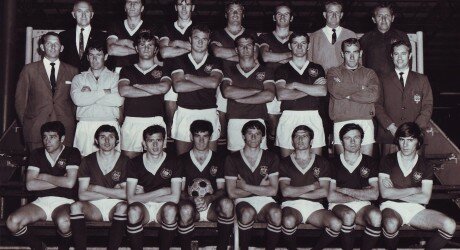 1970 Qualification Socceroos.
In 1974 we of course know what happened there. All hail the Holy Grail and Jimmy McKay who did not fail! We went to West Germany for the 1974 World Cup.
Normal service resumed thereafter though. Rale Rasic, the coach who had taken us to history in the Rhineland, was sacked. A no name Englishman Brian Green was installed as boss. Before you could say 'route one English football' Green was back off home after only two matches after he was put on a good behaviour bond for stealing two LPs from a record store in Melbourne.
Not only did Green have little experience but was also seemingly a kleptomaniac. The ASF had seemingly dodged a bullet but then made the quite stupid decision of overlooking Rasic returning or Johnny Warren taking over (the popular choices) to employ another unknown British ex-pat in Jim Shoulder.
Shoulder got the team to play a heap of friendlies against Asian countries during 1976 and began to try and fill the void left by the loss of all the talent from 1974 with John Kosmina, future inaugural Glory coach Gary Marrochi and Todd Clarke all being blooded. This was to help stand shoulder to shoulder with 1974 old boys like the captain Peter Wilson. This was where anything positive stopped though and after killing off the Pacific sides they were eliminated by Kuwait and Iran. Probably our most ineffective campaign.
Sack Shoulder? Nah, keep him on! The much maligned coach was finally sacked though following a three game series against Greece in 1978 which would be the only friendlies Australia would play that year. This was all a massive comedown from the achievements on the previous four years but the ASF had shot themselves in the foot getting rid of a technically gifted albeit mouthy coach in Rasic. For 1982 Australia would sink even further being eliminated by New Zealand who would go on to qualify for Spain '82. Coach Les Scheinflug mocked on a bus full of Kiwi players somewhere in the Pacific.
Chasing Scottish Shadows. 1985.
For the campaign to get to Mexico in 1986 the one and only Frank Arok was given the keys to the Socceroos. Not a bad coach. Definitely not forgettable. Too bad he would be up against Alex Ferguson and a Scottish team full of talent. The future Man United legend stepped in to the Scottish coaching role after the tragic death of Jock Stein who had died from a heart attack on the side of the pitch following a game with Wales.
The Scots featured a heap of stars including the Liverpool trio Steve Nicol, Kenny Dalglish and Graeme Souness. Celtic legends Frank McAvennie, Roy Aitken and Paul McStay. The Aberdeen star duo of Gordon Strachan and the hard nosed defender Alex McLeish along with Rangers' legendary striker Davie Cooper.
The first leg would be played at Hampden Park in Glasgow in late November, not exactly top weather was expected. Arok sent his side out unchanged and playing to their strengths like they had done against bogey sides New Zealand and Israel. It didn't help. After holding the fort for the first 45 minutes Scotland finally got a goal past Australia in the second half and it came through Cooper.
The second wasn't far off and on the hour McAvennie scored a second that had pushed Australia and Mad Dog Arok (as the Scottish press had dubbed him) further in to the mire. One goal from either side of the Glasgow divide and Australia had it all to do in the return leg.
With the second leg in Australia Arok knew he had the advantage weather wise. If he had his way the game would be played in Darwin and on bitumen in the middle of wet season, the Scots wouldn't know what hit them! Yet like many things in life that are inevitable such as death and taxes the Australian Soccer Federation shot themselves in the foot again. For the most important Socceroos game since 1974 the ASF brains thought that playing the game in Melbourne which is the closest to Europe in both weather and look would be the venue for the match.
Before the match the ASF decided to also be more of a sport and water the pitch, nice one. Scotland went out with a rather defensive team that included the additions of Richard Gough, McStay, David Speedie and Willy Miller. Arok brought in West Aussie Robbie Dunn and Jimmy Patikas (neither of them a striker) to try and get the goals needed with Mitchell and Kosmina to hopefully be supplied. In front of almost 30,000 fans at Olympic Park Australia huffed and puffed but under the gin blossom faced Ferguson the Scots were solid as a brick shithouse and wouldn't be dictated to.
The keeper Jim Leighton was particularly strong and repelled four decent chances to thwart the Aussies. 0-0 it finished and Scotland were through while Australia lamented another failure.
Arok was still boss and with some of the Socceroos now playing in Europe the side was slowly showing some continental class. The Bicentennial Cup held in 1988 featured Brazil, the world champs Argentina and Saudi Arabia. Australia won the tournament! Hope renewed! Frank Farina, Paul Trimboli, Graham Arnold, Robbie Slater, Gary Van Egmond and Alan Davidson turned out for the team.
Against Israel it would all come crashing down again. In the final game to see who would advance to a final play off with South American opposition the newly constructed Sydney Football Stadium was full of the true believers. Those with a glint of hope in their eye and knowledge that forces for stronger than what happened on the pitch were at play here.
We looked good until a defensive mix up between Van Edmond and Charlie Yankos saw Israel score. We pegged a goal back but a 1-1 draw knocked the Aussies out. For whatever reason no injury time was added and ref blew the whistle early.
Following the baffling final whistle Frank Arok did his usual party trick of storming on to the pitch and confronting the referee in his Australian tracksuit with assistant coach Crino in support. Despite his gesturing and Serbian/English abuse in the mix the referee managed to get off the pitch without having his head ripped off. This was a bit of a disaster for the fact that Australia had failed to even get in to the last phase of qualifying (Israel would go on to lose to Colombia only 1-0 on aggregate) and that Arok was held on to after the campaign for Mexico where he made some massive errors.
Arok would eventually leave the position following the elimination and Eddie Thompson would take over.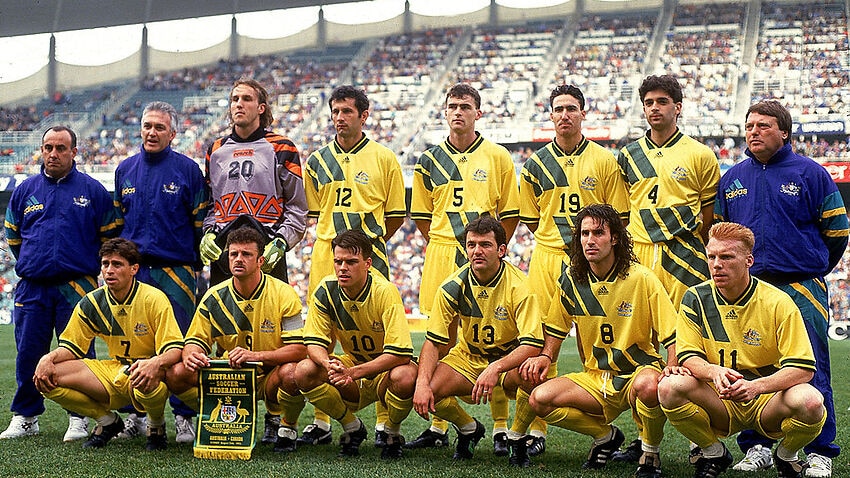 The Socceroos during 1993. A team all pulling in the right direction that took Argentina to the wire.
By 1993 the Australian team was looking very good. The best of some classic NSL teams like Adelaide United, Souths and the Melbourne Knights mixed with the best we had playing in Europe. Ned Zelic had roared on to the scene. As  had the likes of Bosnich and the Vidmars. After a heartstopper against Canada we would play the 1990 Runner ups Argentina for a spot in the World Cup.
The Argies had been in poor form and pressed the emergency button to bring back Diego who would return from exile in little ol' Sydney against our humble Socceroos. There was a buzz about the place now. A mix of new fans coming to realise we actually had a national team mixed with those who had been along the for the ride for longer with the scar tissue to prove it.
In the first leg we took it up to the giants drawing 1-1 but we'd have to score in Buenos Aires to go through. With sometimes fast bowler in Freo grade cricket Robbie Zabica in goal we fought so so hard. A goal was disallowed for Carl Veart and then a cross cruelly looped off Alex Tobin and over Zabica's head to go in for the Argies. Argentina would qualify for World Cup '94 2-1 on aggregate.
We were gutted but proud. Thompson finished up in 1996 and headed to Japan to coach Sanfrecce Hiroshima. After he left Sanfrecce with a less than impressive record he was referred to as 'the second worst thing to ever come to Hiroshima.'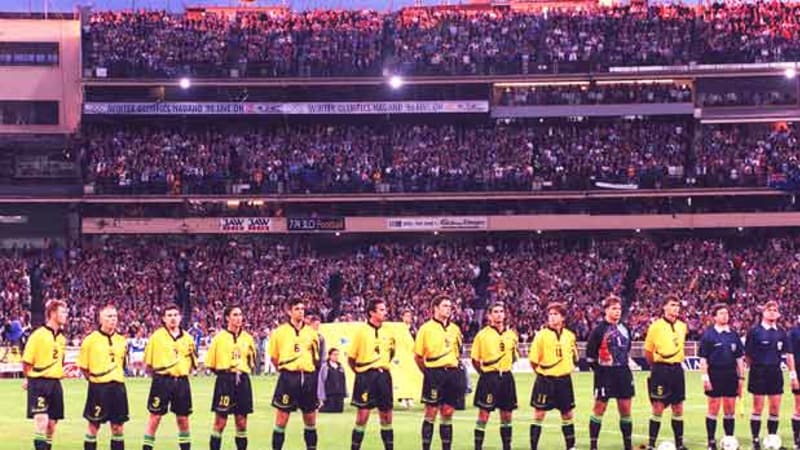 The Socceroos on 'that night' in 1997 at the G. Thankfully some of them would be there in 2006.
For 1997 we had grown even stronger both player and coaching wise. We had managed to get in Terry Venables following his successful stint as England boss. Solidifying a rag tag side he took England to within a Gazza toenail to the European Final. Viduka, Kewell, Lazaridis et al were now playing in England. A super team on paper with an easier route to the World Cup than previous times through Asia rather than South America.
With Soccer Australia boss David Hill's attempt to do a 'march to the sea' against ethnic clubs and bring the NSL in to the mainstream the stars, at last, seemed to be aligning. The sport was going to go somewhere near reaching its potential.
Iran would be the opponent. After a 1-1 draw in Tehran we brought it back to the sold out MCG on a Saturday night in November 1997. We were flying. So many chances. One finally put away by Kewell to go with his goal in Tehran. Would it be enough? It doesn't matter! There's another goal early in the second half! Vidmar!
The onions, bread sticks and berets were out. Fans being corrected that Plastic Bertrand was infact Belgian and not French. We could believe we were finally going to the big dance for the first time in 24 years! Then Peter Hoare happened. In what was a watershed year for the serial pest (he would also gate crash Michael Hutchence's funeral in the same month) as he ran on to the field and tore down a goal net.
The delay allowed the Iranians to get themselves together and plan an escape. It was the biggest escape on Australian soil since Cowra. A goal that was possibly offside was tapped in to make it 2-1. Then before we knew it the wonderful striker Azizi was put through on goal beating the offside trap and slid the ball between the legs of Mark Bosnich. 2-2. End game on away goals. Venables went back to the UK to carry on his Arthur Daley like existence of dodgy deals while Hill resigned and the game went back to eating itself alive in this country.
With Frank Farina as boss and no money in the bank Australia would play Uruguay for a spot in the 2002 tournament over two legs. We believed. Of course we did. Uruguay are who? No one, the press especially, really fully knew of the football pedigree of these guys. The Socceroos now had Lucas Neill, Mark Bresciano, Brett Emerton and others to complement our other stars.
A late 1-0 win in Melbourne seemed to exorcise some of the ghosts of the Iran debacle. No away goal for Uruguay supported this hope. In Montevideo though we turned to water even before getting on the pitch.
Welcome to Uruguay Dukes.
The Soccer Australia hierarchy, broke and having no idea how to prepare for a game in Latin America, allowed the team to travel cattle class and arrive to a throng of locals abusing the team. The crowd got in to their heads. We were down early 1-0 but almost got it back to 1-1 in the second half. That would be enough. Two late goals To Uruguay had us heading home 3-1 on aggregate. Tony Vidmar inconsolable as he walked off the pitch following his third successive failure as a Socceroo.
Of course for 2006 and beyond we'd be in the big one. It took Frank Lowy throwing away Farina and throwing the money at Hiddink but we got there. It's almost blase for some and will grow even more so if the tournament grows from 32 teams which is dangerous and insulting. The qualification pleasure and pain is part of the Socceroos narrative. It has defined us in many ways. Where's the unbridled joy of 2005 without the calamitous heartbreak of 1997.
A blase attitude is also insulting to those players and fans who never tasted the excitement of the World Cup draw or buying the strip released for the cup or even planning a trip to the country hosting. Johnny Warren played in the World Cup but never saw us go back.
Let's never go back to these days although I wouldn't put it past us. We have form.
RTR FM Presenter. Glory Guerrillas Producer and Co-Host. Contributer to Football Nation Radio and Football West. Worships at the feet of the mighty Cats, Socceroos, Matildas, West Perth, Glory and Glasgow's Green and White most of the time.