Way, way back in 1974, I met the then-Premier of Victoria, Dick Hamer, in rather unusual circumstances. How and why it happened is worth relating.
It was a Friday, the busiest shopping day of the week in the Melbourne CBD. Stores had only recently begun trading until 9 pm, and the Joseph Saba fashion boutique in Flinders Lane that I managed was hugely popular.
But this particular day was different. Some months beforehand, I had been conned by a pair of professional thieves posing as an upper-class mother and daughter. They had left a trail of worthless cheques across town, but now they had been caught, and their trial was to begin that morning in the Russell St. Magistrates Court.
The police assured me that I would be one of the first witnesses, so after a brisk 20-minute walk to the court, I was ready when proceedings began at 10.00 am. Under my arm was a folder of documents, including bank statements and a copy of the worthless cheque.
And so I waited. And waited, as proceedings dragged on and the defence lawyer seemed to question every procedure. By 2.00 pm I was getting anxious, knowing that our regular stream of Friday customers would have already begun, and I had not called in extra staff.
At long last, well after 3.00 pm, my name was called. As quickly as I could, I swore an oath on the Bible, identified the culprits, gave my evidence, then scooped up my things and hurried down the stairs out onto Russell St.
There, at the traffic lights, a heavy hand clamped onto my shoulder, and a large copper said with the straightest of faces, "Excuse me, sir – could we have our Bible back?"
He headed back inside, and I bolted down Russell St. and turned right up Little Collins. At the corner of Swanston St., I was still travelling fast as I wheeled left around the bluestone wall of the Melbourne Town Hall.
CRASH!….I stumbled and fell, as the unfortunate person I had hit with a pretty good shirt-front landed flat on his back. Dazed, all I realised at first was that he was well-dressed in a suit and tie, and seemed familiar. Only when I was hauled to my feet by his two similarly-dressed accomplices did it dawn on me that I had mown down the Premier of Victoria, Rupert "Dick" Hamer.
Happily, neither of us were more than bruised. "Call me Dick," he said, as he brushed off his suit, and my apologies.
The Tigers (Covid) Almanac 2020 will be published in 2021. It will have all the usual features – a game by game account of the Tigers season – and will also include some of the best Almanac writing from the Covid winter.  Pre-order HERE
To return to our Footy Almanac home page click HERE.
Our writers are independent contributors. The opinions expressed in their articles are their own. They are not the views, nor do they reflect the views, of Malarkey Publications.
Do you enjoy the Almanac concept?
And want to ensure it continues in its current form, and better? To help things keep ticking over please consider making your own contribution.
Become an Almanac (annual) member – CLICK HERE.
One-off financial contribution – CLICK HERE.
Regular financial contribution (monthly EFT) – CLICK HERE.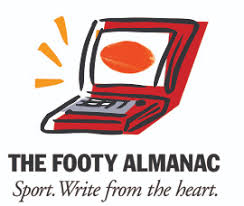 About
Conscription into the army ended Warren's dreams of becoming either a league footballer or a professional musician, but military service did at least teach him how to handle firearms, and to work behind a bar.