Almanac Footy History: The Crapp Chronicles Part 5: Crapp and the Telegram!
Round 10, 1899. Fitzroy in 2nd position would host Geelong, sitting a game behind in third but with a superior percentage. With four rounds left, this game would go a long way towards one of the two teams cementing a top-two finish. Another game in charge for Ivo Crapp, his eight league game for the season, and the first since a break for a state game, where he had an umpiring appointment in Bairnsdale.
In a rather lopsided affair, Fitzroy was held goalless for the first half, only adding three behinds, while Geelong was able to run away with 3.5. Despite Fitzroy's improved accuracy in the second half, Geelong was also able to add majors and ran away 35 point winners.
The one incident that stood out in this game, happened towards the end of the game when a small boy appeared on the ground clutching a telegram. With all the daring and bravado of a 12-season veteran footballer, the young lad dodged in and out of the players, heading for the middle of the ground. Many in the crowd and the players themselves were quite bemused as to who he may have been looking for. Among those were Ivo Crapp, who the boy obviously appraised, but just as quickly dismissed. Then just as suddenly as he had appeared, the boy left the ground, still clutching the telegram.
As play was about the resume, the lad entered the press box, where it was explained that he was on the field with a telegram for Mr. JJ Trait, legendary umpire of the old VFA. He had mistaken Ivo for the umpire of yesteryear. In fact, it was John Joseph Trait, who was considered the very first 'Prince among Umpires' and who Ivo worked alongside in his early days in the role. Perhaps the telegram the boy carried was from JJ Trait to Ivo, telling him that he was handing him the mantle of 'Prince among Umpires'.
KickToKick Podcasts can be found HERE
To return to our Footy Almanac home page click HERE.
Our writers are independent contributors. The opinions expressed in their articles are their own. They are not the views, nor do they reflect the views, of Malarkey Publications.
Do you enjoy the Almanac concept?
And want to ensure it continues in its current form, and better? To help things keep ticking over please consider making your own contribution.
Become an Almanac (annual) member – CLICK HERE.
One-off financial contribution – CLICK HERE.
Regular financial contribution (monthly EFT) – CLICK HERE.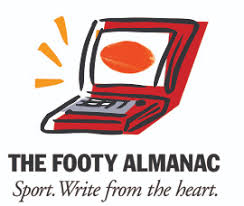 A host of the Kick to Kick Podcast educator fan