The Ashes 2021/22 – Third Test, Melbourne Day 2: Bowlers give England hope but batting lets Poms down
Boxing Day Ashes Day 2
Saw a couple of police on horses and instantly thought of The Charge of the Light Brigade. Why that, you may ask?
Well, in brief – the 600 cavalrymen (the English Touring Party) rode for a mile and a half into the Valley of Death (any Oz Cricket Ground) in a fruitless display of gallantry with very few returning alive.  Get the picture?
Another glorious day here in Melbourne and a goodly crowd is expecting Australia to bat all day. A public holiday, of course, even though it is not Christmas or Boxing Day. One of my pet projects is the abolition of 'holidays' when they are not actually 'holidays'.  The perfect example is Anzac Day and the biggest purveyor of this day is the AFL which holds Anzac Day events over anything from three to five days.  Enough of that!!
The Lyon (10) plays a couple of swashbuckling shots but goes to Robinson trying to drive and The Buttler pockets it, 2/76.
Harris is looking good this morning, getting behind everything. Despite all the criticism going his way he has remained a composed batter.
Goodness, a change of ends and not one substitute comes onto the ground.
A great breakthrough for England when Wood gets one to move sharply and sufficiently for Labuschagne (1) to get an edge for Root to gleefully accept the chance at first slip. Australia 3/84.
Twice Smith edges off Anderson, then Stokes and is lucky to be still there. Since the dismissal they have their tails up as only a Lion can do. All the bowlers have performed well indeed. The only problem is that Stokes continues to bowl his innocuous short stuff.
One can only but admire James Anderson who, at 39, continues to be the best of the English bowlers.  His fitness is superb.
A fine morning for England so far as they have continually put the batters under pressure and Root has kept his bowlers to short, sharp spells. Anderson superb, Wood's pace too much and Robinson on the spot.
It continues as Smith (16) gets an inside edge from the maestro and plays on and, at 4/110, England are actually back in the game. The much-maligned captain is over the moon with delight. Anderson 2/22 from 15 overs.
Harris continues to defy the attack but he is not causing any problems and has only added 19 runs in 90 minutes. At least he is staying there and the longer that lasts the longer he stays in the XI. He is playing everything from the crease which is suiting the bowlers as it does not allow him to play many forcing shots.
Jack Leach comes on for the first time since he was bled in Brisbane. Four from the first over, not bad.
At lunch Australia 4/131 and a great session for England and Harris defiant on 46.
Australia starting to move now that Leach is into the attack and Wood has lost his fire. A well deserved 50 for Harris from 131 balls. He weathered the attack this morning with aplomb and is set for the remaining 2 Test matches. Sorry Uz.
At last Leach comes over the wicket to the left-handers. He has been easy pickings bowling his left-armers outside their leg stump.
Travis Head has been the pivotal batter for the Australians during this series and has attacked the bowling at every opportunity. He has continued that approach today which makes me think who will the Croweaters want in the team now that Head and Carey have locked in their possies?
A good one from Robbo that moves slightly, Head (27) follows it and Root does the rest.  A vital wicket as the Australians had put on 61 runs for the fifth wicket, now 5/171.
Leach is now tying up one end and it is good cricket for the purist. A tight contest between bat and ball.
Joe Root is nearly as good as SPD Smith in the slips as he takes a fine diving catch to dismiss Marcus Harris (76) from Anderson. At 6/180 Australia is still trailing the English team who have probably had their finest day on tour so far. Jimmy A now has taken 3/23 from 17 overs.
An excellent innings from the beleaguered Harris which puts him in good stead for the remainder of the series.
Root removes Leach after a fine spell of 10 overs and the fiery Wood comes back into the attack against the two most inexperienced batters in the Australian line-up, Green and Carey.
The batters are finding it hard to score against the attack which has been at its best for the series and Root is not using Stokes and his bouncers.
Don't know what is going on at the Jolimont end but all three pacemen have slipped over at some time during the afternoon's play.
Noticed that England's ground fielding has been much improved on Adelaide and they have made some fine saves during the day.
A hard slog for the batters during that session and runs hard to come by but it was also due to some consistent bowling from England.  Australia 6/200, a lead of 15 with 4 wickets in hand.
I reckon that England will try and bounce Australia out now. Green is still learning the caper at this level and does not play many attacking shots.  Whoops! He has just driven Robinson straight down the ground for four.
Wrong again! It is Joe Leach into the fray and he strikes! Green (17) plays back and is LBW. Why they think they have hit it I don't know – this one was plumb. England continue their good play and Oz 7/209.
Cummins gets off the mark with an edge. I have waited for a couple of years now for Patrick Cummins to start scoring handy runs for his team but they are very few and far between. Maybe today is his day with the bat. Only five scores over 40 in his Test career.
It will have to be now as Carey (19) plays an audacious drive to Stokes only to get the edge for The Buttler to take. 8/219 and England on top today with some very disciplined bowling.  They have taken 7/158 in the two sessions plus.
Stokes is throwing his arms everywhere trying to get Root's attention but to no avail. He wants someone on the cut shot with Cummins on strike. As vice-captain he certainly has his say. In fact, I think this is the Achilles heel in this English side – too many players seem to want to have their say.
The second new ball has been taken and both batters look confident against it as Cummins beautifully drives Wood for four to emphasise this. He hits hard at Wood and Anderson makes a spectacular attempt to catch. Diving hard and high to his right he just fails to hold it and is bitterly disappointed.
Robinson makes a valiant attempt to catch Starc from his own bowling, falls to the ground but the ball spills out.  He hurts himself during this exercise and has to leave the ground.
Cummins (21) mistimes a shot from Anderson and the Englishmen wait with baited breath as Hameed (not the greatest of fielders) completes the catch. 9/255 and Jimmy A has 4/28.
So conscious is Root of saving runs that he dispatches four men to the boundary in the fourth over of the new ball and he remains the sole slipper. Starc is his problem as the left hander is a mighty hit when he gets on to it.
Local hero Scott Boland is warmly applauded when he comes to the wicket and gets 6 before he is caught in slips by Crawley from Wood and Australia are all out for 267, a lead of 82 runs. Starc remained not out 24.  Anderson 4/33, Robinson 2/64, Wood 2/61, Stokes 1/47, Leach 1/46.
A nice little session of 30 minutes coming up for Australia before stumps. A snorter from Cummins nearly decapitates Hameed as he ducks but gets a glove to the ball and is lucky to not be caught in the slips.
It will be a testing time for the English openers who have not distinguished themselves so far on tour.
Attempts at the Mexican Wave peter out for lack of interest as much as anything.
The openers are having a torrid time against Starc and Cummins who are coming in fast and furious. Starc gets the first wicket as Crawley (5) pushes at one and gets a faint edge for Carey to catch. England in trouble at 1/7. Next ball Malan is given out LBW and then a DRS. England in diabolical trouble now as Root rushes onto the ground and nearly rushes back first ball.  The crowd is wanting more, thumbs up!  Should there be a mercy rule in cricket?
Root plays a lovely drive off Cummins down the ground for 4. Root will not be deterred as once again he has to rescue a cavalry that has been completely overwhelmed by the rampaging locals' sans horses.
Hameed plays couple of lovely shots but you would not want to back him to stay long. His batting looks dangerous if you have a heart problem. Beautifully written, even if I do say it myself!  He pokes at one from Boland and Carey takes a simple catch. England 3/22, wait, make that 4/22 as Leach shoulders arms and is bowled.
Boland is so hyped up he goes to run to the wrong end of the ground at the end of his over. And why wouldn't he be after 2/1 off one over.
At stumps England have staggered to 4/31. Starc has 2/11 and Boland 2/1.  England have to make another 51 runs before they start the game.  In the end, a triumphant day for Australia after England fought back hard with the ball.
More from Citrus Bob Utber can be read Here.
To return to our Footy Almanac home page click HERE.
Our writers are independent contributors. The opinions expressed in their articles are their own. They are not the views, nor do they reflect the views, of Malarkey Publications.
Do you enjoy the Almanac concept?
And want to ensure it continues in its current form, and better? To help things keep ticking over please consider making your own contribution.
Become an Almanac (annual) member – CLICK HERE.
One-off financial contribution – CLICK HERE.
Regular financial contribution (monthly EFT) – CLICK HERE.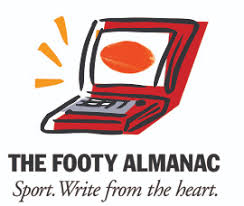 At 80 years of age Citrus Bob is doing what he wanted to do as a 14 year-old living on the farm at Lang Lang. Talking, writing, watching sport. Now into his third book on sports history he lives in Mildura with his very considerate wife (Jenny ) and a groodle named "Chloe On Flinders". How good is that.