Boxing Day Test Day 3
Scott Boland, in one of the most astonishing bowling displays ever in a Test match, has demolished the Englanders with 6/7 in just over 1 hour of play. If the English were down before this game, they are now out!
Day 3 should see The Last Rites performed on the hapless Englanders. Would they have done better with The Pope playing?
Came in on 8.35am train from Lilydale and, as usual, I went to the end of the platform at Canterbury to get a seat on the carriage that is nearest the exit at Richmond station.  So did 300 other people!  It is a wonder the train did not go head over turkey.
I do admire our love of sport here in Victoria, it is unparalleled in the world.  Mind you, many of them would have purchased seats anyway but they still came in their droves.
A beautiful day and Australia only need 6 wickets. For England much will depend on the two at the bat, Messrs Root and Stokes, The Pride of The Lions. Let us hope they dig in and make a fight of it.
Stokes starts well hitting two superb fours from Starc, a straight drive and one through the covers. Then a beautiful ball from Starc cuts back and removes his middle stump. No-one could have played it, an absolute ripper. Stokes out for 11 , England 5/46 and Starc 3/25.
If for nothing else, the locals came to see "their boy Scotty" bowl and he didn't let them down trapping Bairstow (5) LBW. Of course he went DRS. You do desperate things in desperate times.  England 6/60 and "our boy Scotty" 3/5.
At 6/60 I went to find "Swish", got lost and England are 8/65.
The last hope, Joe Root (28), got a good one from Boland and Warner did the rest.  7/61 and "our boy Scotty" has 4/5.
This is Scotty's game as Wood (0) hits one back hard at the bowler and he takes a sharp catch.  The way he is going, he could have caught it with his feet.  8/65 and "OUR boy" has 5/6.
How crazy is this game – and it gets WORSE!
Robinson (0) fends at one from OBS (Our Boy Scotty) and is caught by Labuschagne at third slip. England 9/65 and Boland has 6/6.
James Anderson, in his last appearance in Melbourne, scores a single, then Green bowls him and the game is all over. England all out for 67. They have lost their last 5 wickets for 7 runs and Australia win by an innings and 14 runs to retain The Ashes.
Australia 267 defeated England 185 and 67 (Root 28, Boland 6/7, Starc 3/29 & Green 1/8).
How fitting for Scotty Boland to win the Johnny Mullagh trophy. A proud indigenous local, his performance in this game was, in fact, unbelievable. Not since Bob Massie way back in 1972 has a performance been seen like this.
Well, that is it for the Boxing Day Test. How apt a title as England, in the white corner, were pummelled early in the bout and didn't make it to the championship rounds.  Next we're off to Sydney.
Now to twiddle my thumbs waiting for my plane home on Friday!!!!!
To read more from 'Citrus' Bob Utber click here.
To return to our Footy Almanac home page click HERE.
Our writers are independent contributors. The opinions expressed in their articles are their own. They are not the views, nor do they reflect the views, of Malarkey Publications.
Do you enjoy the Almanac concept?
And want to ensure it continues in its current form, and better? To help things keep ticking over please consider making your own contribution.
Become an Almanac (annual) member – CLICK HERE.
One-off financial contribution – CLICK HERE.
Regular financial contribution (monthly EFT) – CLICK HERE.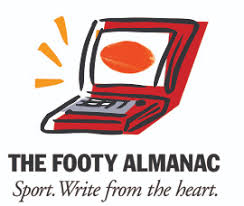 At 80 years of age Citrus Bob is doing what he wanted to do as a 14 year-old living on the farm at Lang Lang. Talking, writing, watching sport. Now into his third book on sports history he lives in Mildura with his very considerate wife (Jenny ) and a groodle named "Chloe On Flinders". How good is that.