The Ashes 2021/22 – Third Test, Melbourne Day 1: Australia continue on their merry way!
BOXING DAY ASHES DAY 1
It's Ground Hog day as Australia continued to rout the dishevelled Brits. It started early in the day and never abated for the visitors who took a pounding from the quintet of Australian bowlers.  It is hard to see this game lasting 5 days.
One of the great days on the sporting calendar at the G.  The buzz starts early in the morning despite all the seats being sold.  It's just part of the tradition to line-up early for your seat.
I arrived around 3 hours before the game commenced and there was a lively crowd already eager to get in. Such is the history of this match and The Ashes in particular.
More like a footy day today with many people rugged up for the cold breeze.
Australia change Neser for skipper Cummins and the injured Richardson makes way for Scott Boland. Four changes for England as we predicted. Coming in Bairstow, Wood, Leach and Crawley for Burns, Pope, Woakes and Broad all omitted.
EVERY Australia player except the keeper (number 4) had a jumper on.
Aunty Joy Murphy congratulated Scott Boland, the 4th Indigenous player to make it to the top in cricket for Australia, to warm applause.
Bit disappointed in CA that they did not have a former Test bowler present Boland with his cap instead of the injured Josh Hazlewood. Two of Victoria's great quicks in Damien Fleming and Merv Hughes were at the ground
The English have lost another of their fine players with the death of former captain Ray Illingworth overnight. A captain in the Australian mould, Illy was both tough and belligerent in his approach to the game. He played 61 tests and captained the team in 31 of those. He is one of only nine players to score over 20,000 runs and take 2,000 wickets in first class cricket.
Zac Crawley would have to be one of the tallest openers ever to play Test cricket and he gets off to a fine start driving Patrick Cummins down the ground.
Ho hum! Hameed (0) pushes gently at Cummins for Carey to take an easy catch.
Our new local hero (we don't have many), Scott Boland comes on to a warm ovation from the local mob. Nathan Lyon seems to be guiding him by the hand in his inaugural Test.
Ho hum again! This time it is Crawley (12) getting an edge from one that jagged sharply. Green, the new gully specialist, takes a sharp catch. England already reeling at 2/13 and Cummins has 2/9.
Root and Malan to rescue the team AGAIN! Let us hope so for the crowd's sake. Root plays a delightful shot from Boland backward of square for the first 4 of the match 43 minutes after the start of play.
The bowlers are right on top with both batters playing and missing although Root is trying to change the tune.  Malan is still to score and certainly not taking any chances.
A sweet timer of the ball is Joe Root and he is keen to get on with it.
At last Malan is off the mark as, with soft hands, he places Boland between third slip and gully for 4 runs (52 minutes).
The crowd is coming in but there's still a lot of empty spaces on the top deck of the outer. Perhaps people heard the first couple of overs on the radio and decided to stay home?
Cummins and Green seem to sharing the same jumper. Just another absurdity of watching cricket too closely.  Still can't work out why the bowler can't put his cap in the umpire's pocket and retrieve it whilst bowling.
When they do strike for runs, the running between wickets is excellent or is it a case of desperation running deep within the English camp and every run is gold.
Cummins divests himself of the jumper and Green is out in the cold as the 12th man retrieves it. Thinking out aloud, is it time for CA to adopt the AFL interchange rule in regard to the number of times the towel runners are allowed on the ground?  It would be an interesting statistic.
England's two premier batters are negotiating the tsunami extremely well at the moment but not disturbing a flock of pigeons that seem to have found a nice pecking area backward of square.
'Praise is no recommendation' as Malan (14) gets one that keeps a little low from the irrepressible skipper and Warner takes.  At lunch 3/61 and Cummins and co have the honours for the morning.
Boland's debut has not gone that smoothly and Root takes 10 from his first over after lunch.  Meanwhile Stokes looks to be limping as he was in the 2nd Test.
Joe Root, another 50, an immaculate innings and his best so far in this series. 4 fours from 86 balls and, as usual, he has led from the front. His leading goes in the next over when Starc gets one to move and he flashes, as he did in Adelaide, no pokes, and Carey snatches the catch.  4/82 and 'Ground Hog Day' is back with a vengeance.
I am wondering if Root relaxes just a little too much after getting to a half century?
Travis Head is having a hard day as he is now the bearer/wearer of 2 jumpers as the bowlers dismantle theirs. Still cool out there for the fielders but at least number 42 would be warm.
At last Stokes shows his true form and dances down to Lyon and hits him over the fence. Let us hope we see more of that this afternoon for the big crowd.
The pigeons have returned to Capistrano!!
Green is going to be a very good Test cricketer but I wish he would hurry up between balls like Jhye Richardson.  Then again, the boffins have probably told him to take his time as he has all day to get through his overs.
Like Root, Stokes plays a nothing shot from Green for Lyon to dive and accept the chance. Stokes, I think, tried to glide Green over the infield but the young tyro is just that little quicker than most. At 5/115 England will be lucky to see out the day with their amateur shot making.
Now it is up to 'the keepers of the Lion' to gain control. It has been a big controversy over the last few years –  just who should be keeping for England, Bairstow or Buttler, and it still continues. Bairstow, to me, has always been pugnacious and a fighter but is always the one most likely to be dropped. On the other hand, Buttler, just like the Duke of Wellington said, "expects every man to do his duty" but he doesn't and his catching is not competent or reliable even though he does pull off the magnificent catch every now and then.
Give me the Yorkshire man any day.
Cummins, again, has done a wonderful job with his bowling changes and has not over-bowled anyone. He certainly has this captaincy gig down to a fine art already in his very brief career at the top. Granted, he has a very potent attack but he is working them well. He also won the toss and sent England into bat.
An idiot decides to run onto the ground and will get a $9,193.20 fine.  How they come to that penalty goodness knows.
Last over before tea AGAIN! Buttler (3) goes to hit Lyon out of the ground and hits it straight down Scott Boland's throat. A ridiculous shot, absolutely ridiculous. England 6/128.  Will we see Buttler in Sydney?  I don't think so. After his stellar rear-guard action in Adelaide how could he play a shot like that?
I thought they had forgotten about lemmings this year but here they are swanning around the ground, yes, like a suicide of lemmings. Suicide?
Boland gets his first wicket when he has Wood (6) plumb in front. Wood goes DRS to no avail, England 7/142. He has fought hard, the local boy, and 1/38 of 12 overs has been better than that.
The shot of the day from Bairstow when he off-drives Starc for four but he goes next ball as Starc bowls a brute of a bouncer that Bairstow tries to avoid only to glove it to Green at backward point who never makes a mistake. Out for 35, Bairstow can say that he was unlucky. England 8/159.
Leach does what a tailender should do.  He hits out at Lyon and takes 10 from an over. Given the dire straits the visitors are in, they are handy runs. Leach (13) plays back to Lyon and Smith takes another one. 9/176. They will never learn that you don't play back to Nathan Lyon. Go forward and cover the spin or hit him out of the ground.
Robinson starts hitting out and has 2 fours from Starc in a row. Starc will bowl him as he back-peddles 2 steps and then hits! Hello, Robbo and Starkie are having words.
Robinson (22) hits Lyon long and hard into the safe hands of Boland and England are all out for 185. The bowling honours were pretty even although Starc did get hit around a bit.  Cummins 3/36, Lyon 3/36, Starc 2/54, Green 1/7 and Boland 1/48.
An interesting time for Australia with about 50 minutes to bat for the day. Harris needs runs desperately and Warner is well, Warner.
Good start by Harris who cover drives Anderson to the boundary. The batters looking secure and taking those quick runs that only the Australians attempt. A bright start indeed.
Wood comes on for Robinson and is immediately hitting 150 kms but already Root has gone to two slips, gully, short cover and mid-off.  Wood is the quickest by far but the skipper is playing safe and not giving him an attacking field. Not sure how the bowler feels in this situation.
Harris stagnates as Warner takes over and it is he who is scoring the runs now as he races to 23 from 23.
The batters continue to look comfortable and the 50 partnership comes up in the 12th over. Jimmy Anderson returns and traps Warner (38) into playing back and Crawley catches. 1/57. If Crawley had not been so tall it would have gone safely too ground. A good catch from the big fella.
'Get Lyon on the line' and the stalwart night watchman is back out there again. He thrives with the hard work and so it should be for cherry-pickers from Young.
Stokes continues his short barrage and hits Harris on the finger that takes a while to be resurrected and eats up valuable time late in the day.
At stumps Australia are 1/61 with Harris 20 not out and Anderson has 1/14.
More from Citrus Bob Utber can be read Here.
To return to our Footy Almanac home page click HERE.
Our writers are independent contributors. The opinions expressed in their articles are their own. They are not the views, nor do they reflect the views, of Malarkey Publications.
Do you enjoy the Almanac concept?
And want to ensure it continues in its current form, and better? To help things keep ticking over please consider making your own contribution.
Become an Almanac (annual) member – CLICK HERE.
One-off financial contribution – CLICK HERE.
Regular financial contribution (monthly EFT) – CLICK HERE.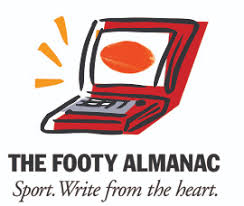 At 80 years of age Citrus Bob is doing what he wanted to do as a 14 year-old living on the farm at Lang Lang. Talking, writing, watching sport. Now into his third book on sports history he lives in Mildura with his very considerate wife (Jenny ) and a groodle named "Chloe On Flinders". How good is that.