The Ashes 2021/22 – Second Test Adelaide, Day 5: Aussies win as Lion's tail fights hard

End of day 4 scoreboard in Adelaide Feb 2nd 1937. Note the rubbish. Bradman went on to make 212 following a 270 in Melbourne.
Yes, Australia was expected to win but they did not think they would be out playing in the third and final session of the game.  England led by Jos Buttler and Chris Woakes were defiant to the end.  Australia won by 275 runs.
It didn't take long for Australia to get amongst the remaining 6 English wickets. On 4 Ollie Pope played the predictable flick from Starc for Smith to do the rest.  England 5/86.
I don't know what Ben Stokes is trying to prove out there, he is playing back to Lyon all the time.  There is no hope of making runs doing this and if he is trying to save the day then there is a long road to home.
The Jekyll and Hyde of wicketkeeper batters Josh Buttler has joined him and it would be good to see him make some runs.  Take out his 2 great catches and he has had a shocker of a game.
Stokes (12) final goes playing back to Lyon. Given "not-out" by The Blocker Australia goes to the DRS and up the finger goes.  Australia is ecstatic. While The Stoker was there there is always a chance he might go berserk and score the runs.  Puzzling what Stokes was trying to do today.
It is now up to Woakes and Buttler to at least score some runs on this beautiful Adelaide afternoon. Some pride needs to come back to the Lion before Melbourne next Sunday.
A great fight by The Buttler and Woakes and they are still there when the new ball is taken (6/154)
Frustrating for the Australians as the two batters are defying everything they are throwing (bowling) at them.
Finally, Richardson with a ripper gets through a defiant Chris Woakes (44) and bowls him neck and crop. A fine innings by the middle-order batter that set a great example for the earlier batters.  England 7/166.
Interesting that Cameron Green has not bowled today.  He does have bounce that is different to all the other quicks and it is hard to understand why Smith has not used him. Smith's captaincy is fairly predictable but this one was hard to understand.
Robinson (8) pushed and prodded until he pushed one to many and SPD took his 6th catch for the match.
Buttler's brave innings came to an end when he stepped back onto his wicket when pushing Richardson into the off. His 26 came in 256 minutes  and he faced 207 balls. It was a real tonic to his down-trodden side. The long hope of holding out came to an end with his dismissal.
It's all over when Richardson gets one to move away Anderson for  Green to help his fellow Sandgroper to 5 wickets for the first time in a test match.
A fine performance by Jhye Richardson to finish with 5/42.
A comfortable win by Australia and they outplayed their opponents in every facet of the game. England for short periods as when Root and Malan were in control and some good bowling in Australia's second innings showed that they have something. Unfortunately 'something' is not enough and it is hard to see them getting out of the mire for the remaining three Tests.
If Root is unfit where are they going to get another batter from?  Bairstow and Crawley are already in my team for 'The G'. Anyone of Hameed, Pope and Burns could go or all three. Burns probably will be retained as he did show some G & D in the second innings. Woakes did nothing with the ball and Wood should return although that weakens an already weak batting line-up.
Really they have nothing to lose by putting Bairstow behind the stumps and play Buttler as a batter.  Jumping Jack Leach has to return for Melbourne and in particular if Root is out. Well they have a few days to think about.
Australia on the other hand have the reverse dilemma. Who to leave out?  Cummins will return for Neser, Uzzie should come in to open the batting for Harris. If Hazlewood is fit that is another dilemma.  The rise and rise of Cameron Green has probably been the biggest plus in this rampaging team. What a position to be in.
Just been advised that there will be no change to the Australian 15 for the final 3 Test matches.  That either tells me that Harris has been given another chance or that Uzzie comes in.
Must congratulate curator Damien Hough and his team for a magnificent wicket that gave everyone a chance.  Not unusual in Adelaide to get a great game and a great wicket but it happened this year.
THE FINAL SCORES  2nd Test in Adelaide
Australia 473/9 and 230/9 defeated England 236 & 192 by 275runs
Today's play:  Woakes 44, Burns 34, Buttler 26,  Richardson 5/42, Starc 2/39, Lyon 2/55 and Neser 1/28
More from Citrus Bob Utber can be read Here,
To return to our Footy Almanac home page click HERE.
Our writers are independent contributors. The opinions expressed in their articles are their own. They are not the views, nor do they reflect the views, of Malarkey Publications.
Do you enjoy the Almanac concept?
And want to ensure it continues in its current form, and better? To help things keep ticking over please consider making your own contribution.
Become an Almanac (annual) member – CLICK HERE.
One-off financial contribution – CLICK HERE.
Regular financial contribution (monthly EFT) – CLICK HERE.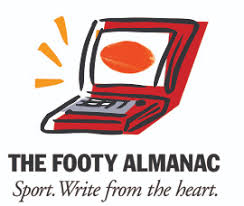 At 80 years of age Citrus Bob is doing what he wanted to do as a 14 year-old living on the farm at Lang Lang. Talking, writing, watching sport. Now into his third book on sports history he lives in Mildura with his very considerate wife (Jenny ) and a groodle named "Chloe On Flinders". How good is that.