The Ashes 2021/22 – Second Test, Adelaide Day 4: Only time for Aussies to make it 2 – 0
day in golf is day 3 but it is hard to say when moving day in cricket is. It looked like yesterday when Root and Malan were in full flight but then it stymied.  Will Australia move today in the fashion we expect or will England use the same tactics they did on Day 1?
Day 4 does see the locals in a commanding position and the main interest in the early part of the day will be how Marcus Harris performs.  He is playing for his position in the team but needs runs to be rubber-stamped. Hanging around with little impact will not guarantee him a spot for Melbourne.
I am surmising that Smith will want 500 in front as quick as possible and declare. At the moment that could be late into the second session. This would then give the quicks a couple of 'goes' feeling fresh.
Crowd coming in very slowly today. Let us hope they up the ante and get on down as it should be an interesting day.
Had the chance to wander around in the members area looking at all the memorabilia and ephemera and it made me think how little chances members of the public (non-members) get the chance to see what and who made sport in South Australia. You probably might get the chance if you pay to do a tour.  The same could be said for the 'G' and whilst our egalitarian society allows anyone to become a member of either SACA (waiting period around 5 years) or the MCC (around 25 years full membership) it's still not easy to see what makes this nation tick.
Watching the English playing soccer before the day's play makes me wonder why they are not so enthusiastic with their cricket?  They really get into their hacky-sack. Meanwhile Australia goes through all the normal drills associated with cricket. Does that say something? . At last, they get on with the real thing.
Drama in the Press Box when news filters through that a member of the BBC broadcasting team has Covid. ABC and BBC not broadcasting today. England add further drama by announcing Joe Root is injured and is not fielding.
Quick wicket for England as Anderson bowls Neser (3) and the night watchman is gone. Broad gets into the act and Buttler takes a superb diving catch to get rid of Harris (23). The Buttler should have taken Smith first ball but he dived too far to his right. A great over by Broad and Australia are 3/48.
Smith breaks he deadlock when he beautifully off drives Broad for 4. Watching the shot closely his feet are in position as soon as the ball is released and shot making looks very easy in the hands (feet) of SPD.
Great bowling by Broad and Anderson and they are keeping the run rate to a minimum.  Not that Australia would be worried. They have plenty of runs in the bank.
Maybe they should worry as The Buttler makes another great catch getting Smith (5) down the leg side from Robinson. Australia have lost 3/10 in the first hour. A great first half-session by the soccer playing Poms.
Joe Root is back on the ground but is not moving well.
Robinson is doing an impersonation of Graeme Swann! He is now bowling offies with his sunglasses on and doing it pretty well.
The batsmen move into their work and the runs are coming along nicely. Stokes continues to bowl short stuff to Head who is loving it.
Australia have come back well since the inglorious start and at lunch are 4/134 with Head45 and Labuschagne 31 and a lead of 371 runs.
Head makes another big contribution to the team when he reaches his 50 from 49 balls. He has been the one player in this series who has taken the attack to the visitors and given Australia control of matches.
He continues to attack but picks out Stokes on the boundary who takes a fine diving catch from the bowling of Robinson. A big man is Ben Stokes but he is a wonderful athlete. Head's 51 was an excellent knock. Australia 5/144.
Australia obviously has a safety-first motto otherwise why would have they sent Green to the wicket in front of hitters Carey and Starc? Smith has always been too cautious in his captaincy and this is a perfect example. Oz need fast runs to give themselves plenty of time to bowl England out. They cannot lose the match so why not do it?  It is not even risky.
Like Head Labuschagne (51) hits out and gets out caught by Stokes off the unlikely Dawin Malan and Australia keep going. This is cricket madness at its worst or best as they have no hope of losing the game.
Carey (6) plays back to Root and is bowled and Oz are now 7/180. Green continues to come of age as he pushes singles here and there to give the hitters a chance.  Starc bad back and all hits Joe for 6.
A perfect example of why Smith is a negative captain. Starc, his number one bowler, has a bad back and is batting when his side is nearly 450 in front.  Surely Starc needs treatment on his back and making runs is so secondary. No, Starc keeps batting and now he is having treatment ON the ground.
At last, Starc (19) leaves and The Pope catches him on the boundary 8/216. Can't remember when was the last time a pair of WACAS were at the wicket together as Richardson and Green look for more and more and possibly more runs. Richo hits out and then get out and lo and behold Smith declares with Australia 9/230 an imposing lead of 467. Green remained not out 33.
For England Robinson, Root and Malan took 2 wickets each and Anderson and Broad 1 apiece. A consistent bowling performance from England in keeping Australia from hitting up a huge score and some controlled batting from Marnus, Trav and Greenie.
Nothing new. England 1/4 with Hameed poking at Richardson for Carey to take. Crawley definitely will be in for Melbourne.
At tea England have weathered some fine bowling from Richardson and Starc who attacked the stumps at all times. At 1/20 there is still a long way to go.
For all that is written about Rory Burns and his technique there is one thing going for him and that is his determination. He looks like getting out most balls but here he is still there after an hour batting with 24 on the board. One only hopes he does not read the papers about his technique. A gritty exponent of the game.
The media box is just about done as all the Victorians have escaped to beat any lockdown that might occur within the next 24 hours.  They are taking no chances. Reminds me of the last day of the tied test (1961) when commentators Alan McGilvray and Keith Miller decided there was not going to be a result and they left mid-afternoon. Not that it would have worried Miller who was renowned for not watching the cricket anyway!
Malan is dropped by Smith at first slip. It looked he could have been unsighted by keeper Carey's hands. It would have been a very handy wicket. It doesn't matter as Neser gets him LBW in the next over for 20.
Root to the rescue again?
Joe Root's nemesis Cameron Green comes on in the 26th over and nearly has Burns LBW but on appeal Burns survives.
Burns (34) can't handle a quick one from Richardson and Smith snavels it at second slip. England in diabolical trouble at 3/70.  Richo was unlucky in the first innings but he really has got his just reward today. He has 2/16 from 6 overs.
Nearly impossible for England to record a victory, nay is impossible, but while Root and Stokes are at the crease there will be horrible memories for many of the Australian players. As we all know The Red Prince can win a game by himself and Honest Joe is in great touch without making a century in recent outings.
The game is being reduced to singles as the two batters are leaving nothing to chance in an endeavour to be there tomorrow.
Honest Joe is pole-axed in the. box and rives in agony on the ground. He is in absolute agony Peter B (any comment?). One wonders should he continue because THAT hurts! He waddles 2 twos from Starc in the remainder of the over but is in obvious pain.
Starc finally get him as he fiddles because of the pain know doubt and Carey takes. On reflection he should have retired hurt.
At stumps England are 4/82 with Stokes not out and The Pope to come.  I don't think divine intervention will help here.
A good day for Australia.
More from Citrus Bob Utber can be read Here,
To return to our Footy Almanac home page click HERE.
Our writers are independent contributors. The opinions expressed in their articles are their own. They are not the views, nor do they reflect the views, of Malarkey Publications.
Do you enjoy the Almanac concept?
And want to ensure it continues in its current form, and better? To help things keep ticking over please consider making your own contribution.
Become an Almanac (annual) member – CLICK HERE.
One-off financial contribution – CLICK HERE.
Regular financial contribution (monthly EFT) – CLICK HERE.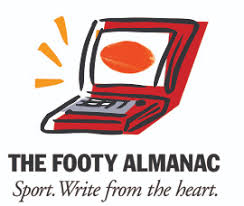 At 80 years of age Citrus Bob is doing what he wanted to do as a 14 year-old living on the farm at Lang Lang. Talking, writing, watching sport. Now into his third book on sports history he lives in Mildura with his very considerate wife (Jenny ) and a groodle named "Chloe On Flinders". How good is that.