The Ashes 2021/22 – Second Test, Adelaide Day 2: It's becoming embarrassing for England!
ADELAIDE ASHES DAY 2
Started the day with fourteen aficionados of sport in North Adelaide and in some ways, it turned out to be a debrief of the Geelong Football Club. More than half of the assembled group barracked for the Cats. Whilst they are passionate they were not that interested in singing 'Always look on the bright side of life'.
It is hot and steamy as the players entered the field to the sound of the bell which has been mounted in the Members Reserve to signal the start of the day's play. The bell was the mastermind of former SACA CEO Keith Bradshaw who died of cancer recently. The start of play at Lord's has for years been commenced with the sound of the bell.
At 2/221 Australia will be looking to consolidate even further in what will be tough conditions for the bowlers.  If the wicket was flat yesterday it has levelled out even more under the hot sun.   An interesting day's play ahead of us.
With Smith and Labuschagne at the crease one could see a choreographer having a ball with their antics which are hard to describe. Anderson is making it hard for Marnus to get his ton with some splendid bowling. Any ideas Baz?
He gets his ton from 287 balls and then with Robinson's first ball he snicks to Buttler who takes it and Labuschagne starts to walk off. Replays show that it was a no ball and the 'Lucky Lab' continues with his third innings. His luck runs out when Robinson gets him LBW in his next over. Labuschagne 103, 287 balls and 8 fours. Australia 3/241.
Bowling tight and causing the batters a few problems are the English quicks.
At this stage I would like to apologise for using the word 'batsmen' instead of the politically correct 'batters' that incidentally was first used in the seventeen hundreds. So, it is not new!
Stokes tries his tactics of yesterday and The Great Improvisor (SPD) glides it away on the off for four with four fieldsmen on the boundary on the leg. He is looking good the stand-in captain.
Root cleans bowls Head (18) as the batter loses his with a windy-woof. 4/291. To his credit Head was trying to force the pace.
Green (2) misses a Stokes fuller ball and is bowled. The first ball that the Prince of Sauce has tossed up today. 5/294 and Green has still not convinced me that his batting is of Test standard.
At the end of the first session Australia are 5/302 and England just in front in the session taking 3/81.
Carey looks at home at home and plays some strong shots around the wicket. A strong and powerful young man built like the proverbial. Meanwhile SPD is moving ominously towards another ton against the Poms. I used the word 'Pom' on the radio a few weeks ago much to the ire of a listener who rang up and complained. Naturally the complaint went to management. I always thought 'Pom' was a term of endearment.
Hard to see a result even at this early stage of the game. The bowlers are accurate, the batsmen (batters) circumspect and very little happening. Robinson has been excellent for the visitors in both line and length, Anderson never gives anything away but doesn't look like taking a wicket – are his days numbered in the southern hemisphere?
In other words, a good contest.
Smith plays a handsome cover drive of Woakes to go to 73.A ball of fullish length it is the shot of the day.  Nothing better than a perfectly executed cover-drive.  Follows it up in Woakes next over hooking a six. They are both on the move now.  Not to be outdone Carey sizzles one through the covers.
Australia on the charge and anything lose is being punished as Stokes continually bowls short Smith ramps him for four. The oppressive heat has taken its toll on the bowlers and the batters are making the most of it.
Never underestimate a class bowler as Anderson gets one past Smith (93) plumb LBW but the batter doth protest. Australia 6/385.
Carey makes an impressive 50 at home with 5 splendid fours but falls on tea-time when he pushes Anderson to Hameed at short cover. 7/390, Carey 51
Things looking really good for Australia now as Starc and Neser are providing nuisance value to England. Hitting out at Anderson and Broad.
Stokes comes back to blast them out. Everyone has been curious why he has continued to bowl short in this innings. No doubt under instructions from the one-man selection committee.  He did temper the run rate in the over but was let down when Woakes was clobbered to all parts of the field.
Woakes has had an ordinary match.
Neser's smashathon comes to end when he skies Stokes to Broad in the deep. A great cameo of 35 and a partnership of 58 with Starc. 8/448. This Test cricket batting is a breeze.
Starc and Richardson continue on their merry way until Richardson (9) feathers to Buttler from Woakes at 9/473 with Starc remaining not out 39. Stokes 3/113, Anderson 2/58 and single wickets to Broad, Woakes, Robinson and Root.
A timely declaration with over and hour of play left for the English openers to keep them in the game.
Starc's opening over goes for 7 which is expected nowadays from the big left-armer. Jhye Richardson bowls a superb first over in his return to test cricket and has the batters in all sorts of trouble but is Starc who gets the first wicket. Burns (3) a tentative push and Smith does the rest.  England 1/7.
Richardson is a 'different' bowler.  I don't think I have ever seen any bowler walks back as fast as him to deliver the next ball. He really is in the zone when he is at the bowling crease.
Neser comes on for the first time in The Big Game and after his batting what a start with the ball.  Hameed (6) pushes to Starc who takes a simple catch.  2/12.
A lightning bolt (not Alan Donald) strikes and the umpires take the players from the field of battle an announcement on the screen tells people to seek shelter. The majority move but not The Richies whose microphones might just be hiding something else.
Well the rain starts and that is it for the night. An interesting day's play  with Australia well on top.
More from Citrus Bob Utber can be read Here,
To return to our Footy Almanac home page click HERE.
Our writers are independent contributors. The opinions expressed in their articles are their own. They are not the views, nor do they reflect the views, of Malarkey Publications.
Do you enjoy the Almanac concept?
And want to ensure it continues in its current form, and better? To help things keep ticking over please consider making your own contribution.
Become an Almanac (annual) member – CLICK HERE.
One-off financial contribution – CLICK HERE.
Regular financial contribution (monthly EFT) – CLICK HERE.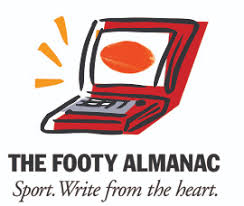 At 80 years of age Citrus Bob is doing what he wanted to do as a 14 year-old living on the farm at Lang Lang. Talking, writing, watching sport. Now into his third book on sports history he lives in Mildura with his very considerate wife (Jenny ) and a groodle named "Chloe On Flinders". How good is that.