The Ashes 2021/22 – Second Test, Adelaide Day 1: Australia in control

Image: saca.com.au
ADELAIDE ASHES DAY 1
AUSTRALIA IN CONTROL AT THE END OF DAY ONE.
I stopped at my favourite café at Waikerie this morning on my way to Adelaide and read the local paper.  For one moment I thought that Australia only had two players playing today.  Blokes by the name of Head and Carey who won the first test by themselves according to the paper. Parochialism has always been alive and well in Adelaide.
Talk about bureaucracy I was checked in four times on my way down and also had the second nose job in three days.  Yes, I ticked all the boxes and tomorrow we only have to fill in the one box.
Suffering from 'big sport' starvation the crowd was on hand four hours before the game waiting to get it!  Always been popular the game at the Oval. Many years ago, when SACA and C
A decision that the game should be in December the farmer members in SA nearly burnt the place down.  Harvesting was always, and still is, done in November /December but the powers that be had their way so the farmers made the sacrifice again.
There will be a full house here today/tonight it will be hot and I don't think I would like to be out n the open for the day session.
Covid has claimed another victim in Australian captain Pat Cummins so Australia will go into the game without their two strike bowlers Cummins and Hazlewood.  Starc will have to up the ante with his deliveries while the 2 newish players Richardson (3rd Test) and Neser (debut) will create a great deal of interest.
Smith wins the toss and elects to bat. What else would you do after the first test thrashing of their opponents?
A very slow and patient start by the Aussie openers with the occasional ball beating them but they have mastered the art of leaving the ball to finite detail.
Broad makes the break-through when Harris (3) flicks at one down the leg for Buttler to take a neat catch. Australia 1/4.   Broad has bowled well and has been a tad unlucky and deserved the wicket.
Will Harris survive to play at the 'G' next week?  Hard to say but surely Khawaja should be given the nod
At the first break Australia are 1/15 and it has been a hard-fought struggle. Good work all round.
I thought Autumn was well over?  I have never seen so many leaves with Warner the main Costas.
Broad comes back on and bowls a beautiful over to Labuschagne and then scratches his head.  Superb bowling from the veteran.
Stokes comes on and gives a reminder of The Bodyline series as he attacks Labuschagne who withstands a vicious over. A big strong competitive athlete is Ben Stokes.
This is real old-fashioned Test cricket.  At lunch? Dinner?  Australia is 1/45 with Warner (20) and Labuschagne (16). A gritty performance from both teams.  Broad 1/17
Warner plays the shot of the day going down on one knee to drive Anderson squarish on the off for 4 and brings up the Australian 50.  It certainly has been a war of attrition and the score comes up in 150 minutes.
Warner is now moving into his work after his slowest start in his career and he delightfully cuts Robinson for 4.
The conditions are warming up and the wicket looks to be playing really quite comfortable for the batsmen.  The ancient mariners will have to overcome some pretty rough weather if they are to knock Australia over.
Root is using his bowlers in short spells and Stokes should have had Labuschagne caught behind on 21 but Buttler dropped it.  A bad miss.
Time for a cup of coffee half way through the second session. "Sorry no coffee after 5.30." the sign said.  Are we playing by the etiquette of cricket or local SACA?  One always has their last coffee for the day in the second session.
Another 50 to Warner, who is in control of the attack and it is starting to look ominous for England with a very hot day ahead of them on Friday.  They will need wickets tonight in the evening session to get into the game.
Stokes, ever the competitor, has had a fine duel with the two batsmen, bowling short at the batsmen's body and hoping for a miss hit.  Top stuff.   Mind you the other trundlers have also been bowling a lot of short stuff.
Another century partnership to Warner and Labuschagne as they are starting to demoralise the wilting fieldsmen and there is still one session to go!
A good session for Australia and at tea? They are 1/129 with Warner (65) and Labuschagne 53.
Warner batting superbly in a well-controlled innings pushes the score along but on 95 he tries to hit Stokes out of the ground. His cannon shot goes straight to Broad who is knocked over with the impact. England needed that wicket but will need a couple more before stumps to get back in the game.  At 2/178 it has been a great start by the home team.
Gee, Stokes has worked hard to conjure a wicket out of this pitch.
Smith, the stand-in captain, gets a fine round of applause when he comes to the wicket.  Has all been forgotten?
England are stemming the runs now as Smith tries to get his rhythm going and Labuschagne is not getting anything to hit.  Marnus has been sound throughout like Warner, a very disciplined innings with just a little luck on his side.
Joe Root, as the only spinner in the team, has not curtailed the scoring and is proving no threat to the batsmen.
Ollie Robinson who I thought was the best of the Englishmen in Brisbane started poorly today but has bowled well in this last session and in particular to SPD.Smith who has played and missed on occasions.
Although the day was 'house full' nearly 3,000 did not utilise their seats.  Saturday is sold out too but with soaring temperatures it is hard to see a "house full" sign going up.
The game jogs along slowly as stumps draws near. The Englishmen are and will be looking for a spell before they start again tomorrow to nail a few wickets.
Josh Buttler, having a shocker behind the stumps, drops Labuschagne on 95 from a ball from Anderson that moved away at the last moment.  The second miss by the keeper who is not the best in England. From the old-school I have always maintained you pick your keeper for what he does behind the stumps not with the bat.
They could pay dearly for this mistake tomorrow.
Anderson and Broad are doing a great job in denying Labuschagne a century before stumps and one can see the frustration in the batsman.
At stumps Australia 2,221  Labuschagne 95 n.o., Smith 18.n.o. Warner 95.   Broad 1/34 Stokes 1/50
A challenging day's play with Australia clearly on top at stumps.
More from Citrus Bob Utber can be read Here,
To return to our Footy Almanac home page click HERE.
Our writers are independent contributors. The opinions expressed in their articles are their own. They are not the views, nor do they reflect the views, of Malarkey Publications.
Do you enjoy the Almanac concept?
And want to ensure it continues in its current form, and better? To help things keep ticking over please consider making your own contribution.
Become an Almanac (annual) member – CLICK HERE.
One-off financial contribution – CLICK HERE.
Regular financial contribution (monthly EFT) – CLICK HERE.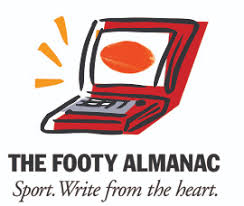 At 80 years of age Citrus Bob is doing what he wanted to do as a 14 year-old living on the farm at Lang Lang. Talking, writing, watching sport. Now into his third book on sports history he lives in Mildura with his very considerate wife (Jenny ) and a groodle named "Chloe On Flinders". How good is that.