The Ashes 2021/22 – First Test Brisbane, Day 4: Australia storm home!
DAY 4 AT BRISBANE
What a great start by Australia.  The ebb and flow continues.  The optimists amongst us were suggesting that Root and Malan would carry the score beyond the deficit but the bowlers had other ideas.
Malan (82)was first to go when he charged at Lyon got bat, glove and pad to the ball and Marnus took a fine catch close in.  Lyon, after a long wait now has 400 Test wickets. Rather a foolish shot so early in the day.  England 3/223.
I was impressed with Green yesterday and he curtailed Joe Root's chance of his first century in Australia when he got one to move slightly and Carey did the rest.   Root out for 89 and England 4/229.
Pope (4) played a terrible shot and just pushed a ball from Lyon for Smith to say "easy-peasy".  5/234 and whilst I have been lauding Pope that shot will cost him his place at the home of churches next week.
Any chance of England making a charge for a victory has gone out the window in 20 minutes of cricket.  Oh how this game of cricket just keeps moving from one tsunami to another.
The saying 'who would have thought'  certainly is at home at the cricket.
The open window has claimed another victim when Stokes (14) seemed to have lost a ball from Cummins and it flew from the top of the bat to Green  for an easy catch.  This was the wicket they wanted before Stokes got settled and Cummins was cock-a-hoop with the result.  The Lion was still 12 behind and the chances of saving the match have gone.  They have lost 4/46 in the morning session so far.
I know I am sounding like gramophone but Labuschagne's antics are getting a bit thin for this old codger.  Just get on with the game and stop carrying on like a twit when a wicket falls.
Must pay tribute to Alex Carey who has had a fine match behind the stumps, his work is clean and some of his saves from wayward bowling have been superb and his catching is sure.
Notice the Gabbatroopers are in attendance and it looks like back to the mother-ship as Buttler (23) pushes at Hazlewood for Carey to take another catch low-down.  England now 7/268 and they will need more than Hans Solo to get out of this one.
Robinson (8) is the next to go when he reverse sweeps Lyon straight to Head 8/286. Was not a smart shot to play especially when he and Woakes were batting soundly and given England a lead.
This has been an absolute debacle for England this morning and the goodly crowd would have been shell-shocked and have every right to want their money back. Of all the batsmen dismissed and no disrespect to the Australian bowlers perhaps only Stokes got a good 'un.  The others were dismissed with bad batting.
Wood (6) misses one completely from Lyon and Woakes (16) tries to ramp one from Green for Carey to take his  seventh catch for the match equalling the record for a 'keeper on debut.   England all out for 297 and they have lost 8/77 in a very meek display.  The bowling was good but not brilliant.
After their heroics of yesterday it was a very disappointing display and puts them back where they were at the end of day 1 and Australia will go to Adelaide for the second Test next Thursday chock full of confidence.
Australia knocks of the runs with the loss of Carey (9) to one that moved away slightly from Robinson.  England put pressure on Harris but he survived on 9.
A comfortable win to Australia in what was a very good team effort with both bat and ball and superior fielding and catching
FINAL SCORES:
Australia 425 and 1/20  Robinson 1/13 defeated England by 9 wickets  England 147 and 297  Root 89, Malan 82, Buttler 23   Lyon 4/91, Green 2/23, Cummins 2/51, Hazlewood 1/32, Starc 1/77
So to Adelaide for the day-nighter and a whole different ball game and much will depend on the 'enfants terrible' (Anderson and Broad) playing for England.
So what will England gain out of this performance?  A short answer would be 'very little'!  A longer answer would suggest that there will be substantial changes to the team,
The controversy of leaving both Broad and Anderson out of the side for this game is not the answer.  I thought that their fast bowling trio of Wood, Woakes and Robinson was very good but they were let down by an under done Stokes and a very ordinary Jack Leach.
However it was their batting that was abysmal if you take out of the equation Root and Malan in the second innings.
Burns' technique is not suited to Australian wickets and he looked easy prey to the best attack in world cricket.  Hameed was sound but his attacking game is somewhat limited. Stokes just lacked match practice and will get better while Pope's dismissal in the second innings was terrible.
Changes that should and will be made for England will see the return of Anderson, Broad,  Bairstow and possibly Crawley for Burns, Pope, Leach and one of the fast trio  possibly Wood.
Australia will field the same 11 unless Warner  is not fit and Khawaja will automatically slot in.
 The Gabbatroopers had stiff opposition from the Barmy Army this year.  Both groups had two trumpeters.
Read more from Bob Utber Here.
To return to our Footy Almanac home page click HERE.
Our writers are independent contributors. The opinions expressed in their articles are their own. They are not the views, nor do they reflect the views, of Malarkey Publications.
Do you enjoy the Almanac concept?
And want to ensure it continues in its current form, and better? To help things keep ticking over please consider making your own contribution.
Become an Almanac (annual) member – CLICK HERE.
One-off financial contribution – CLICK HERE.
Regular financial contribution (monthly EFT) – CLICK HERE.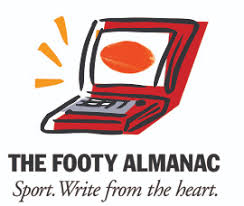 At 80 years of age Citrus Bob is doing what he wanted to do as a 14 year-old living on the farm at Lang Lang. Talking, writing, watching sport. Now into his third book on sports history he lives in Mildura with his very considerate wife (Jenny ) and a groodle named "Chloe On Flinders". How good is that.