The 2020 Ruth Gordon Cup – Round 8
Greetings Tipsters
The big news in football circles is the dust-up Coach X had with Player Y at training last week. Although the names have been circulating on various message boards over the last week, here at Stop Privatisation Of Footy Productions we like to imagine that we have too much in the way of good manners to stoop so low. That, and our high-powered legal team have advised us that their store of pro bono goodwill is being rapidly depleted and they are disinclined to get involved in another lawsuit until we actually win one.
"Win four" to be exact, as the senior partner told me over caviar, lobster and champagne while cruising the Harbour on his 70 foot motor yacht. Just between you and me, he's a bit of a cheap bastard, he can afford to outfit his crew in nautical dungarees but they have to get by with red bikinis. With the Krug flowing so freely, I figured I might as well help myself to a bottle of Seagrams for the bus ride home but the first mate wrapped her ponytail around my neck until I near blacked out then plucked it from my briefcase – actually, a multi-hued shoulder bag I purchased in northern Burma some years back while on official government business. Which government, I cannot say, but if those skinflints pay up soon, I might be in a position to identify…
Coach X is of the New Breed, oft said to be an up and comer. Great playing career, tactical nous, excellent man-manager, good on telly, etc. Player Y is an highly respected champion, an adornment to the game who has, for several months, been involved in a passionate affair with his coach's mum.
The word from our many and varied contacts within the 'football industry' is that they are genuinely in love with each other. She is a beautiful, sophisticated woman in her mid-50s, divorced many years ago, he is 32 and had a bad-boy reputation, but since meeting at the airport on his return home from last year's post-season trip, they have been all but inseparable.
Reports on the dust-up vary. Some say it was just a bit of pushing and shoving. Others say that Player Y gave his coach a couple of good punches to the solar plexus. There is general agreement on a comment being made about the President of France, but not about who said it or the context in which it was delivered.
The course of true love never runs smooth. Latest reports indicate that Y and mum have purchased two of the latest and greatest in-car race gaming setups, steering wheel, gearshift, pedals, seats attached to servo-controlled electric motors that tilt, shake, rock, and have been replaying the 1966 24 Heures de Le Mans, 1985 Monaco GP, 1957 Nurburgring GP, 1974 Group C Sprint series at Oran Park. We cannot confirm reports that Coach X has sought counselling with a very attractive 46 year old female psychiatrist who specialises in Oedipal complexities.
Lions and Tigers are apex feline predators that live on different continents and lend their names to many a sporting team. Up at the Gabba Frinite, the Asian cat took the points over the African cat. Lynch kicked six. Richmond 16.17.103, Brisbane 12.15.87.
The Wharfies have had a good defensive record this year. Now Longmuir has to teach them how to kick goals. Crows showed 'em how, Walker got three. Adelaide 13.15.93, Fremantle 10.11.71.
Dew must have given the order for there to be no long sleeves worn by Schoolies on a chilly Ballarat afternoon. Dogs played a sharp game, especially after the long break when the oppo started thinking about home. Footscray 14.11.95, Gold Coast 7.12.54.
Twilight at the MCG, Cats and Bombers each continued from where they'd left off last week, one team kicking a bunch of goals, the other falling in a heap. Woosha wondering if he'll see the season out, maybe hoping to be relaxing by July. Geelong 17.14.116, Essendon 5.8.38.
Later at the Sydney Showground, Monaros and Magpies figured that defense was the best form of attack. It made for an absorbing contest, rarely more than two kicks in it, every loose ball and ruck contest was fought over like the fortress of Verdun. GWS 11.12.78, Collingwood 10.14.74.
Eagles float on air currents looking for an animal to kill. Swans paddle and eat roots and leaves. It was a warm, dry night in Perth, luckily for the homesters, a narrow escape, 27 frees paid against 15 in a fantastic match. West Coast 13.20.98, Sydney 14.11.95.
If we have to play overseas, Saints and Blues meet in New Orleans. Neatest thing since John Lee Hooker's ad in '96. Saints hitting their stride and Blues, well, they got 'em. Awaiting reports on Cripps' knee. St Kilda 14.11.95, Carlton 10.13.73.
Is something of the '07 Grand Final ingrained in Port's institutional memory? How else to explain a player who was nine years old in country Victoria then, freezing on the MCG on Sunday? Dees played a good game, Gawn had a beauty. Melbourne 12.15.87, Port Adelaide 10.8.68.
Shinboners keep grinding away, they hit, they suffocate, every now and then put together a great piece of play and kick a goal. Ugly but evermore effective. Brown kicked four, Patton none, is Clarko thinking draft picks? North Melbourne 12.9. 81, Hawthorn 9.7.61.
Cheers Tipsters
P&C, A Stop Privatisation Of Footy Production, a division of Trans-Dementia Inc.
Brought to you with the assistance of 'It Takes Two, a gorgeous compilation of R&B and soul duets on the RPM label.
Our writers are independent contributors. The opinions expressed in their articles are their own. They are not the views, nor do they reflect the views, of Malarkey Publications.
Do you enjoy the Almanac concept?
And want to ensure it continues in its current form, and better? To help keep things ticking over please consider making your own contribution.
Become an Almanac (annual) member – CLICK HERE
One off financial contribution – CLICK HERE
Regular financial contribution (monthly EFT) – CLICK HERE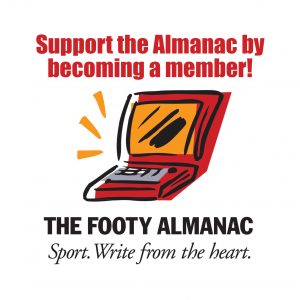 Freelance gardener, I've thousands of books, thousands of records, one fast motorcycle and one gorgeous smart funny sexy woman. Life's pretty darn neat.