The 2019 Josephine Baker Cup
Greetings Tipsters
A Grand Final in March, what a great idea! Perfect weather, full house, an unfortunately one-sided match and one of the great sporting moments. When Erin Phillips did her knee and was being stretchered off the ground, she sat up, gritted her teeth despite the obvious pain and disappointment and looked at the crowd, several teammates shook her hand and several opposition players did likewise.
Yes, in a wonderful display of sportsmanship, several opposition players shook her hand. Upon reaching the boundary she attempted to get off the stretcher, reappeared on crutches which she disposed of when it came time to mount the podium and collect her Best On Ground medal. Truly, the woman is a warrior.
That match was a defining moment in women's sport in Australia. Probably only the 'AFL' with its enormous reach, wealth and popularity could have pulled it off in such a spectacular manner, 53000 crowd and national telecast, but it will give encouragement to women in all sports.
Tho' it does raise a question. Women's cricket is on antenna telly, even if it is T20, women's rugby, both types, gets a run, but lean women in shorts and sleeveless shirts has a visual appeal.
For years I watched Aussie Rules with women who'd say "Cor, I like him!" – the bare arms got more attention than the tight shorts, tho' I was watching a match with a lesbian couple once when one of them said "Geez, he's well hung!" It's an aesthetic thing, all games require a certain body type.
The collision nature of the rugby codes requires weight and heft in at least half the team, the short bursts of play put a premium on explosive power, demanding a thickly muscled body. Aussie Rules is played to a different rhythm, constant movement in three dimensions, constant running. Compare a 100m runner to an 800m or 1500m runner. Aussie Rules players, men and women, are better looking. Sure, some might have a head like an old meat pie but they'll be primo from the neck down.
Oh dear, I'm not sure what point I just argued my way into there, so debate it if you wish and meanwhile…
The GAFL plows onward. Richmond fans, look elsewhere. There's Major League Baseball, a World Cup and an Ashes series. Alex is the most irreplaceable player in the league and Jack is up there, Dusty laid zero tackles, be content with your premiership bedspread.
You 4&20s folks, revel in the moment. Revel in the moment, cos it wasn't so long ago that https://www.footyalmanac.com.au/the-2017-dick-flaherty-cup/, a close call, there.
Swans fans might want to check the Ashes telecasts too. They just keep on doing the same old thing. Horse, is it better to burn out than fade away? Andrew, you sent the wrong coach to the Gold Coast.
Adelaide, "meh!" as the kids say.
"Essendon, A Club In Crisis". As always, first with the breaking headlines here on the verandah with a good view of the setting sun.
While Melbourne are playing terribly, the Bumblers aren't playing at all. That interchange mess was the polar opposite of Erin Phillips and screams "we don't give a shit" while Hird says "never say never" when asked about coaching. It's an interesting topic for rumination, that the mighty Essendon we used to know was built and maintained by Kevin Sheedy, 'cos they ain't done nothing since. Hawthorn fans, take note.
The Hawks are a good average team this year, never bad, rarely great. The Wharfies are inexplicable. Yes, I'm an unabashed fan of the old anchor and navigation lights strip, the new strip is terrible. No wonder the players get distracted so easily. All credit to the Schoolies for winning a match at home for the first time in eighteen months.
I was supposed to be Senior Coach by now!
I know, honey, I know
Pillow talk at Brett Ratten's place. Two and zip for pluck, the Aaints. Maybe Brett now figures on hanging tough and getting his old job back. It's a reasonable expectation, 'I Was A Teenage Coach' isn't gonna last forever because he lacks stature. Not physically, altho' he does but he could get away with that, but an attitude, a standing in the game. Ratts could write his own contract by July if the ODNBs haven't already signed Paul Roos.
It's good to see Brisbane winning again.
Cheers Tipsters
P&C A Stop Privatisation Of Footy Production
Brought to you with the assistance of birds, wind and tinnitus
To find out more about Almanac memberships CLICK HERE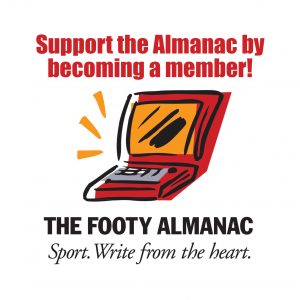 Freelance gardener, I've thousands of books, thousands of records, one fast motorcycle and one gorgeous smart funny sexy woman. Life's pretty darn neat.