Shawry & Schneids: Like Ships Passing in the Night
Over the past week, two much-loved Sydney Swans premiership players have announced that the 2015 AFL season will indeed be their last. Rhyce Shaw and Adam Schneider both reached football utopia in their careers, but never played a match together. Oddly though, they appear to have much in common.
The 2005 premiership is well storied; a drought-breaking flag that is now part of footy folklore and a young kid from Osbourne, in the footy stronghold of the Riverina, played a vital role. Adam Schneider was drafted in 2001, made his debut in 2003, and the cheeky goal-sneak went on to become one of the most popular members of the team. He quickly became a fan favourite, to the extent that I don't think my dear old Nan has ever fully forgiven Roosy for using him as trade bait in 2007. Schneiderman was her favourite. And I'm sure Nan was not alone there.
After the 2005 premiership, Schneids seemed to feature predominantly in most celebration photos, or videos, with the image of him holding aloft his premiership medallion in one hand, and Crown Lager in the other, a sight to behold. What a sight. Almost as pleasing a sight as our little number thirteen streaming in on goal, readying to unleash that lethal left foot finish. Three final-term goals in the '05 prelim and his major in the decider, will live on forever in the hearts and minds of Bloods everywhere.
After that fabled flag, Schneider described the feeling of running out on to the MCG on Grand Final day as "a magic feeling. It's pretty hard to put into words. My mind was running at a million miles an hour. I just remember running out through the banner and thinking, "I never thought I would do this". I always dreamed about it. To look around and see 90 thousand people there… it was just unbelievable. It's literally indescribable how good it was. I'd love to do that every year possible". Well, after being traded to the Saints in 2007, he must've thought playing on footy's biggest day every year was a possibility. He played in the '05, '06, '09, and 2010 (twice) Grand Finals. All this after featuring in five country grand finals for his home town in the Riverina's Hume League.
As Schneids swapped his colours, so did Shawry. It was around this time that I learnt a valuable life lesson. The colours of a footy jumper can make an incredible difference to your opinion of a man. Rightly, or wrongly, I didn't have much time for Rhyce Shaw the Magpie. However, Rhyce Shaw the Swan? Now that's a different matter entirely.
After ten seasons at Collingwood, his family's club, Roosy met Shawry at the airport and welcomed him to the harbour city. Instantly, the Swans took a liking to Shaw, and vice versa. Fans fell in love the 'Shawry shuffle', as he bounced and bolted off the half-back line time and time again. The Swans wanted him for this very reason, and at the time, Shaw wanted a change. A second placing in the Skilton medal in his first season confirmed that this would be a match made in heaven.
Rhyce Shaw has won an unequivocal respect and adoration from the Swans faithful. His obvious enjoyment from the team's and team mates' achievements bring a warmth to his weekly performances that is matched by few. In 2011, our dashing number two was named 'Best Clubman'. It has been repeatedly noted by insiders at the Swans, that R. Shaw is the man that they openly covet for upholding the values and spirit of this football club. A man who rarely gains the credit that he is due for his work at the club, Rhyce Shaw can be incredibly proud of the way that he 'goes about it'. The young players adore him, the older players rely on him.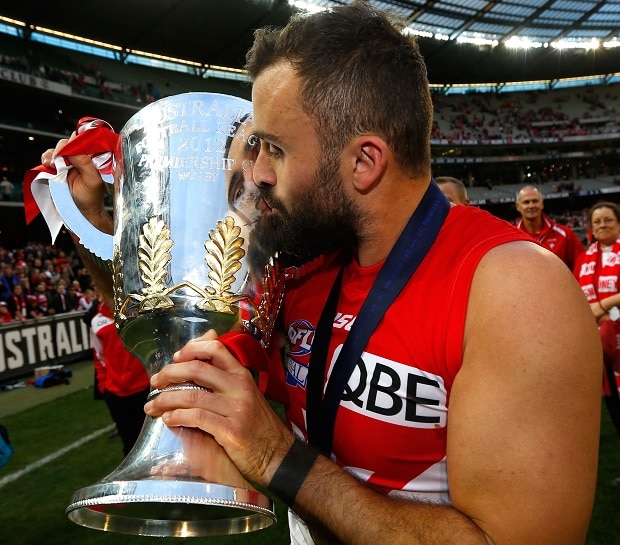 Nine years after appearing for the Pies in the '03 Grand Final, Shawry returned with the Bloods. Playing a major role in defence, he atoned for that previous performance on the big stage, by playing a bloody ripper. After the match, Shaw stated that he'd 'waited his whole life for this'. As such a vital cog in that '12 premiership winning team, he silenced critics and justified faith. A glorious combination. Just last year, in his 200th match, and as the man of the moment, Rhyce Shaw made a rare venture into the forward-fifty to kick a goal which not only provided the highlight of the match, but also further displayed his extreme value to his teammates. They ran from everywhere to congratulate a much admired and loved Swan.
And so, like ships passing in the night, Adam Schneider and Rhyce Shaw unwittingly crossed paths, forged brotherhoods with common friends and both left an undeniable mark. Furthermore, the Sydney Swans are a better club for it. Congrats, thank you and cheers, cheers from the Red & the White.
Speaking of tributes (but on a not-so-serious note) check out Almanacker Mickey Randall's tribute to the humble Dunlop Volleys, Blundstone boots and 'double plugger' thongs.
Learned the art of the drop-punt from Derek Kickett as Jamie Lawson watched on. And thus, a Swan for life. @joedmoore1979