Separating identity from performance
I came across two interesting stories today with similar themes.  One was on Port Adelaide forward Charlie Dixon and the other was on Australian high jumper Nicola McDermott.  While the stories were coming from different directions, the takeaways were similar.
The Charlie Dixon story related to dealing with the physical and mental challenges arising from a broken leg and dislocated ankle suffered at the end of the 2018 season. Dixon revealed that he had battled depression and felt ashamed that he was not contributing to the team during the long injury-induced lay-off.  When Dixon did finally make it back on the field, he appeared a shadow of the player he had been and thought his career could be over.  Dixon became isolated, went through a relationship break-up, and was even pushing his family away.  He admitted that there was a two-year period where he hated football, hated training, was disinterested.
Hugh van Cuylenburg, co-founder of The Resilience Project, had previously worked with Port Adelaide and eventually Dixon reached out to him for help.
Three quotes from van Cuylenburg really grabbed my attention:
'Charlie had lost sight of who he was as a person.'
'He had become very focused on his identity as a footballer. For Charlie, his self-worth and validation was all tied up with him as a footballer.
'He established a purpose for himself that was separate from Charlie Dixon the footballer, which was really important, because he had lost sight of that.'

The purpose Charlie Dixon found was cars.  Operating out of a rented garage in Welland (in Adelaide's inner west) he builds and restores cars and then races them around the Tailem Bend racetrack.   He is currently working on a 2003 Monaro and has a Ford F100 project ready to go.  Dixon is using his cars as a means to switch off from football, to just be Charlie Dixon rather than Port Adelaide forward Charlie Dixon.
Nicola McDermott is a young athlete on the way up.  I don't follow athletics so will admit that this morning was the first time I had heard of the 24-year-old.  A Commonwealth Games bronze medallist in 2018 she has her sights set on the postponed Tokyo 2020 Olympic Games in July, with the Australian high jump record and potentially Olympic medals within her reach.  Beyond Tokyo, McDermott is eyeing the Paris and Los Angeles Olympics, and now the potential of a home Games in Brisbane 2032 is on her radar.
While to many athletes the postponement of the 2020 Olympics was a blow, McDermott actually described it as 'a blessing in disguise' as she  'didn't realise how much the Olympics meant to me before it was taken away.'
Nicola McDermott still faced her own challenges, not dissimilar to challenges faced by many individuals who work hard to achieve their goals in their chosen field, be it sport or career.
'I pursued sport so hard until I was 20 that I thought that was what would make me happy – once I was an Olympian, once I reached something, then I'd be happy. I got to a level where I had everything I ever dreamed of, but I was still dissatisfied – I realised I had put my identity into performance and achievement.'
As was the case with Dixon, McDermott found that her identity as a person was not separate from her identity as an athlete.  While Dixon found purpose in working with his cars, Nicola McDermott relies on her Christian faith to manage her challenges.
It was the following quotes from McDermott that stood out to me:
'Faith for me was realising that I am loved regardless of performance.
'I do a lot of athletics, but I also do a lot of ministry.
'I keep the focus on making my identity outside of sport – I do sport, but it's not who I am.
'That's been the breakthrough for me – realising that my performance does not determine my identity. Once you do that, you realise that it doesn't matter whether you win the Olympics or come last, you're still the same person.'
It is fitting that as I write this story, I am viewing website advertising featuring Richmond's Dustin Martin and West Coast's Tim Kelly bordering the Nicola McDermott article.  Dustin Martin is a superstar, the biggest star we have in the game, but at the end of the day he is also Dustin Martin the son.  The man who wants to be able to have a closer relationship with his father (the how and why are beyond the scope of this story).  There is Tim Kelly the West Coast midfielder and there is Tim Kelly the father.  The West Coast midfielder faces plenty of challenges on a weekly basis, but Tim Kelly the father (and his partner) faces numerous challenges every day.
In the semi-professional (at best) days of the SANFL through the '70s and '80s our league footballers were generally a collection of teachers, farmers, sales reps, labourers or bank workers (there was also John Riley, the atomic physicist, at North Adelaide).  They just differed from the rest of us in that on Tuesday and Thursday nights and Saturday afternoon they trained and played football at an elite level.  The SANFL competition was strong, and the quality was good, it was just difficult to earn a living playing football.  In the mid-80s I had a maths and physical education teacher who was also a league footballer.  Win, lose or draw, he still had to front up of a Monday morning and try to teach algebra and geometry to a bunch of (mostly uninterested) Year 10s.  While his success as a footballer was important to many people, his success as a teacher was more important to the students in his care.  The farmers were in a similar predicament, a good season of footy in the winter would count for nought if that year's crops were no good or prices fell through the floor.  For these players, being a league footballer was an important part of who they were, but it was not all they were.
In today's world of professional sport and full-time athletes we can easily forget that these sentiments still apply.  We all have an identity that we 'use' to pay the bills, but that is only one part of who we are.  Some of us are footballers who like working on cars, others are athletes who study their chosen religion, and there are those of us who are accountants but prefer writing about sport.
Sources:
How Port Adelaide's Charlie Dixon survived the dark times and learned to love footy again.  Michael McGuire. The Advertiser SA Weekend.  March 20, 2021
'I do sport, but it's not who I am': Nicola McDermott jumping for gold and God in Tokyo.  Kieran Pender. The Guardian. March 20, 2021
To return to our Footy Almanac home page click HERE.
Our writers are independent contributors. The opinions expressed in their articles are their own. They are not the views, nor do they reflect the views, of Malarkey Publications.
Do you enjoy the Almanac concept?
And want to ensure it continues in its current form, and better? To help things keep ticking over please consider making your own contribution.
Become an Almanac (annual) member – CLICK HERE.
One-off financial contribution – CLICK HERE.
Regular financial contribution (monthly EFT) – CLICK HERE.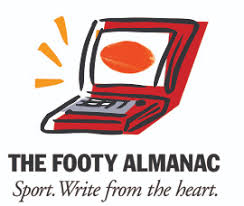 About
Dour opener and close-checking fullback. Peaked early.