Round Seven: The Centesima Rerum Venalium Cup
Greetings Tipsters
Seven weeks ought be enough time to get a half-arsed grip on form lines, so let's ascend the percentage ladder.
Below Average
Melbourne, 73.3, 2&5
The recession they had to have? One wonders what effect recruiting a fullback from Surfer's Paradise has had internally, he showed up in poor shape and hasn't impressed anyone with his work ethic. The team isn't demonstrating much of the attitude that worked so well for them last year. Improvement is possible but only to the extent that they may help "shape the eight."
Gold Coast 76.5, 3&4
A bright start to the season, but they've been pounded the last three weeks (50%) and it's unlikely to get much better for a young team. We all love an underdog and hope to see them win a few more but they're starting from scratch again. Though with a more realistic approach to football.
Sydney, 80, 1&6
The oft-predicted slide has tilted downward. The old blokes have hit the wall, the youngsters just aren't that good, the game plan is still the same, I could write a few hundred words about the decline of the Swans and may do so next week. Two years ago they recovered from a shocking start to make the finals but won't this year. Still, a #1 draft pick will take the edge off the pain.
North, 81.5, 2&5
Did North overachieve last year or are they failing this year? The top-up recruits suggest that the club thought last year was a base to build upon. Maybe they need time to 'gel', a theory that Wayne Carey spits upon. When they lose, they really bloody lose.
Carlton, 85.3, 1& 6
Rebuilding? They haven't even got zoning permits. Most of the crew lack OHS cards, the site manager can't see over the dashboard of his ute, the personnel manager keeps giving jobs to the lesser lights of his former employer, they've one bloke pouring the foundations and doing the pipes and doing the wiring, geez. They won't need to worry about painting or landscaping for a while yet.
Average
West Coast, 93.7, 4&3
Sado-masochists, this lot. Thrash or be thrashed. Obviously, their best is very good, their worst is shocking. Will one or the other take flight?
Richmond, 94.2, 4&3
When your top four players are injured or form-free, you will struggle a bit. One meritorious win so far, and that was a close one. The other three wins have been against this weeks bottom three. Three losses by at least seven goals.
St Kilda, 96.2, 4&3
They were looking good a fortnight back, have been creampied since. Better than we'd have expected, tho the wins have been mostly close. I liked St Kilda when I was a kid cos someone told me it was Melbourne's Kings Cross. I grew up and discovered it to be Melbourne's Bondi, sans beach and waves.
Hawthorn, 100.2, 3&4
Not unlike Sydney, tho less obviously so. Squeaked past Carlton in round 6.
Footscray, 100.2, 3&4
The steady results you would expect of an ascendant mid ranking team. Aside from losing to Carlton by eight goals. Cleaning up Richmond may make up for it. What became of all those big forwards they recruited?
Essendon, 100.7, 3&4
They beat Melbourne in a 38 goal match, I liked that. They ran Collingwood close. Better than they have been for some years but still, y'know, not great, maybe not even very good.
Port Adelaide, 106.5, 4&3
They beat the Eagles in Perth. That's about it for Port. The grey strip is terrible, f'gawsakes, you have black, white and teal, why the bloody hell do you go with grey?
Brisbane, 107, 5&2
Your columnist is happy to see Brisbane Lions playing some good football, Lethal's Lions will always hold a place in his heart as the last of the classic football teams. Fagan's Lions have their feet and hands on the ladder, two losses to seasoned teams, five wins nothing less than workmanlike. Looking forward to seeing them play a final or two.
Above average
Adelaide, 116.5, 4&3
Three colours aren't enough for this mob, they're psychedelic. All over the shop, formwise, have mostly played lesser teams. They lack a core of strength and stick-to-itness.
Fremantle, 121.2, 4&3
Manic depressives. How else to explain their performances this year? Free scoring one week, incapable of a rushed behind the next. I'd like to go out for dinner with Ross, get a few vinos into him, hear what he has to say.
GWS, 124.4, 5&2
JC has kicked 30 goals in seven matches, that's Lockett standard. Could hit the century within the H&A (doesn't count otherwise). Have lost to Westralian teams only. Have a beaut sense of balance about them, Mumford is the fulcrum.
Collingwood, 126.9, 5&2
When they switch on, they're very, very good; another balanced team with an influential ruckman. They'll go deep in September.
Geelong, 148.4, 6&1
Cats gotta be different. They get Dangerwoodlet, then send one forward, another to the wing, the kids in the middle do the hard work, the wins stack up. A close win first up, a loss at home, every other match has been won with a stamp of authority. Why not? The coach played in Lethal's Lions.
Seven rounds in and the top three teams look a streak ahead of the rest. Sure, it's a marathon, not a sprint, there's gonna be a bolter from the pack, injuries can derail the best of express trains. Yeah, sure as Monaros, Magpies, Cats look a step ahead of the rest this week.
The style of the game looks better this year. Rugby-style mauls are rare, players are going into space to receive a kick, there's a bag or two most every week.
Watching Jeremy Cameron Saturday, I was reminded of an afternoon in August 1995, when I asked my Tiger girlfriend "You reckon Plugger will kick a ton this year?" "Nah." He kicked 16.0 the next match. 110 for the season.
Would a 2019 coach say to the team at halftime:
"We're killing these blokes, I want you to clear out the forward area and let Jeremy kick 14. He's in good touch today."
We can all hope so.
Cheers Tipsters
P&C, A Stop Privatisation Of Footy Production
For more of Earl's Almanac contributions, CLICK HERE:
Do you really enjoy the Almanac concept?
And want to ensure it continues in its current form, and better? To help keep things ticking over please consider making your own contribution.
Become an Almanac (annual) member – CLICK HERE
One off financial contribution – CLICK HERE
Regular financial contribution (monthly EFT) – CLICK HERE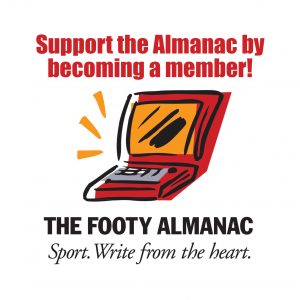 Freelance gardener, I've thousands of books, thousands of records, one fast motorcycle and one gorgeous smart funny sexy woman. Life's pretty darn neat.