Round 9 – Sydney v Collingwood: What is it about Collingwood?
What is it about Collingwood?
We're all supposed to 'hate Collingwood'. It's a tradition going way back that carries on today; even though I doubt the younger generation of supporters feel as we oldies do.
Much has been written over the decades about this phenomenon. Do the sentiments stem from their working–class roots and successes in the 1920s and 1930s? Does the Catholic v Protestant theory from those early days stand up to analysis? In recent times, does Eddie McGuire play a part?
I do not know and can't fathom why still today we continue the tradition. Although, for me, Eddie and the Adam Goodes saga has definitely exacerbated the sentiment.
I certainly don't hate Collingwood. Stupid word anyway, hate. How can I hate 22 men out on the ground, trying their damndest to win a game of footy?
There is, however, a deep–seated sense of accomplishment and joy when that final siren sounds and Collingwood has lost (although I have been known to barrack for them when the Swans' position on the ladder can be affected).
31,000+ fans filled the SCG on Saturday afternoon, but unfortunately, I wasn't one of them. Being forced to watch the game on Fox is never my first choice. After persevering through the first quarter – an abysmal one for the Swans – I turned off, in order to calm down. Half an hour later, I'm back in front of the box, slowly fast forwarding, to relieve the tension. Real time, fast forwarding, stopping – Absolutely ridiculous behaviour, Janet, I tell myself (call myself Janet when reprimand is required!) – but it doesn't work!
Eventually a couple of hours later, I relax and watch the whole thing again from the second quarter. Instead of a lacklustre eight tackles in the first quarter, we lift our intensity and lay 35 in the second term alone. The pressure continues for the remainder of the match, and we prevent Collingwood from scoring any majors from late in the first quarter until late in the last. Just one goal in three quarters is never going to produce a good result.
The Swans, however, get their act together, and between them, Heeney (three), Papley & Franklin (two), Warner, McLean, and Blakey all with a goal each, we add nine goals 10 behinds in the same period.
In the gusty, tough, windy conditions, accuracy was affected, and not just in front of goals. It was a messy sort of game with mistakes aplenty, but hey, who cares, we won!
Callum Mills, James McInerney, Luke Parker, Tom Hickey, Isaac Heeney, and Dane Rampe were all instrumental, and the effervescent Tommy Papley certainly played his part. His play off half back, passing to a teammate, continuing to run 100 metres, and eventually marking 20 metres out in front of goal, certainly has to be one of the best goals of the year. Inspirational is Paps.
Lance Franklin was well held by Maynard, but his goals were vital – especially the last of the game, when, after taking a one–handed mark, he popped through his second.
Again, this week, Tom Hickey was influential. How lucky are we to have taken him on this year? Hopefully, when Sam Naismith gets back from injury, we'll maintain a good, solid rucking combination. Pity about Callum Sinclair!
Hayden McLean has to get a mention. Earlier in the year he was used as Buddy's replacement. Not now. He has improved remarkably. Surely, he will keep his place in the team when Sam Reid returns from injury? I hope so.
We're still in the eight, and I'm not predicting anything this year. We're a young, skilled team, and still learning, so all we can do is enjoy the ride, and celebrate the wins when they occur. So far, there have certainly been more than anyone predicted at the start of the season, and let's hope there are many more.
This morning, Sunday, I'm still thinking about the 'hate Collingwood' syndrome. I delve into the subconscious and try to relive memories from as far back as the '50s, when as a kid I probably did (in a naive way) hate them, even though I had no idea what it really meant. These days, perhaps a little wiser, I simply can't find that hatred in me.
Go Bloods!
SYDNEY                      1.2     4.3     7.7     10.12     (72)
COLLINGWOOD      4.2     4.4     4.6     5.12     (42)
GOALS
Sydney: Heeney 3, Papley, Franklin 2, Warner, McLean, Blakey
Collingwood: De Goey 2, McCreery, Cameron, Hoskin-Elliott
BEST
Sydney: Mills, McInerney, Parker, Hickey, Heeney, Rampe
Collingwood: Hoskin-Elliott, Crisp, Maynard, Mayne, Sidebottom
Crowd: 31,448
To return to our Footy Almanac home page click HERE.
Our writers are independent contributors. The opinions expressed in their articles are their own. They are not the views, nor do they reflect the views, of Malarkey Publications.
Do you enjoy the Almanac concept?
And want to ensure it continues in its current form, and better? To help things keep ticking over please consider making your own contribution.
Become an Almanac (annual) member – CLICK HERE.
One-off financial contribution – CLICK HERE.
Regular financial contribution (monthly EFT) – CLICK HERE.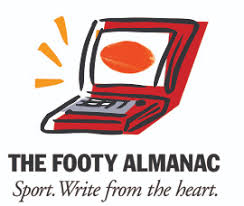 A Bloods tragic since first game at Lake Oval in 1948. Moved interstate to Sydney to be closer to beloved Swans in 1998. My book "My Lifelong Love Affair with the Swans" was launched by the Swans at their headquarters at the SCG in August 2016. www.myswansloveaffair.com