Round 7 – Brisbane v Sydney: True Believers
True Believers
"True believers are eternal optimists who can always see the proverbial ray of sunshine in the middle of a hailstorm.
Without the true believers our club and the game as a whole would have little meaning."
These words of wisdom were written in 2016 by our former Chairman, the indomitable Richard Colless, in his Introduction to my book My Lifelong Love Affair with the Swans.
How apt they are today – three years later, as our beloved team transitions from one of the greats of the past two decades to an up and coming force of the future.
*****
Sitting at Tullamarine Airport Friday morning, my mind is racing. Footy is the focus and red and white memories are in full force.
Memories of bygone days, back in South Melbourne, when we struggled week after week, year after year, rarely winning, and when we did, the celebrations were as if we'd won a Grand Final. Memories of my super heroes of the time, with Bobby Skilton leading the way. Memories of the club's near demise, before being sent up north to Sydney. Memories of being there for our first win in 1982, beating the Demons by 29 points. Memories of making the finals in 1986, '87 and '88, before slumping in 1991, '92 and '93 and taking out the wooden spoon. Memories of the great Ron Barassi being appointed coach in 1993, and Richard Colless, as our new chairman. Memories of Tony Lockett and Paul Roos joining the team in 1995 and Paul Kelly winning the Brownlow. Memories – oh, plenty of them – surrounding 1996. Who could forget that year: the finals' wins against Hawthorn and Essendon; the point after the siren by "Plugger" to get us into the Grannie; and then the devastating loss against North. And memory after memory of the years that have followed: highly successful years of finals, grand finals and premierships. What a mighty football team we have been!
As I board the flight, another memory surfaces. That of Round 7, 2017.  After six consecutive losses, we were to face Brisbane at the SCG. This was unfamiliar territory for the Bloods, we were on the bottom of the ladder and at serious risk of missing finals for the first time in many years. Our fears were allayed. We won our first game of the season 20.15.135 to 12.9.81 and were on our way.
This year, in the same round, everyone has pencilled us in for more doom and gloom. However, the players and the club are confident of turning our recent performances around and I, a mere supporter, and a true believer, have complete faith in what they are trying to achieve.
Arriving at the Gabba, where I haven't missed a Swans game in Queensland since the Bears were formed  in 1987, I'm optimistic, despite being well aware that the resurgent Lions are definitely the favourites. As the players run through the banner I remind myself that we have only lost to Brisbane three times since 2004 (the last defeat in 2009), so Swans' pride is also on the line.
Your typical flash Queensland thunderstorm has cleared and the Brisbane crowd has woken from their ten-year slumber, as their team produces a quarter of footy which leaves the Swans in their wake. It was a quarter to forget, and we're trailing by 28 points at the break.
The following 30 minutes are a delight to watch. We're back to our best. We kick 6.4 : Will Haywood the first two, Isaac Heeney, Jordan Dawson, Ollie Florent and Tom Paley all adding singles, and only a few points separate the teams at half time..
The rain pelts down in the third quarter and skill levels reduce accordingly. Brisbane extends its lead to 19 points, before the Tommy Papley Show. In a couple of minutes he manages two stunning goals, both from sheer effort and brilliance, and when Joey Kennedy adds another, we're back to a 2-point deficit. Unfortunately, the Lions add a further two and take a 15-point lead into the final term.
Can we repeat our second quarter performance?  No, we can't, despite Tom Papley's effort – especially coming back after lying on the ground in agony after a knee into the back, and kicking his fourth goal.
Most of our losses this year have been around the 22-point mark. And most have been because of lapses at different stages of the games – often in the first quarter. At least we haven't been smashed, and at least we've remained competitive and not given up, and that says a lot about a young group. And we must remember, we are a very young and inexperienced group. Last week's team was the youngest fielded over that weekend. When you consider that only nine of our 2016 grand final team were playing, and with injuries to so many of our club stalwarts, it's not surprising that we haven't managed too many wins so far this season.
And that's not to say that, as a supporter, it doesn't hurt. Of course it hurts. Every loss hurts, as does every mark, handball and goal kicked by the opposition; every entry into their forward line (and there were plenty of those today); every tackle or bump that puts a halt to our game, and every celebration by the opposition's supporters – it all hurts.
But.  We must be patient. We must bide our time while our team transitions into a great team once again, no matter how long it takes. It will happen.
And we must be so thankful for what the club has achieved these past 20-odd years. Most footy lovers would surely be jealous of the pure pleasure we, Swans supporters, have had bestowed upon us.
Our courageous and inspiring former captain and now midfield coach, Brett Kirk, stated this week in a letter to members, "…Everyone is completely committed to climbing out of the position we're in, and as always, we need our mighty and beloved supporters to keep cheering us on…"
As true believers, Brett, you can be assured we certainly will.
Carn the Mighty Bloods!
Jan Courtin, a passionate lifelong Swans fan who attended her first game in 1948, moved to Sydney to be closer to her team in 1998. In 2016 her book "My Lifelong Love Affair with the Swans" was launched by the Swans, and she was chosen "Female Fan of the Year" by the AFL Fans Association. Her website: http://www.myswansloveaffair.com  You can read more great Sydney Swans fan reviews at footyalmanac.com.au.
For more from Jan, CLICK HERE:
This piece first appeared on the Sydney Swans' website.
Do you really enjoy the Almanac concept?
And want to ensure it continues in its current form, and better? To help keep things ticking over please consider making your own contribution.
Become an Almanac (annual) member – CLICK HERE
One off financial contribution – CLICK HERE
Regular financial contribution (monthly EFT) – CLICK HERE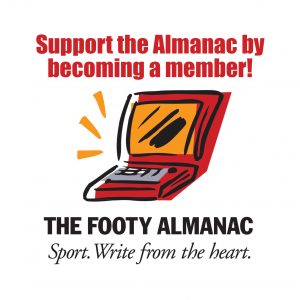 A Bloods tragic since first game at Lake Oval in 1948. Moved interstate to Sydney to be closer to beloved Swans in 1998. My book "My Lifelong Love Affair with the Swans" was launched by the Swans at their headquarters at the SCG in August 2016. www.myswansloveaffair.com