Round 7 – Brisbane v Port Adelaide: Belonging
Brisbane versus Port Adelaide
7.25pm, Saturday, 1st May
The Gabba, Brisbane
Jamie Simmons
My guest today is my father-in-law Greg.  These later starts are a little taxing on a young mum so Mel will be listed as "managed" for this game.
Greg harbours no inherent disdain for the indigenous game but raised deep in the Rugby League heartland of Reevesby near Bankstown, he cut his teeth on the brutal thrust and parry that is its signature.
Choosing Greg is as much about business as pleasure. I find it's important to oil the hinges on any meaningful relationship and not just the ones that provide you with food and laundry.
Try to appreciate the initial impact on Mel's family the day she arrived hand in hand with me, a significantly older man, to a formal gathering. Once protocols had established their beloved was a willing participant to this public outing and not, as per initial suspicions, involved in a hostage situation they lowered their defences.
Mel's family have been nothing but kind to me since. They have long stopped pointing and hardly ever stare at me now.
This inclusion is important to me. I was never especially close with my own family. They moved around a lot when I was young but I always managed to track them down.
No matter. I have successfully crowbarred my way into this family and I intend to be difficult to remove. Chris (Mel's mother) can dab at me with Bi-Carb Soda all she likes but this is one unsightly stain that refuses to go.
Collecting Greg from their home I wave a cheerful goodbye to Chris who has already started to drag everything I've just come into contact with out into the garden to be hosed down or incinerated.
It's a pleasant seven block walk to the Gabba and we fill the time with discussion over the various merits, anomalies and topical titbits of both our codes.
Coorparoo residents busy themselves taping windows and removing loose ornaments from their gardens as we pass, keenly aware that Port Adelaide are in town.
In a reversal of this hosting role, Greg takes me once a year to watch his cherished Broncos play at Suncorp so the discussion turns quickly to comparative analysis of both venues. I have made it known in previous publications that I am not a fan of The Gabba experience and find Suncorp to be a vastly superior establishment.
Greg kindly alludes to the recent makeover of the stadium, but I think it's largely cosmetic. Previously run-down dispensaries have been airbrushed but they still feel tired to me. I'm certain I passed one still trading in Beaver pelts and Thunder sticks.
It's a winter sport (albeit a Brisbane winter) but woe betide the man who wants to buy a hot chocolate or coffee. They do sell a wine here but don't get too excited Melbourne supporters, it has a tin foil lid (which presumably you use to scrape the residue from your tongue) and the only people I can see who have made the purchase appear to be using it as hand sanitiser. The label says Wiag, which I suspect is not a vineyard, rather the brand name of bath it was mixed in.
Joe Daniher launches one from long range which warms the crowd. He gets it. He understands the desire to belong. He's ungainly and awkward looking and has a wispy moustache that makes him look like he's too tall for his own eyebrows. For reasons never entirely presented he strayed from the herd down south.
His new teammates rush to embrace him. He grins. He just wants to be held. Accepted.
The Spice Girls shriek their approval through the PA. I don't know how I feel about music after a goal. I'll admit that I can be a little slow to accept change. Brother Ezekial, Brother Malakai and the other elders are forever teasing me about this but if we insist on this "innovation" can it not be used for good? Perhaps as an incentive? Should the game go five minutes without a goal, we start playing The Bay City Rollers, 10 minutes The Manhatten Transfer, 15 and it's anything from William Shatner and so on. You get the idea.
Port Power continue to bomb the ball in high and long early. It's a strange and futile game plan. If Harris Andrews were on a dating site, he would list this as one of his turn ons. Those long, spindly tendrils reach around the corners and push through the cracks of marking contests like Jasmine, spoiling and marking everything.
The Quarter Time rain sends a frenzied, poncho-less stampede to higher ground. It does, however, herald the arrival of Snap Man, the latest intermittent entertainment at The Gabba.
The scoreboard boasts a $500 prize to whichever "randomly" picked slob on oxygen that can beat him across 100 metres with a head start. Snap Man, seemingly unhampered by the indignity of his costume, easily accounts for his challenger.
Greg laments the uncomfortable nature of the seating. It only took one quarter.
The week previous saw the announcement of a billion dollar upgrade to the facility should we host the Olympics.
We are getting a little ahead of ourselves here. Brisbane haven't officially won the right to host the 2032 Olympics and with the last official competitor dropping out of the race, we are now only running against No Fixed Address, so we are no certainty.
Surprisingly the billion dollars only allows for 8,000 extra seats. Where does the rest go, I wonder? I suspect having congealed wine flushed out of the plumbing will take a bite out of the early allocation.
With so little in the way of expansion planned, perhaps some could be allocated toward seating that aims to be more comfortable? You know, something that wasn't designed by The Marquis de Sade. Just a few inches either side is all it takes. If I have to be grinding hips with complete strangers, I'd prefer it were in a Shakira music video. We're not asking for hammocks here.
It occurs to me that the search for belonging is by no means excluded from the stands.
The match day experience is enhanced if you can find acceptance from those around you. We don't choose who sits in our immediate vicinity but whether we realise it or not we hope for a like-mindedness in them and, if at all possible, a more than passing interest in personal hygiene. We're in each other's lives now. We want this to work.
The bloke on my right doesn't speak. Also, he leaves at ¾ time for every home game no matter the status or how it's poised. Outside of reading a Dan Brown novel when is it ever acceptable to leave ¾ of the way through anything?
On our left are partners Ann-Marie and Karen. Together 36 years.
"What's the secret to a lasting relationship?" I ask, hoping to further explore the theme of belonging.
"Communication." Anne-Marie beams back at me triumphantly.
I look over to Karen for affirmation. She offers me a blank stare.
"Oh, that's her deaf ear." Ann-Marie explains. "She won't have heard you."
I see. Wait…what? Communication is the key and every game she has you sit on her deaf side! I think I'll get a second opinion.
The Battle for Charlie supremacy was a lop-sided affair. Charlie Dixon has had a shocker. If you handed him a compliment right now, he'd fumble it. Charlie Cameron has struggled for belonging in a new look forward line this year and it has shown in his performances. The chant of "Charlie" goes up after his first and he seems buoyed by it, rewarding the faith with 4 for the night.
Better still, former Lion Sam Mayes isn't booed once all night which is nice. We are growing as a football public. Good on us.
Though happy with the result Port, a genuine flag hopeful, have been disappointing. Aliir Aliir and Wines have done all they can but lacked support. McCluggage has had another stellar evening and, if he keeps this up, is well and truly on track to be ignored by the All Australian selectors once more.
We break the game down on the way back to the car, hoping to beat the impending storm front.
Greg concedes that he doesn't understand the Holding the Ball rule. I tell him this is great news and makes him officially qualified to umpire a game at AFL level.
He has me drop him around the corner from home, preferring I didn't drive down his street. Something to do with Real Estate values apparently. I don't know much about commerce.
It's been a lovely evening.
It's nice to belong.
Brisbane  4.5   8.8   11.15   13.15  (93)
Port Adelaide 1.2   2.6   3.9   5.14   (44)
Goals:
Brisbane – Cameron 4 Daniher 2 McCluggage, McCarthy, Bailey, Ah Chee, Prior, McStay, Zorko 1
Port Adelaide  – Wines, Drew, Woodcock, Bergman, Gray 1
Best:
Brisbane –  McCluggage, Andrews, Lyons, Robinson, Daniher, Zorko
Port Adelaide  – Wines, Aliir, Drew, Bergman
Umpires :  Foot, Stevic,  Gavine                                               Crowd:   20,007
Our Votes:  McCluggage (B) 3, Andrews (B) 2, Wines (P) 1
For more from Jamie, click HERE.
The Tigers (Covid) Almanac 2020 will be published in 2021. It will have all the usual features – a game by game account of the Tigers season – and will also include some of the best Almanac writing from the Covid winter.  Pre-order HERE
To return to our Footy Almanac home page click HERE.
Our writers are independent contributors. The opinions expressed in their articles are their own. They are not the views, nor do they reflect the views, of Malarkey Publications.
Do you enjoy the Almanac concept?
And want to ensure it continues in its current form, and better? To help things keep ticking over please consider making your own contribution.
Become an Almanac (annual) member – CLICK HERE.
One-off financial contribution – CLICK HERE.
Regular financial contribution (monthly EFT) – CLICK HERE.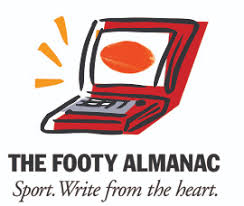 Born in Melbourne, a third generation Fitzroy supporter, in 1972 before emigrating to Tasmania during The Great Broccoli Famine of 86. Leaving my island lodgings, largely at the request of locals, to settle once more on the mainland in 1997. These days living out a peaceful existance on the outskirts of Brisbane, where I spend most of my time serving as a fashion warning to others.