Round 6 – St Kilda v Adelaide: Positives from disappointing loss
St Kilda versus Adelaide Crows
Saturday 27 April 2019
4:35 pm
Marvel Stadium, Melbourne
It was a big sports weekend for me as playing footy at IMPACT Anzac Day Cup on the game day, this professional footy match and watching a baseball in Osaka following day.
But disappointment of losing the game put me away from watching the replay. Or just I have been just busy??
At our footy tournament, three Crow supporters attended while I was the only St Kilda supporter.
It was not excuse to lose the game. I had predicted the mighty Saints would win from previous matches, but at the same time was worried of Crows bouncing back from their massive win over the Suns.
On the footy field, I was relieved that Saints led at first as other players updated the score for me.
But negative news were delivered to me on our way back to Osaka for the post tournament function at a pizza izakaya in central Osaka.
I am very disappointed with the loss and wonder where our good efforts in the last five matches were gone.
St Kilda coach Alan Richardson appeared Talking Footy programme on Monday, so I searched a video clip on the Club App.
I was unable to find it; however I saw videos of St Kilda's goals and Matty Parker's impressive mark.
Long took a contested mark (two on two) at the early in the match and scored a goal easily close at the posts.
Steven running, and receiving a handpass and running to a good spot scoring a goal was impressive. I could have ran swiftly at the last game against Shanghai Tigers on the day.
Parker's flexibility not waiting a free kick when taking a high mark close to posts is what I should adopt. I should have ran to the easier spot to snatch a goal at the Game 5 against Merged Tokyo team on the day.
His running and climbing on Talia's shoulder taking a high mark was magnificent and has been nominated a mark of the year. Parker's such a talented player.
Membrey continues taking high marks and running hard to collect footy. His set shots are accurate this year. I want to score goals like him.
Gresham's flexible running and finding right spots to score goals are what I would love to learn for my play career.
As I am playing footy in a month, I really need to focus on keeping positive and learn from the previous matches. I look forward to improvement of St Kilda boys and myself.
The baseball match we (Matt, his mate and Shanghai Tigers players) attended was played by the local Orix Buffaloes and Saitama Seibu Lions (based near Tokyo). The locals led at first but the second pitcher threw balls to push batters walking to allow more points to turn over.
The Lions won four to two.
It was a good sports weekend despite losses.
ST KILDA 3.6 5.6 8.7 10.8 (68)
ADELAIDE 3.0 8.1 10.6 15.7 (97)
Goals
St Kilda: Parker 3, Membrey 2, Steven, Paton, Long, Kent, Gresham
Adelaide: Walker 4, Murphy 3, Himmelberg 2, Betts 2, Gallucci, Greenwood, Knight, Lynch
Umpires: Gavine, Howorth, McInerney
Official crowd: 28,404
For more of Yoshi, CLICK HERE:
Do you really enjoy the Almanac concept?
And want to ensure it continues in its current form, and better? To help keep things ticking over please consider making your own contribution.
Become an Almanac (annual) member – CLICK HERE
One off financial contribution – CLICK HERE
Regular financial contribution (monthly EFT) – CLICK HERE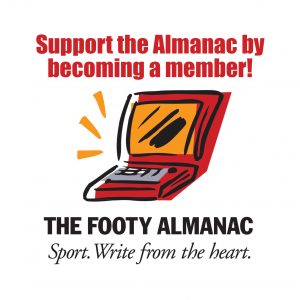 Love, passion and pride are seen on the footy that is the biggest part of my life. 1. St Kilda Club member: I am a passionate and crazy Sainter. Just hope we will win the second flag soon, especially after Dogs and Tigers having ended long premiership draughts. 2. The Osaka Dingoes Player and Public Relations Officer: Player number 44 that I chose to honour Stephen Milne with my wish being like a small forward like him. Lenny Hayes' hardworking attitudes are adopted on my trainings and practices. Nick Riewoldt's great plays are in my player audiobook too. 3. Writing: Here on the Almanac and also on the World Footy News. My skills utilise on great footy websites.