Round 6 – Richmond v Melbourne: Is it just business?
The essence of professional sport is fascinating.  What is it?
Is it an outlet for those who have a competitive streak, who want….actually who need……to win?  Is it an outlet for those who constantly strive to defeat an opponent?  Or is this too simplistic a view to hold?
Is professional sport merely entertainment? Do athletes exist simply to put on a spectacle for the theatergoers who attend their tussles?  Are they pursuing a craft which somehow compels us to watch, like actors and musicians?
Perhaps professional sport is another way for an individual to put food on the family table?  Being a Doctor, a lawyer or a tradesman is an acceptable way to earn a living, so is being a sportsperson.  Is it just business?
Or do professional athletes have an inner drive that eludes the rest of us in our daily lives?  Are they motivated by intangibles?
This is an easy question to answer when we discuss amateur or informal sport.  We play our weekly round of golf because we love the game or we want to challenge ourselves or because we just want to keep fit.  A regular mid-week game of Basketball is the same. Perhaps the occasional game of tennis can become overly competitive every now and again but it is unlikely to consume us in the same way that professionals are consumed by their sport.
The Richmond team that took the field on Wednesday night exemplifies these intangible motivations.
Why is Jack Riewoldt playing again three weeks after damaging a bone in his wrist and hurting his knee?  Surely, this is a reckless act?  Why play again so soon?  Why play through pain?  Sadly, he is injured again and will need to prepare for another stint on the sidelines.
What has motivated young Sydney Stack?  He was ignored in the various drafts by every team and forced into a three month audition to secure one of the last spots available on an AFL list.  Yet he endured, thrived and, four games into his professional career, he is playing with abandon and complete disregard for his safety.  His bump on Demon hard man Jack Viney, is one for the ages.  His high mark on the outer wing is spectacular.  Is he trying to repay those who showed faith in him?
Brandon Ellis is a Premiership player who fell from favour and found himself languishing in the VFL, his career seemingly at the crossroads.  Watching him play tonight, it is impossible to not admire his struggle.  He kicks two goals, including the one that seals the win.  He follows up with a courageous mark that keeps the door shut on their hapless opponents.  Surely, he is not merely trying to earn a living?  Surely, he wants to keep doing this with his mates…….for as long as he can.
Kane Lambert was not even required to play AFL in the first six seasons that he was available for selection, yet here he is, a Premiership player and runner up in his club Best and Fairest.  Tonight, he is amongst the best players on the field, continually finding the ball and driving it to his team's advantage.  He runs to the point of exhaustion each week and always lifts late in games.  Tonight is no exception.
Or perhaps we should talk about Jason Castagna?  He is not the most skilled player in the competition.  We can all see that.  He lacks poise, often spraying shots at goal.  He drops marks with regularity, his skills often let him down.  And yet, when the magnets are arranged on the team sheet, his name is always there.  His team play high pressure football.  They have a number of quick, defensive players who form an almost irresistible wolf-pack, scratching and snarling, harassing and bullying their bigger, more fancied opponents.  Castagna leads that pack.  When the opposition win the ball, he is a first responder.  Tonight he kicks three goals, a substantial contribution. He is trying to stay in the team.
Nick Vlastuin is one of their young leaders.  Tonight, he steps manfully into the void that Alex Rance's absence has created.  He intercepts Melbourne repeatedly and launches counter-attacks.  He organises his defence better than any coach could do and is easily the best player on the ground.  He grabs this opportunity with both hands.
The ANZAC Eve game did not rise to any great heights as a spectacle this year.  Melbourne have been strangely out of sorts and were not able to trouble the more fluent Tigers for very long.
I suspect that 2019 will be their finishing school.  It seems to me that are following on the same path as the 2016 Tigers and the 2006 Cats.  They are a quality outfit who have allowed their expectations to get the better of them and are now facing a wasted season.  Over Summer they will need to wrestle with the intangible of what might have been and why it didn't happen.
Will this disappointment spur them on in 2020? 
After all, they are professional sportsmen. 
For more of Joe's writing, CLICK HERE:
Do you really enjoy the Almanac concept?
And want to ensure it continues in its current form, and better? To help keep things ticking over please consider making your own contribution.
Become an Almanac (annual) member – CLICK HERE
One off financial contribution – CLICK HERE
Regular financial contribution (monthly EFT) – CLICK HERE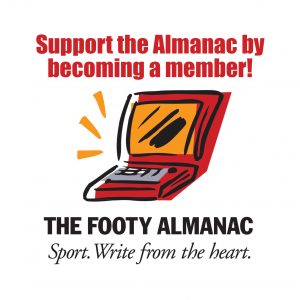 My favourite period in history began with the Summer of Love and came to a sad end with the birth of Disco. It was from 1967 to 1975. What was not to like in those days? The Grateful Dead, Creedence, The Beach Boys, The Doors, Janis Joplin, Cat Stevens, Neil Diamond and the mighty Tigers won Premierships every other year. It was a magical time, much like the current period in history.