Round 6 – Richmond v Melbourne: How Good is Stacky
Richmond v Melbourne
7:35pm Wednesday April 24
MCG
How good is Stacky!  When he came off for a short spell late in the last quarter the Richmond reserve cheered him off.  Now, this is a major statement coming:  the last time I noticed such an ovation it was for Dusty during the week he re-signed.  You know how much Tiger fans love Dusty, just to be a part of that makes the hair stand up on your neck.  Well, we just found some more love in our hearts.
I can't believe he only had twelve touches.  He seemed everywhere, pounces like a cat but strong, so creative – never wastes it.  I have adored Shane Edwards' season this year, but Stacky takes it to the next level.  What was Alan Partridge's description of Seve Ballesteros:  the grace and beauty of a ballerina and the brute strength of a bastard.
Since the Carlton game I have been trying to be a bit more calm and wellness-oriented.  We had a friend with us at that game, a neutral supporter, who had to leave during the third quarter and watch by himself because he was finding the tension of our family group too much, ("Wow, you guys really are anxious supporters.  Thanks for having me along, that was really interesting to see").  I have also tried to confine my negative comments to a minimum; however, I stand by my remark to Harmes in the last quarter when he was hassled out of a fifty-fifty.  He had two metres on Houli from a centre square clearance and pushed the ball out in front of him towards the wing then turned to bump him instead of picking it up:  "You gutless squib, play the ball."  My only regret there was the tautology.  Squibs are by definition gutless.
If a tree fell down in level 4, row V, how would anyone know it happened?  You're miles away from the game, you're engaging in one-way banter with a small quantity of oxygen and other less useful atoms.  I know that, but I still can't stem the commentary, the emotions.  I applauded courageous Melbourne marks backing into the pack twice.  What's the deal, who's going to register that?  There weren't even any Melbourne fans nearby.  I just didn't want to get on the boo train this week, that's all.  And on that oxygen, when you stand up and release after a Dusty front-and-centre – and this is something I swore I would stop after hitting fifty – you get this delirious light-headedness that I'm sure is not healthy on a cardiovascular level.  I mean emotion's all very well, but, as we're constantly reminded, this season's a marathon not a sprint.  I did love that Dusty goal though.  I feel like when Dusty does that stuff we get back to where we want to be as Tigers.  We just want to love, it's all about the love.  And the wellness.
By the way, when did Broad get so fast?  That's not in his job description, surely.  We've got Broad, waiting for Short to come back, we've got physical dimensions covered somewhat in our backline, but when did time come into it?  He's come on, let me tell you.  It doesn't exactly make you cry like a Dusty goal, but when I think about how great our backline is, every man jack of them – actually that's one place the many Jacks aren't playing – I confess I do get a bit emotional again.  I hope I'm not calling it too soon, but, credit where credit's due, I reckon he's on the way to deity status – Dyl, Dave, Nick.  Alex of course.
Just as a sidebar, we're taking my mum out to Dylan's winery next month while the weather's still lovely. The reply email says they can't wait to see us.  I can't wait either.
So we've got our pressure game back, the last two weeks proves that.  The Port win may have been something else although fundamentally it must have been pressure too.  Our play reminds me of that sweet spot last year when we beat Collingwood and Melbourne at the MCG in rounds 3 and 4 or so and they both played really well, tried really hard, but we outlasted them both.  Every team was throwing the kitchen sink at us then and Dimma's processes and procedures held sway.
We all know how that played out, don't worry, I'm not complacent.  I just love seeing us recapture that belief, seeing new guys implementing said procedures.  And I loved seeing the scoreboard at half time and counting the shots at goal and thinking on balance of probabilities we would win.  I feel sad for Dan Butler and others who've been cast aside lately (though I'm certain he's one who will make it back), but it's so exciting to see new guys taking it on, Ross, Baker, Balta.
It's yet another weird time to be a Tiger now, more uncharted territory, but not a bad time by any means.  We're still coming to terms with our emotions, but there's been a massive buy-in from the spectating group into Dimma's procedures for processing all that love in the room.  The look in mature men's eyes, deep into their souls, when Dusty does something on the field that brings us together.  We're not ashamed.
But it's also about pressure in every sense.  We have a pressure game.  Apparently the commentariat hates it, the opposition hates it.  We find it exhilarating.  But let's be honest, pressure is pretty horrible.  I hate the pressure in my life.  Our team hated pressure by the end of last year, Alex hated it so much he contrived an ACL to take this year off.  (He deserves the break, I don't begrudge him in the least.)  Jack's doing everything he can to stay home with Poppy right now.  Georgie's had the yips for two years, despite the progress he made on Wednesday night.  Pressure acts through the roof, set shots through the behinds.
Pressure's pretty horrible, a double-edged sword, but I guess that's the price we pay for all this love we've got.  I'll pay that price.
RICHMOND        3.1     5.4     7.9     12.13     (85)
MELBOURNE     4.1     4.2     5.5       6.6       (42)
GOALS
Richmond: Riewoldt 2, Ellis 2, Castagna 2, Baker 2, Lynch, Ellis, Martin, McIntosh
Melbourne: Smith, Lockhart, Gawn, Hunt, Neal-Bullen, Fritsch
BEST
Richmond: Vlastuin, Houli, Prestia, Lambert, Baker, Riewoldt
Melbourne: Gawn, Melksham, Hibberd, T.McDonald, Brayshaw, Viney
Crowd: 72,704
To find out more about Almanac memberships CLICK HERE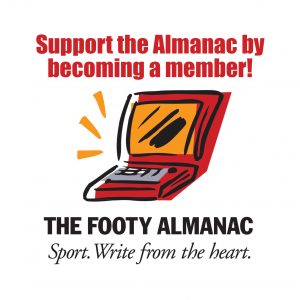 About
A Tigers fan still trying to make sense of everything.. Two kids in the EDFL, another Year of Living Vicariously. I've spent a long time weighing up social media platforms and have finally settled on the Almanac. I like loads of stuff.