Round 16 – Sydney v West Coast: I'd like more of that, please!
Sydney v West Coast
1:10pm, Sunday July 4
Kardinia Park
'C'mon Marsh, get up, we've got to get moving.'
'It's too early, why do I have to get up so early?'
'We have to leave here by 11, so please get up.'
'Where are we going?'
'Geelong, for the footy.'
We're on the road at 11:15am and before too long a red and white scarf is shoved through a window and waived enthusiastically at our '5  SWANS' car. Toots are reciprocated, and we continue our journey.
'Where are we going?' Marsh asks.
To Geelong to the footy to see the Swans.' I reply.
How nice it is to be going to a game (thank you Covid-19!). A game in Victoria, where the many thousands of Melbourne/Victorian-based Bloods supporters can get to see a live Swans footy match.
We manage to park the car not far from the ground and are greeted with a bitterly cold, blustery wind as we add layer upon layer of clothing before trekking off to the ground.
'Where are we going?' Marsh asks.
'To the Geelong footy ground to see the Swans.' I reply.
Our seats are perfect. Under cover, on the wing, just behind the players/coaching bench. We are also protected from the freezing wind!
Oh, how much better it is, being there, compared to television! Nothing compares to the real, live stuff. Not only do we have a full view of the ground and where the players are at any given time, but the sounds, the smells, the visuals in all their glory, and the fact that we can interact with walking, talking, smiling people cannot be understated.
And there are thousands of us, close on 10,000, decked out in red and white. Blue and gold are splattered here and there, but this is definitely a Swans crowd. Thousands of us there to enjoy a home game, moved to Geelong because of the pandemic.
In many ways it reminds me of being at the SCG, where by far the majority are Bloods supporters. In fact, not since our South Melbourne days, have we played a game in Victoria/Melbourne, where red and white has been the dominant colour in the crowd. The only things missing are the oranges at three quarter time!
As the game progresses and we continue to slaughter the opposition, I wonder how a game like this can be described. How a team can completely dominate in all areas of the ground, kick five goals in the first quarter, a further six in the second, two more in the third, and finish off with another five in the final term, whilst the Eagles only managed a total of three all day, their first seven minutes into the first and their second 20 minutes into the third.
The way we moved the ball was simply exceptional. Almost non–stop movement, the ball rarely missing its target, and the players rarely missing their opportunities in front of goal. What was most pleasing was that everyone contributed; there was no outstanding performance, as such, they all knew what they needed to do, and they just did it. To perfection.
It was an exceptional performance by our young team. Simply exceptional.
No matter what transpires in the weeks and months ahead, we can be assured that these up and coming young champions will give us much pleasure in the years to come.
Marshall joins in and sings the song as the siren sounds (thank god he's remembered that!) and as we pack up to leave the ground, I notice that I'm tension–free. None of the usual nerves, anxiety, stress and apprehension that usually accompanies watching our games on television, and more importantly, I didn't have to fast forward! What a relief!
Walking back to the car, there are so many smiles. People are chatting to each other and rejoicing in our wonderful win. It is infectious.
We return our additional layers of clothing back into the car and set off for home, awaiting another wonderful sight.
We are treated to a visual moving artwork. Hundreds of cars have their red and white scarves hanging from their windows, blowing in the wind, and joining in the celebration. One would pass us, then another, and sometimes three in all three lanes simultaneously. A glorious sight.
Living in Sydney for 21 years, I don't really recall this happening there. It's definitely a Victorian/Melbourne tradition. I remember doing it as a kid, in the South days, when Mum would pick us up from games in Melbourne. Trouble is it was usually the other team's scarves, as we rarely won way back then! How things have changed.
Not far from home, Marsh asks 'Where are we going?'
'Home' is my reply.
'Good.'
'Did you enjoy the day?' I ask.
'Remind me what we did?'
'We went to Geelong.'
'What for?'
'Have a guess'
'To see family?'
'No, to see the Swans play West Coast.'
'Who won?'
Oh dear, how wretched is dementia!
We're almost home. We turn left into Canterbury Road, and then right into our street. As another visual sight greets us – the setting sun, over Albert Park beach – I think to myself, what a wonderful day we've had, and, yes, I'd like more of that, please!
SYDNEY              5.2    11.4    13.8    18.10 (118)
WEST COAST    1.3     1.3      3.5      3.8 (26)
GOALS
Sydney: Franklin, Heeney 3, Hayward, Wicks, Amartey, Gulden, Dawson, Papley 2
West Coast: Yeo, Kennedy, Darling
BEST
Sydney: Mills, Hewett, Hickey, Parker, Florent, Dawson, Franklin
West Coast: Sheed, Duggan, Darling, Hurn, Yeo
The Tigers (Covid) Almanac 2020 will be published in 2021. It will have all the usual features – a game by game account of the Tigers season – and will also include some of the best Almanac writing from the Covid winter. Pre-order HERE
To return to our Footy Almanac home page click HERE.
Our writers are independent contributors. The opinions expressed in their articles are their own. They are not the views, nor do they reflect the views, of Malarkey Publications.
Do you enjoy the Almanac concept?
And want to ensure it continues in its current form, and better? To help things keep ticking over please consider making your own contribution.
Become an Almanac (annual) member – CLICK HERE.
One-off financial contribution – CLICK HERE.
Regular financial contribution (monthly EFT) – CLICK HERE.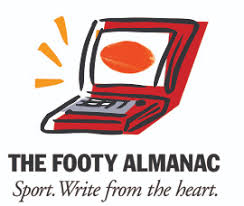 A Bloods tragic since first game at Lake Oval in 1948. Moved interstate to Sydney to be closer to beloved Swans in 1998. My book "My Lifelong Love Affair with the Swans" was launched by the Swans at their headquarters at the SCG in August 2016. www.myswansloveaffair.com