Round 15 – Richmond v St Kilda: An upset as records rewritten
Friday 25 June 2021
7:50 pm
MCG
Who would you have thought to win on Friday night at MCG? Even I thought the regaining Premiers would win, especially after the unpredictable loss to Adelaide Crows.
Richmond dominated the game and hit the inside 50s but ended up scoring behinds by Short (one was a rushed behind). Then St Kilda fought back and Ross got an opportunity but missed.
Dunstan kicked high and King was on a two-(Tigers)on-one contest. No one won and Long handballed but no one picked up the ball. Butler was around but didn't gather as he was chased by Baker. McKenzie was in the right spot and his soccer kick was the first goal of the night.
Three and half minutes later, Hill kicked long and entered our inside 50. A four-on-four marking contest went on. Higgins won the contest and got over being nervous of the set shot.
Throw in and Marshall hit out. Dunstan kicked and a contested possession was held at St Kilda's inside 50. No one gathered in the wet conditions. Wood collected and hit King as his target. King scored a goal from a difficult angle. Nice work, boys!
When Riewoldt took a mark at the end of the first quarter, I was so nervous, but he missed an opportunity after the siren.
In the first minute of the second term, a big collision between Webster and Coleman-Jones occurred. The Tasmanian Saint fell down and I was worried about concussion, but he got up and indicated he was okay to play. What a courageous man he is. That's why I love Jimmy!
The game was going forth and back for both sides, but St Kilda found wide space from Howard, Highmore, Byrnes to Wood, Higgins and King. The young tall forward slid into a ball. His set shot was accurate.
Only a minute later, Crouch's long kick entered inside 50. Two players from each side went for the contest to gain possession. King collected and this time assisted a goal – handpassed to Wood and he brought us six points.
Then the Tigers got up quickly. A centre clearance was made and they hit their inside 50. Lambert kicked, setting his target Martin. Fans favourite Webster went onto the star Tiger for a marking contest. The top midfielder won and kicked the first goal for Richmond.
Because of what has happened in Cairns, I started getting worried.
St Kilda led by 21 points at the main break.
Wet conditions created tough scoring as only behinds (one for Richmond and two for St Kilda) hit the scoreboard until…
Throw in from the boundary and a hit out in a ruck contest in Saints' inside 50 was picked up by Dunstan from the back. He just ran and kicked a goal.
His hardnuts approach in tackling extended into possessions and kicking now. His accuracy has improved a lot and Dunstan is now a true warrior. Well done!
Edwards kicked the second goal for the Tigers four minutes after Dunstan's.
With five minutes ticking on the clock, Membrey kicked a high ball and Wood went into a one-on-four marking contest. No one took the ball and Long ran in and kicked a soccer goal. His ability is utilised best in the forward pocket.
Membrey couldn't get his goal kicking on target at night (scored a behind) and Long couldn't make his goal kicking into two.
Meanwhile Coffield got a hamstring injury and was off to the bench. Young defender Leo Connolly made a debut at the G.
McIntosh made a high contact on McKenzie at St Kilda's inside 50 after the Tigers had made a turnover. McKenzie got a free kick and scored a goal.
The last quarter was tough and more defensive. Only one goal was scored by Seb Ross. Byrnes handpassed to Wood. Two Tigers were there to lay a gang tackle so Wood kicked to the other side of the pocket. The duo who went on leave at the Cairns game were the target and the multiple Best and Fairest winner took a mark. He answered the fans and media criticism. Well done, Sebby!
Then Channel 7 brought out the records while on field performances were hardnuts. Also Damien Hardwick was spotted standing up in the coaches box wondering what he could do.
The previous record lowest score was 3.5 (23) when GWS defeated them by 88 points at Manuka Stadium at Round 19 in 2016. Dimma updated his record for the lowest score as a coach. It would be the lowest score at the MCG since 1927 Grand Final – Richmond 1.7 (13) to Collingwood 2.13 (25).
Meanwhile St Kilda were about to break the 11-year Friday night MCG game drought. The last time Saints won at the MCG on Friday was the Qualifying Final against Geelong – Geelong 11.13 (79) to St Kilda 12.11 (83).
The siren sounded and the Saints go marching in at MCG. Beating the reigning Premiers at their home stadium was more than just brilliant.
It was great team play and the Saints were shining at the G. Ryder and Ro (Marshall) hit out nicely and the centre trio (Steele, Crouch and Dunstan) gained more clearances. Dunstan demonstrated his class in clearances and possessions with goal kicking added. Defence was super – Howard was great as always, Webster was a hard nut, Sinclair had speed and skills. And then Connolly gaining 11 possessions for the half of the game in his debut was awesome. Forwards got back the goal kicking and contest skills. King and Higgins regained their confidence. Wood's skills were handy. Long was suited in the forward pocket rather than back line. McKenzie helped the forwards for goal kicking in the right times. Byrnes has good skills in possession and speed.
Richmond fought hard, especially in turnovers, but St Kilda put too much pressure on them. The Tigers also had goal kicking woes. "In any weather you will see us with a grin, Risking head and shin" didn't apply to the Friday night game against the Saints.
In addition:
Thanks Football Analyst for ongoing support and a series of comments. Yes, it was a great game, and your analysis is great.
We, the Osaka Dingoes, had our second training this year on Sunday. Only three players participated, but we had good drills. Matt took a video of me doing a goal kicking session. Unfortunately I am not able to upload the video because of the size, so please get to the AFL Asia Facebook link (https://fb.watch/6sOhN8I38c/) to enjoy.
RICHMOND 0.5 1.6 2.7 2.10 (22)
ST KILDA 3.2 5.3 8.7 9.8 (62)
GOALS
Richmond: Edwards, Martin
St Kilda: King 2, McKenzie 2, Dunstan, Higgins, Long, Ross, Wood
BEST
Richmond: Vlastuin, Pickett, Graham, Baker
St Kilda: Dunstan, Steele, Sinclair, Crouch, Webster, Byrnes
OUR VOTES
3. Dunstan (STK), 2. Sinclair (STK), 1. Webster (STK)
INJURIES
Richmond: Balta (knee), Broad (ankle), Chol (hand)
St Kilda: Billings (knee) replaced in selected side by Connolly, Coffield (hamstring)
SUBSTITUTES
Richmond: Mansell (replaced Balta)
St Kilda: Connolly (replaced Coffield)
To read more by Yoshi click here.
The Tigers (Covid) Almanac 2020 will be published in 2021. It will have all the usual features – a game by game account of the Tigers season – and will also include some of the best Almanac writing from the Covid winter.  Pre-order HERE
To return to our Footy Almanac home page click HERE.
Our writers are independent contributors. The opinions expressed in their articles are their own. They are not the views, nor do they reflect the views, of Malarkey Publications.
Do you enjoy the Almanac concept?
And want to ensure it continues in its current form, and better? To help things keep ticking over please consider making your own contribution.
Become an Almanac (annual) member – CLICK HERE.
One-off financial contribution – CLICK HERE.
Regular financial contribution (monthly EFT) – CLICK HERE.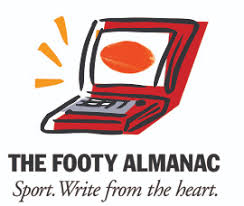 Love, passion and pride are seen on the footy that is the biggest part of my life. 1. St Kilda Club member: I am a passionate and crazy Sainter. Just hope we will win the second flag soon, especially after Dogs and Tigers having ended long premiership draughts. 2. The Osaka Dingoes Player and Public Relations Officer: Player number 44 that I chose to honour Stephen Milne with my wish being like a small forward like him. Lenny Hayes' hardworking attitudes are adopted on my trainings and practices. Nick Riewoldt's great plays are in my player audiobook too. 3. Writing: Here on the Almanac and also on the World Footy News. My skills utilise on great footy websites.