Round 12 – Sydney v St Kilda: If Only!
If only Jack Higgins hadn't missed those two vital shots at goal in the dying minutes, I hear you say.
If only Jack Higgins… shout the headlines in the media.
If only Jack could have kicked straight, lament the Saints supporters.
If only 13 of the 14 Swans shots on goal (including two from Isaac Heeney in the last quarter) had been six–pointers instead of behinds, it wouldn't have been so painful to watch yet another nerve–wracking tense, close battle, and we would have won by so much more than nine points!
If only!
But, it just didn't happen. None of it happened.
The 'if only' phrase, used endlessly the world over, is a waste of language. A waste of space. A waste of mental energy. A waste of physical energy. Just a pure and simple waste! Reality has nothing to do with 'if only.'
Just ask anyone who has had any regrets at all, in any sphere of life, and 'if only' is sure to have been put forward as some sort of excuse or reason for their perceived failure. Or, anyone who lives in fantasy land would certainly know all about 'if only.' And I'm talking from experience. I've used it throughout my life – many times – and all to no avail!
I found this game, against a lower side in the competition, very frustrating! In my wanting a thrashing, I had to face reality early on, and accept that my one–eyed desires probably weren't going to materialise.
Both teams are up and coming and include many young, inexperienced blokes, trying their hearts out week after week. Neither team can be expected to win handsomely every single week, and there will be losses along the way. St Kilda has certainly experienced both ends of the spectrum this year with depressing losses and close wins, whereas the Swans have achieved far more than any of us expected in such a short period of time.
As stated by the Swans players themselves, one of the main challenges this year has been to keep fighting until the end of every game, especially when the opposition has taken the lead late in a game. And this we have certainly done. In five agonisingly close ones this year, we have won three and lost two – all by under a goal. Our other two losses have been by just nine points against the top team, Melbourne, and a 40–point humiliating defeat to the Suns. Our current position on the ladder certainly confirms that, as a group, we have come a long way, and we will continue to improve.
Despite intellectually knowing and accepting that we are still learning and growing as a team, I want us to be perfect every single week! I just can't bear it when we're not! Hence my frustration. My problem – nothing to do with the team!
With a game high of a 21–point lead to the Swans a few minutes before quarter time, St Kilda dwindle it down to eight points at the first break. With two goals apiece in the second term, only six points separates us at half time. The third quarter sees the Saints level the scores with the first major, then two to us, three to St Kilda, and the final two to the Swans to lead by 10 points.
Now for the final 30 minutes. Couldn't really watch it, to tell you the truth, so resorted to my boring neurotic behaviour once again. Fast forwarding. I could see sufficiently to know that Will Hayward kicked our first for the term (Swans out to a 16 point lead); St Kilda the next (11 point lead); St Kilda again (6 point lead); Joey Kennedy's miraculous goal (12 point lead with only five minutes left); St Kilda (five point lead, four minutes left); then with 40 seconds left and three points up, Justin McInerney takes a strong grab on the boundary at half back, kicks long to the forward line where Buddy is hovering. The great man then turns on some of his magic; collects the ball, bounces once, and unselfishly kicks to James Rowbottom. James is tackled illegally, without the ball, and is paid a free in front of goal. WHOOPEE!
The siren sounds 11 seconds later. The tension is released and everyone is smiling. Not the Saints however, as the television zooms in on the sad and dejected figure of Jack Higgins. At the time I certainly wasn't feeling any sympathy for him, but being, I hope, a kind and considerate person, I can now appreciate how terrible he was feeling.
Go Bloods!
SYDNEY     4.6     6.7     10.11     13.14   (92)
ST KILDA     3.4     5.7     9.7     12.11   (83)
GOALS 
Sydney: Hayward 3, Franklin, McDonald, Heeney 2, Papley, Parker, Kennedy, Rowbottom
St Kilda: Membrey, Byrnes 2, Wood, Higgins, King, Steele, Butler, Ross, Billings, Battle
BEST 
Sydney: Parker, Rampe, Hickey, Heeney, Lloyd, McCartin
St Kilda: Steele, Higgins, Membrey, Crouch, Hill, Sinclair
To return to our Footy Almanac home page click HERE.
Our writers are independent contributors. The opinions expressed in their articles are their own. They are not the views, nor do they reflect the views, of Malarkey Publications.
Do you enjoy the Almanac concept?
And want to ensure it continues in its current form, and better? To help things keep ticking over please consider making your own contribution.
Become an Almanac (annual) member – CLICK HERE.
One-off financial contribution – CLICK HERE.
Regular financial contribution (monthly EFT) – CLICK HERE.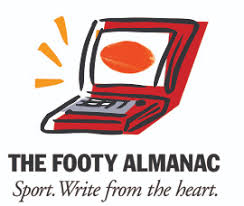 A Bloods tragic since first game at Lake Oval in 1948. Moved interstate to Sydney to be closer to beloved Swans in 1998. My book "My Lifelong Love Affair with the Swans" was launched by the Swans at their headquarters at the SCG in August 2016. www.myswansloveaffair.com