Round 11 – Geelong v Sydney: The score line wasn't that important
I feel like writing what could have been. What could have been had we not missed so many shots on goal, many of which were gettable, especially in the first term when we dominated. What could have been had we not lapsed for five minutes towards the end of that quarter, and again in the first ten minutes of the third – allowing Geelong to run riot with a total of eight unanswered goals. What could have been had our young forwards (and Buddy) played in the same fashion as our backline. What could have been had the disproportionately higher number of marks taken by our players counted, in the end result. The list could go on and on, but would be entirely pointless.
Saturday started off well. The rain stayed away as we set off for Geelong in SWANZ. What a relief it was not to have to travel this weekend. It certainly can be tiring, trekking to Sydney, or Brisbane, or Hobart every seven days. A 100 or so kilometre trip to Geelong and back is a walk in the park really. Before the game, we lunched with John Harms and the Swans Almanac crew at a pub near the ground. So nice to finally marry up faces to the Swans stories I've read since I started writing for the Almanac in 2015. Face to face connections are important, and indeed integral to a true understanding of the meaning of words on paper. Or so I believe.
As the teams took their positions, I was privileged to be sitting so close to Gary Rohan and Dane Rampe as they made their way to the goal square. Both the Geelong crowd and the Swans Cheer Squad applauded Gazza, but with his gaze towards the ground, he looked a little embarrassed by the output of his once–adoring fans. Then, with Ramps standing behind his former friend and teammate, the jostling started. With Dane's arms locked around Gazza's waist they then, for a split second before the game started, expressed their admiration for each other. With a clenched fist, each one touched the other's in unison – a symbol of love and respect, I imagine. It was nice to see.
The first quarter was full of opportunities for the Bloods. We dominated play for most of it, and with two thirds gone, our 2.3 to their 0.0 looked extremely promising. However, misses to Sammy Reid, Luke Parker and Buddy were telling. The highlight was Nick Blakey and his four-bounce run–and–dash along the wing, eventually kicking beautifully to Will Hayward straight in front, for our third goal.
Geelong goal in the first minute of the second term, increasing their lead to 16 points, but to our credit, we're able to stymie their influence for the remainder of the quarter, with Buddy kicking his first from 50 metres, and Will Haywood his second. One goal separates us at half time.
Sitting behind the goals isn't my favourite position. Our seats at the SCG are up in the stand on the wing, and we always aim for similar at all away grounds. So, we head off to visit my "traitor sister" (was South Melbourne, now Geelong) and her husband in the Players Stand at the other end of the ground. With two spare seats, we take our lives into our hands and decide to bear the brunt of the predominantly Geelong crowd for the remainder of the game.
There wasn't much to get excited about however, when their second burst of goals (four in the first ten minutes) saw us 29 points behind but, once again we responded, limiting them to just two points and adding 1.4 ourselves for the quarter. Four behinds – missed opportunities!
The final quarter is a hectic affair. Mistakes are aplenty and opportunities lost, for both teams. When Nick Blakey goals early in the term and Dan Menzel kicks his first for his new team, there is still hope. We certainly haven't given up, and are showing plenty of fight, but when Buddy misses with five minutes remaining, the possible 11–point deficit isn't to be. As happened in the first and second quarters, Geelong's kick off the ground in the goal square, with seconds remaining, finally told the story of our 22 point loss – the third by this margin this year.
This game was one that our boys can be proud of. Let's face it, we were up against the top team, at their home ground (even though we hold no fears at Kardinia Park, having won our past three encounters there), and still without some of our regular stars. A win is not too far away, and even if it isn't I'm not worried.
A transition year is about blooding the young guys and gelling with the experienced; it's about patience and understanding, and it's also about the team's supporters sticking with their team and encouraging them at every single opportunity.
However, despite Saturday's loss, I would still like to have written what could have been in regard to this match. It was close, and we had our chances. But unfortunately, footy results aren't about make–believe, but they certainly can be about the effort of the losing team, and how close this game was – despite the eventual score line.
Go the Mighty Bloods!
To find out more about Almanac memberships CLICK HERE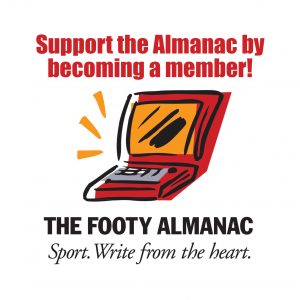 A Bloods tragic since first game at Lake Oval in 1948. Moved interstate to Sydney to be closer to beloved Swans in 1998. My book "My Lifelong Love Affair with the Swans" was launched by the Swans at their headquarters at the SCG in August 2016. www.myswansloveaffair.com