Round 1 – Western Bulldogs v Sydney: Almost, but we left it too late.
This article first appeared on the Sydney Swans website
It is never easy writing after a loss, but at least we're not the only ones lamenting our team's average performance this weekend. Upsets have abounded and predictions for the remainder of 2019 have been penned, but these Round 1 results will most likely have no real bearing on September ladder positions. Or so I hope.
I can't tell you how much I've looked forward to this game. And not just for the obvious reasons.
All of us footy lovers have endured six months of deprivation, starting off with the dreaded October – that month in the year when we go through the whole gamut of emotions surrounding our footy addiction: the highs from the victories, and the lows from the heartbreaking losses – especially in September. It is all-encompassing. Then our six-month ritual and devotion to our team is suddenly severed, and an almighty halt is forced upon us, whether we like it or not.
Adjustment and perspective are certainly required.
November heralds new adventures, and before we know it the cricketers are on our shores and our footy heroes have faded into a warm, fuzzy memory. Christmas, a new year, family holidays, back to our daily rituals, and suddenly March has arrived. We're six months older and footy is now back in focus.
My hiatus these past months took a slightly different and unexpected turn, and at one stage I wondered whether I'd even make it to this game at all. Illness can play havoc with our plans.
As I lay in hospital before Christmas, one of my main incentives (apart from getting well again) was to be able to get to Melbourne to watch my beloved team play this first game of the year. I simply had to be there. I was determined, no matter what.
Adjustment was necessary. Change was needed. Challenges were aplenty. Perspective, on the other hand, was easy. Perspective is always easy. All I had to do was look around me at those terminally ill people in the hospital beds next to me, read the newspapers, watch the news, hear the stories of people and their suffering the world over, and perspective wins outright – every single time. Especially recently, with the atrocities in New Zealand still lingering.
*****
Sitting at Etihad before the game, waiting for the boys to run out, my fantasies get the better of me. I'm rejoicing that I've actually made it down to Melbourne and to the game, and I feel optimistic that our current group of players will defy the now common perception outside the walls of our red and white family that the Swans will collapse this year. I also realise that footy adjustment is necessary. Our team, the fourth youngest squad in the AFL this year, have certainly made their changes. One of my very favourite players, Dan Hannebery, has gone; Gary Rohan has gone; the inspirational Alex Johnson has gone; and Towers, Foote, Newman, Robinson, Marsh and Brown have all played their last game for the Bloods.
On the brighter side, the new young boys from the Draft are ready to prove themselves; Dan Menzel will hopefully overcome his injury issues; Jackson Thurlow and Ryan Clarke will prove that Kinear Beetson is still the best in the business; Sam Reid will, surely, shine this year; Tom McCartin will build on his promise in 2018; Callum Mills, Sam Naismith and Lewis Melican will be fighting fit again, and those young guns Ben Ronke, Ollie Forent, Will Hayward and Ryley Stoddart will show us just how good they are. I'm also hoping Colin O'Riordan, James Rose and Jordan Dawson get more senior game time. And let's not forget Nick Blakey – what a phenomenal player he promises to be.
Our experienced players will bind us together, and boasting the best forward in the business – the one and only Buddy – maybe we can prove to all how wrong their doom and gloom predictions are.
******
The first five minutes of the match certainly reinforce my fantasies. We are brilliant – relentless, fast, furious and focussed. And we witness Heeney in all his flying glory! Then, it all changes. The Dogs dominate the remainder of the first half and we are left in their wake. As a fan, it's hard to fathom what went wrong in those two quarters, but perhaps Allir Allir's words after the game summed it up: "…..we were slow, we fumbled, we made too many mistakes…"
There was no way a Swans team was going to continue in that vein for the rest of the game. We fight back and we pride ourselves on that Bloods' spirit, and that's exactly what the boys did.
With only 1.5 on the board at half time and trailing by 33 points, we suddenly come to life, with goals to Blakey, Reid, Mills and Heywood, not only reducing the deficit, but giving Swans' fans some hope.
The last quarter has the heart racing for the first time. Some brilliant play by Buddy sees Reid kick truly, followed by him dropping a mark close to goal, retrieving it and getting it to Heeney for his second. Papley adds another. Nick Blakey drops a sitter then regathers and kicks beautifully to Buddy on his own 20 metres out. We're four points away from a miraculous win, but alas, the Dogs kick their only two for the term, and it's all over.
Our fightback was courageous, but we left it too late. Good wins involve four quarters of footy, and we didn't manage that on Saturday night.
With noticeable absentees Dan Menzel, Sam Naismith, Nick Smith, Ben Ronke and Kieren Jack all missing from this week's game – the latter two excelling in the Reserves on the weekend – let's hope some of them will return soon, and that we learn from our mistakes this weekend and turn in a blinder next Friday against the Crows.
Which brings me back to adjustment and perspective.
Heading back to Sydney on Sunday, my thoughts turn to not only my team and what they need to do to get back on track, but what I need to do in this year of challenge and change. After 20 years in Sydney, enjoying all its beauty – to say nothing of my beloved team's success – Marshall and I are heading back to my place of birth, Melbourne. We'll arrive down south just in time for the Carlton game at Etihad in two weeks, and have organised trips to all Sydney and interstate games for the remainder of the year. Hopefully we can continue to hold our Sydney and Melbourne memberships for as long as we're able, travel when required, and continue to bathe ourselves in red and white glory until our dying days.
Go the Mighty Bloods!
To find out more about Almanac memberships CLICK HERE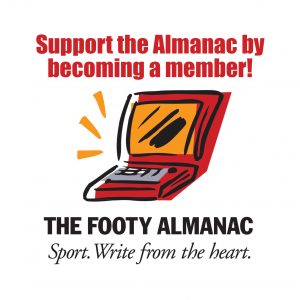 A Bloods tragic since first game at Lake Oval in 1948. Moved interstate to Sydney to be closer to beloved Swans in 1998. My book "My Lifelong Love Affair with the Swans" was launched by the Swans at their headquarters at the SCG in August 2016. www.myswansloveaffair.com