Round 1 – Brisbane v Sydney: How to get the excitement juices flowing
Brisbane v Sydney
6:45pm, Saturday March 20
The Gabba
With no live sport for us Melburnians last year, the footy landscape had changed. For me, anyway. Usually, at this time of year, I'm looking forward to booking air fares, hotels, and planning to attend all the year's games (except Perth), and I never miss a match in Brisbane. Actually, I've hardly missed a game there for over 40 years!
But this year the excitement just wasn't there!
Maybe it was because health issues had dictated that we cancel our 23-year Sydney Memberships this year, and when tossing up whether to make the trip north this weekend health issues also came into play. Oh, how we take everything for granted when we're fit and healthy, and when this isn't the case, so many aspects of our lives change. Perspective then takes over and we have to accept the reality, no matter how painful.
So, the lack of excitement was to be tested when we decided that the Rising Sun in South Melbourne was the best place to be on Saturday night. It is packed – upstairs and down – and red and white is everywhere.
All is quiet on the Southern front as Brisbane burst from the blocks with three quick goals to our nil. Is this to be as everyone anticipated? Premiership fancies thrashing a team of young boys out to prove their worth. We wonder.
It doesn't take long before the gloom lifts as the players settle and respond. Goals to Logan McDonald (his first in his first game) and Isaac Heeney, plus a couple of relatively easy misses, see us just six points behind at quarter time.
Callum Mills, in his new midfield role, puts us in front within seconds, positioning himself perfectly 35 metres out from a pin-point pass from Errol Gulden (how good is this kid!). Minutes later our newest No. 21 – the very same Errol – (I can't help but think of Johnny Heriot and Leo Barry!) shows his class by slotting another from 45 metres on the boundary. He then combines with Isaac Heeney for another goal, and the patrons are cheering! Errol's at it again, his second goal. Our seventh consecutive, from Sam Wickes, is teamwork at its best. However, half way through the term our dominance is thwarted and our lead of 24 points is reduced to a level score at half time. 8.4 apiece.
Will we respond, or will the highly fancied Brisbane show us what they are capable of? It doesn't take too long before the Riser comes to life again: clinking of glasses, bodies rising from chairs, voices erupting, flags and scarves waving, and a healthy chant of 'Go Bloods' echoing throughout the old pub.
Goals to Nick Blakey, Logan McDonald (his third) (how good is this kid?), Isaac Heeney (third), Callum Mills (second), Sam Reid (second), Sam Wicks, Errol Gulden (third) and Tom Papley, give us a 41 point lead, and with Tom Papley now having more of an influence, Callum Mills continuing his dominance in the midfield, and Tom Hickey impressing in the ruck in his first game in red and white, we are surging ahead. Our lead of 41 points at three quarter time is mightily impressive, but can Brisbane come back?
At three quarter time, despite the excitement and noise at the Riser, I think of the talent we have in tonight's team. And the youth! Hayden McLean, Chad Warner, Sam Wicks all with a handful of games each; and Ollie Florent, Nick Blakey, Tom McCartin, James Rowbottom, Jordan Dawson – just in their second or third years. Last year I thought that was promising, now we've added three new kids: Errol Gulden, Logan McDonald, Braeden Campbell, all showing what talent they have.
And to think that we couldn't fit Will Heywood, Callum Sinclair, Colin O'Riordan, and Lewis Melican into the selected team, and have Buddy, Justin McInerney, Will Gould, Jackson Thurlow, Lewis Taylor, James Bell and Robbie Fox (amongst others) waiting in the wings, well, what else does a Swans girl need to get her excited!
The last quarter sees us add 2.5 to Brisbane's 4.3 – three of those in the last five minutes. Our lead of 51 points had dwindled to 31 by the time the siren sounded, giving Brisbane's score some form of respectability.
In the end, it was a thrashing. The underdog had shown one of the premiership fancies just what it takes to win a game of footy: hardness, relentlessness, pressure, determination, belief, and talent.
And that is what we celebrated when singing the song after the siren. We sang it loud and proud and there is no doubt that 'Onwards to Victory' will stand us in good stead in the months and years ahead.
Go Bloods!
BRISBANE     3.3      8.4      10.7    14.10 (94)
SYDNEY          2.4      8.4      17.6    19.11 (125)
GOALS
Brisbane: Bailey 3, Daniher, McCarthy 2, Berry, Coleman, Lyons, McCluggage, McInerney, Hipwood, Zorko
Sydney: Gulden, Heeney, McDonald 3, Mills, Parker, Reid, Wicks 2, Blakey, Papley
BEST
Brisbane: Bailey, Zorko, McCarthy, Coleman
Sydney: Mills, Gulden, Heeney, Hickey, Rowbottom, McCartin 
To return to our Footy Almanac home page click HERE.
Our writers are independent contributors. The opinions expressed in their articles are their own. They are not the views, nor do they reflect the views, of Malarkey Publications.
Do you enjoy the Almanac concept?
And want to ensure it continues in its current form, and better? To help things keep ticking over please consider making your own contribution.
Become an Almanac (annual) member – CLICK HERE.
One-off financial contribution – CLICK HERE.
Regular financial contribution (monthly EFT) – CLICK HERE.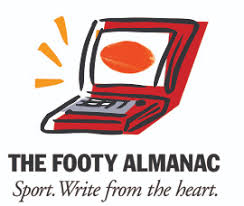 A Bloods tragic since first game at Lake Oval in 1948. Moved interstate to Sydney to be closer to beloved Swans in 1998. My book "My Lifelong Love Affair with the Swans" was launched by the Swans at their headquarters at the SCG in August 2016. www.myswansloveaffair.com