Ovens and Murray Football Netball League Round 7 – Myrtleford v Wodonga: Honest
"But what you see, is what I am
And I'll always be an honest man.
Lost in the blind stupidity of it all."
-Mr Crown Prosecutor, Don Walker (Cold Chisel)
Late May 2022. Directly south of Mt Gambier, a high pressure system lies pretty still above the Southern Ocean. So it's a clear, dry, sunny, late autumn day across Victoria. Today a Federal election is held and today is a good day for footy.
A couple of months back I bought a new used car – a 2012 RAV4 I call "Ronnie" – and today Ronnie and I head north east. Today fourth placed Myrtleford (3-3) host eighth placed Wodonga (2-4) in Round 7 of the Ovens and Murray Football Netball League and that is good enough for me.
Not too many corflutes along Sydney Road, but on this day of endless chatter I'm happy to leave the city behind. The sky is blue. I plug in to Roy & HG's latest podcast and before leaving the suburbs, they have me laughing out loud (as they have done for about 25 years now).
It's a magnificent day that I am free take at my own pace. No one grumbles as I pull in for a toilet/ iced coffee stop around Benalla. And as the car idles in the car park, no one grumbles as I realise that I need to hear immediately from the catalogue of Don Walker.
A few years ago, a book of Don Walker's song lyrics was published. There's a black and white photo of Don on the cover. The book is titled with the same astute precision that characterises his lyrics – his stories of suburban dysfunction or the struggler or the forgotten restless drifter who flits at the shadows of Australian life, and who is such an essential part of Australian life. The book is called Songs.
Outside Benalla I search Spotify and am both unsurprised and grateful to find that someone has already created a playlist called "Songs," featuring the songs from that book. We're off.
And it's Khe Sanh, Darwin, Plaza and I'll remember you to kick things off. Solid.
We leave the faceless Hume and take the single lane across the King River country. Horses stand on fields of green. Gum trees overhang the road. Shadows strobe across the windscreen through Milawa. And there's a bakery stop at Myrtleford (beef, bacon and cheese pie, cinnamon donut) and another stop alongside the Ovens River, to walk on rocks, to squat beside her and to feel her cool, cool waters once again. This is Jaitmathang country.
Cars line the boundary fence at RC McNamara Reserve, where the visiting Wodonga has cleaned up in the Reserves game. Myrtleford 5.4.34 d by Wodonga 12.5.77. Spectators sit on the trays of utes, on fold-out camp chairs and on park benches. Even now, near the peak of its arc, the sun hangs low in the sky.
This is a huge playing surface. The ground is slightly spongey. River flat soil probably pretty wet and silty. On top there is an even coverage of thick grass. I amble over to the Members' stand on the western side.
The Ovens River lies behind the southern goals (my right) and the Great Alpine Road to the north. Mt Buffalo rises timelessly in the south-eastern pocket.
The field is enormous and the play is open. Wodonga wear maroon jumpers with a white "WFC" logo in the old Fitzroy style (large W, F and C alongside one another and superimposed over the W). They wear white shorts. And already they have the first two goals from open play to the River end. Make that three, after a set shot from the boundary. Myrtleford are the Saints and wear the jumper you would expect. In their #18, they have the tallest player on the field and he looks to be a very good footballer.
The first quarter is open, skilful and fast. I rate it as a pretty even game – Wodonga have merely had better value for their shots.
QT
Myrtleford 2.4.16
Wodonga 6.0.36
Alongside, a bloke with a young puppy talks to his mate.
"Oh, yeah, she was a bit of a spur of the moment addition. Yeah. Well, we've already got that other one. She's two years old. So. Yeah."
The big sky is milky blue, streaked with high cirrus.
Second quarter and the locals dominate open play. The game tightens. Myrtleford begin to run ahead of the ball in waves. It looks great when the ball is well-handled, but one errant handball brings the whole thing undone. A turnover sees Wodonga race away to goal at the Great Alpine Road end.
The Myrtleford method is to switch play at all costs, opening up the enormous width of the oval. It's risky. And it makes for an open, attacking game.
HT
Myrtleford 4.5.29
Wodonga 9.2.56
Half time and I drain the last of my unfamiliar Kiewa country iced coffee. Some of the boundary fence advertising is equally unfamiliar.
"McPherson's earth moving."
"Ovens Valley chainsaws and lawnmowers."
Third quarter and Wodonga goal immediately. I sit beside a van that has been reversed up to the fence. Both back doors are swung open, and two men rest their bums. An aeroplane leaves a vapour trail against the blue sky.
An elderly man steps gingerly alongside me as the crowd roars. He wears a blue v-neck wollen jumper and a twinkle in his eye. "Oh," he says to me with a shrug. "These umpiring decisions! I can't work them out."
Wodonga has the play at the River end. At the Great Alpine Road end, two toddlers run from the boundary and onto the field of play. They audibly giggle as they run further onto the field. Their shocked mum spots them, swoops under the fence and collects them both with the swift and thoughtless dexterity of an orang-utan.
3QT
Myrtleford 5.9.39
Wodonga 10.4.64
One goal apiece in the third quarter. It looks tough from here for the home team.
I wander over to the canteen for a can of Solo. The young guy before me has paid for his food with a credit card.
"Oh! Hold on, Ferg!" says the canteen assistant. "Yer card didn't work! Come back!"
"Oh, I've got cash," I say.
"Great," she says. "You can't go wrong with cash."
Last quarter. Myrtleford kicking to the Ovens River end, scramble a goal after three minutes. In the afternoon shade, the home crowd roars. But Wodonga immediately claim a goal themselves. Vast squadrons of insects zig and zag. Shadows are long.
Still, Myrtleford continue to switch play in midfield. They bring the ball into an open forward line and collect back-to-back goals from open play. Ten minutes down, 12 points the difference.
When the Myrtleford forward pocket marks on the boundary line and slots the set a shot, suddenly it's a 5-point game with 15 minutes gone. A guttural roar rises from fold-out camp chairs, black puffer jackets and polar fleece.
The game tightens but paradoxically opens up. Desperate contests, tackles and smothers. And then an optimistic flick out wide, a tap into open space, where a Myrtleford flanker takes it and delivers to the leading full forward. Goal. 71-71 after 18 minutes.
"Come on, boys!"
"Josh! Josh! Josh!"
"Good pressure!"
"Keep it going!"
"TAKE it!"
The Wodonga back pocket kicks across the face of goal – but misses his man. Myrtleford collects. Goal. 77-71, 21 minutes.
From Anthony Rocca -ish distance, the Myrtleford big man lines up a set shot. It carries the crowded goal line. 83-71, 24 minutes.
Tackled in the back pocket, Wodonga cough up the free kick. Myrtleford handballs inside to open the angle. Goal. 90-71, 26 minutes.
Straight out of the centre clearance, Wodonga claw one back. 90-77, 27 minutes.
Another immediate centre clearance, this time to Myrtleford, where the full forward marks on a tight angle. 97-77.
SIREN.
FT
Myrtleford 14.13.97
Wodonga 12.5.77
The home team has kicked nine goals in the final quarter and run right over the top. It is a happy crowd. Around the back of the Members' stand two old timers cross paths.
"Oh, how'd we get away with that?"
"Unreal, wasn't it?"
==
In crisp air, I stand by an old, wide eucalypt and watch the Ovens and Murray people. Parents fold away camp chairs. Dogs step lightly. Reserves players tousle one another's hair. They move with wounded gaits and lop-sided smiles in magic hour sunlight.
Back around to Ronnie the RAV4, I feel a sense of hope.
Good things happen.
As the sun drops over the King valley, I pull out of RC McNamara Reserve, light streaming across from Greta South, Oxley and beyond from Glenrowan. Across Kelly country. Across Jaitmathang country. Across whatever country of blind stupidity this is.
Gravel flicks Ronnie's undercarriage as I invite Don Walker back to share the drive. Golden light catches insects flitting about in the cold air. Rounding the bend, the sun drops behind a field of Black Angus. And I stop for a photo – a photo of these extras in someone else's budget movie. It's a good day in a good world. Probably none of us can afford to be too choosy.
Well played Myrtleford. Well played Wodonga.
"And who's gonna judge
The part somebody plays
In someone else's budget movie?
Come on up to my room baby
I need a co-star
And I can't afford to be too choosy."
-Plaza, Don Walker (Cold Chisel)
To return to our Footy Almanac home page click HERE.
Read more from E.regnans HERE
Our writers are independent contributors. The opinions expressed in their articles are their own. They are not the views, nor do they reflect the views, of Malarkey Publications.
Do you enjoy the Almanac concept?
And want to ensure it continues in its current form, and better? To help things keep ticking over please consider making your own contribution.
Become an Almanac (annual) member – CLICK HERE.
One-off financial contribution – CLICK HERE.
Regular financial contribution (monthly EFT) – CLICK HERE.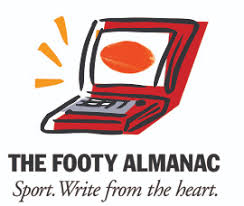 David Wilson is a writer, editor, flood forecaster and former school teacher. He writes under the name "E.regnans" at The Footy Almanac and has stories in several books. One of his stories was judged as a finalist in the Tasmanian Writers' Prize 2021. He shares the care of two daughters and a dog, Pip. He finds playing the guitar a little tricky, but seems to have found a kindred instrument with the ukulele. Favourite tree: Eucalyptus regnans.