Montsalvat Wedding
A mangy dog and feral cat
have tied the knot in Montsalvat.
The celebrant was dressed as Satan
(he'd driven all the way from Clayton).
The groom had partied all night long,
then hitched a ride from Dandenong.
His ex was lurking by the door
(she'd caught the bus from Reservoir).
The bride was born in Taylors Lakes
(she said she'd learnt from her mistakes).
Her hair was braided like Bo Derek.
The groomsmen hired their suits in Berwick.
Their pink cravats were nicked from Target.
Her dress was stitched at Preston Market.
They thanked their guests, then said goodbye…
and now they honeymoon in Rye.
Read more from Damian Balassone HERE
To return to our Footy Almanac home page click HERE.
Our writers are independent contributors. The opinions expressed in their articles are their own. They are not the views, nor do they reflect the views, of Malarkey Publications.
Do you enjoy the Almanac concept?
And want to ensure it continues in its current form, and better? To help things keep ticking over please consider making your own contribution.
Become an Almanac (annual) member – CLICK HERE.
One-off financial contribution – CLICK HERE.
Regular financial contribution (monthly EFT) – CLICK HERE.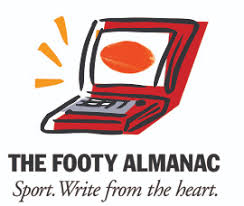 Damian Balassone is a delusional Collingwood supporter who writes poetry and fiction. He is the author of 'Strange Game in a Strange Land'.